Chu, James, Fox, Sobehart, Gourlay, Wheeler, Kulielski, Baumann
Professionals new to Pittsburgh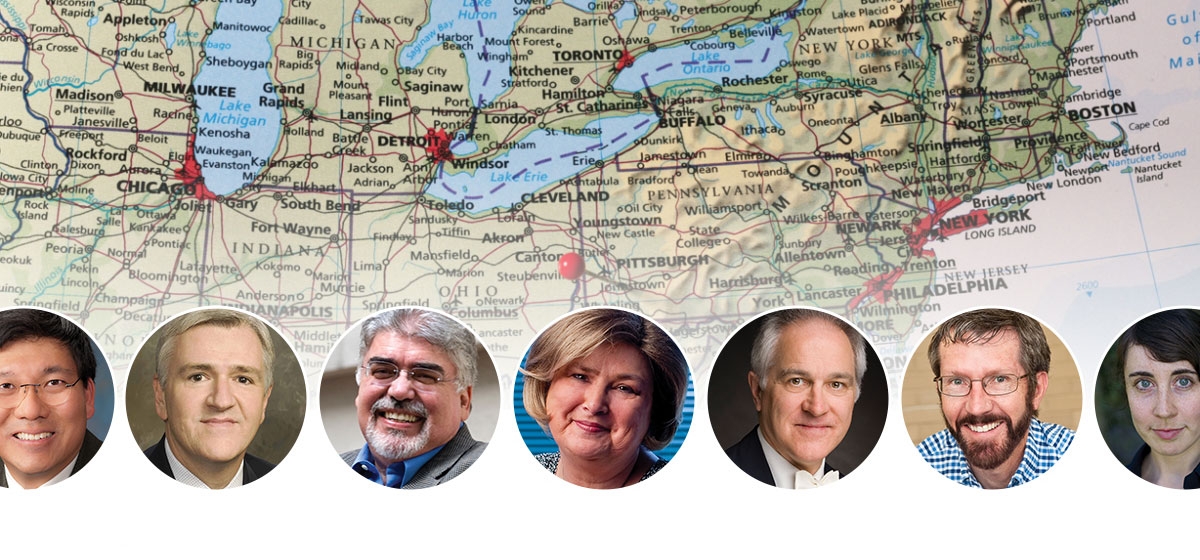 November 21, 2010
Dr. Edward Chu is chief of the Division of Hematology/Oncology at the University of Pittsburgh School of Medicine and deputy director of the University of Pittsburgh Cancer Institute. A native of New England, Dr. Chu comes to Pittsburgh from Yale University School of Medicine, where he was a professor of medicine and pharmacology and chief of the Section of Medical Oncology and Deputy Director of the Yale Cancer Center.He has a B.A., an M.M.S. in pharmacology and an M.D. from Brown University. He completed an internal medicine residency and served as chief medical resident at the Roger Williams Hospital of Brown University. Dr. Chu will be living in Fox Chapel with his wife, Dr. Laurie Harrold, and their two young children.

Everette James is associate vice chancellor for health policy and planning at the University of Pittsburgh Schools of the Health Sciences. A native of West Chester, Pa., he comes to Pittsburgh from Harrisburg, where he served as Pennsylvania Secretary of Health. Previously, James was partner in the Washington, D.C. law office of LeBoeuf, Lamb, Greene and MacRae. He also was a senior advisor and deputy assistant secretary of the U.S. Department of Commerce. At Pitt, he will teach and work with governmental agencies and key health policy groups. He has a bachelor's degree from the University of North Carolina at Chapel Hill, and a law degree and an MBA from the Illinois Institute of Technology. James is living in Shadyside until he is joined by his wife, Gretchen, and their two daughters.
Charles Fox is dean of Point Park University's School of Arts and Sciences. A native of Brooklyn, N.Y., Fox has more than 30 years experience in higher education, including faculty, clinical, and administrative appointments at Columbia University, State University of New York, Washington University, University of Maryland, and Franklin & Marshall College. He has a B.A. in psychology and an M.A. in perceptual & learning psychology from St. John's University, an O.D. (optometry) from the New England College of Optometry, and a Ph.D. in perceptual psychology & sensory processes from Brandeis University. Fox is living in Shadyside.
Helen Sobehart is executive director of ASSET Inc. (Achieving Student Success through Excellence in Teaching), an education improvement nonprofit that provides teacher development throughout Pennsylvania. She returns to her native Pittsburgh from Milwaukee, Wis., where she was the first lay president of Cardinal Stritch University. She has held a variety of teaching and educational administration positions, including acting superintendent of the Fox Chapel Area School District. Sobehart has a B.A. in psychology/ sociology from Slippery Rock University, a master's degree in special education from Duquesne University, and a Ph.D. in history from Carnegie Mellon University. She and her husband, Joe, live in Ohio Township. They have two adult sons and a grandson.
James Gourlay is the music director of the River City Brass Band. He comes to Pittsburgh from Yorkshire, England, where he directed the Grimethorpe Colliery Band, one of the most famous brass bands in the world. Gourlay is a renowned tuba soloist and has held the tuba chair in orchestras in Britain and Switzerland. A native of Scotland, he has a five-year contract with the River City Brass Band. He intends to expand the audience of the 29-year-old band, providing traditional material as well as separate concerts focusing on new music. Gourlay is married to Lea Havas. He is living temporarily on the North Side, as he looks for a house.
Robert Wheeleris the chair of the Department of Chemistry and Biochemistry at Duquesne University's Bayer School of Natural and Environmental Sciences. A native of Thunder Bay, Ontario, he comes to Pittsburgh from the University of Oklahoma, where he was a presidential professor in the chemistry and biochemistry department. He earned a B.S. in chemistry from Harvey Mudd College and received his Ph.D. in computational chemistry from Cornell University. Wheeler lives in Shadyside.
Tina Kukielski and Daniel Baumann will curate the 2013 Carnegie International along with Dan Byers, who is already at The Carnegie. Kukielski comes to Pittsburgh from New York City, where she was a senior curatorial assistant at the Whitney Museum of American Art. She received her B.A. in art history from Boston University and is currently a doctoral student in art since 1900 at The Graduate Center, City University of New York. She will be moving to Pittsburgh in January. Baumann, who lives in Basel, Switzerland, has organized more than 60 exhibitions in museums and galleries throughout the world. He has a degree in art history and German literature from the University of Geneva, Switzerland. Baumann, his wife Gabriela Burkhalter, and their two children, will move to Pittsburgh in Sept. 2012. Until then, he will work on the International from Europe.