Everingham, Pollock, Bovbjerg, Jenkins, Hiller, Scarlett-Smith, Thompson
Professionals new to Pittsburgh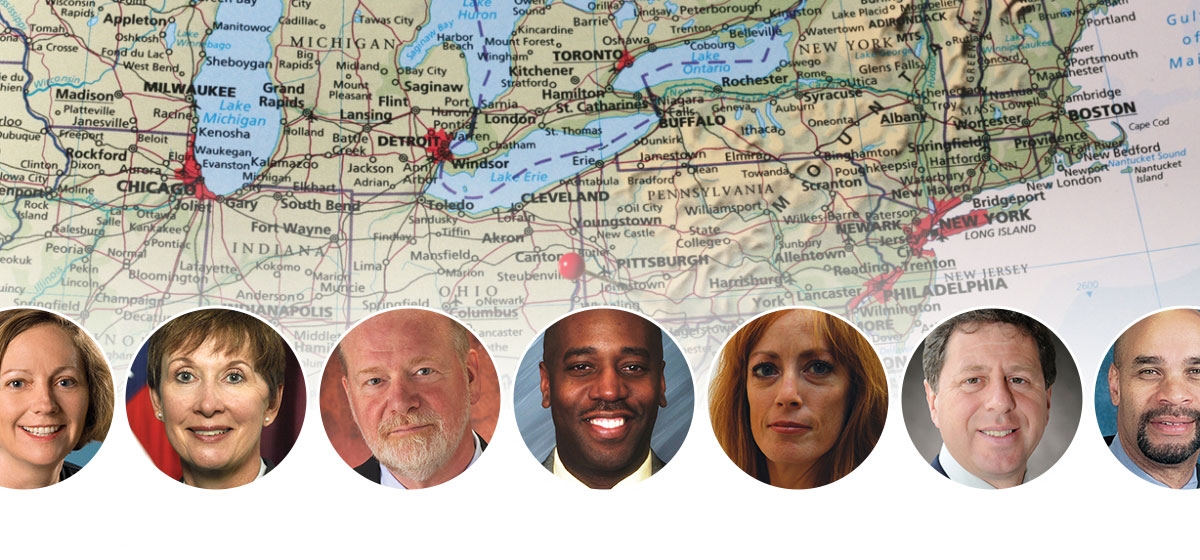 November 24, 2008
Susan Everingham is director of the RAND Corporation's Pittsburgh office. She joined RAND in 1988 and, since 2004, has been director of international programs, comprising the centers for Asia Pacific, Middle East and Russian Eurasia policy.From 2000 to 2005, she directed RAND's program of military personnel research for the Office of the Secretary of Defense. She specializes in mathematical modeling of complex systems. A native of Santa Monica, she grew up in Andover, Mass., and has an undergraduate degree in mathematics from Williams College and a master's degree in applied mathematics from the University of California at Los Angeles. She comes to Pittsburgh with her husband, Jay, an Internet entrepreneur, and their 13-year-old son and 11-year-old daughter.

Retired Maj. Gen. Gale Pollock is executive director of UPMC's Center for Ocular Regeneration and Vision Restoration, the first such center in the country. She will oversee the center's development, integrating basic and clinical research. She will blend the latest technology with research and clinical innovations and recruit a range of experts to pioneer research and therapies for the vision-impaired. In her Army career, she has been a nurse anesthetist, hospital commander, Chief of the Army Nurse Corps, and Acting Surgeon General of the U.S. Army. She received her bachelor's degree in nursing from the University of Maryland and master's degrees in business administration from Boston University, health care administration from Baylor University and national security and strategy from the National Defense University. A native of Kearny, New Jersey, she lives in the Strip District, where her husband Doug McAllaster will soon join her.
Dana H. Bovbjerg is director of the biobehavioral medicine program at the University of Pittsburgh Cancer Institute. A national expert in biobehavioral oncology research, he plans to focus the biobehavioral medicine program's research and clinical efforts on improving patients' psychological and biological responses to cancer treatment. He will also research how to help people consistently make healthy choices. He comes to Pittsburgh from Mount Sinai School of Medicine in New York, where he directed a similar program. He also has taught at Memorial Sloan-Kettering Cancer Center and Cornell University Medical College. A native of Iowa City, Iowa, he is a graduate of Carleton College, with degrees in philosophy and psychology. He also has a masters in psychology from the University of Iowa. He received a doctorate in neuroscience from the University of Rochester School of Medicine. Bovbjerg and his wife, Margaret, live in Point Breeze with their three daughters.
Carl Jenkins is the manager of the new Nordstrom store at Ross Park Mall and oversees all operations there. For the past four years, he managed Nordstrom Circle Centre in Indianapolis, where he served on a number of civic boards. Prior to that, Jenkins managed the Nordstrom Rack in Oak Brook, in the Chicago area. A native of Jacksonville, Fla., he was raised in St. Mary's, Ga. He enjoys reading, music, playing basketball and bicycling. He and his wife and their four children live in Indiana Township.
Melissa Hiller is director of the American Jewish Museum, responsible for exhibition development, fundraising and outreach programming. The museum, which is housed in the Jewish Community Center in Squirrel Hill, is celebrating its 10th anniversary this year. She comes to Pittsburgh from Harrisburg where she worked in outreach and marketing for a federal program providing training and education to at-risk youth. Previously, she was Assistant Director of the Newhouse Center for Contemporary Art in New York City, curating multi-media exhibitions and directing an International Artist-in-Residence program. A native of Lancaster, she earned her undergraduate degree from the University of Pittsburgh and a master's degree from the Center for Curatorial Studies at Bard College. She lives in Bigelow Heights with her husband and their 19-year-old cat.
Roger Scarlett-Smith is president of GlaxoSmithKline's Consumer Healthcare division. He heads operations, including sales and marketing, of the North American business. Previously he was general manager and vice president, Consumer Healthcare UK, including such brands as Aquafresh, Sensodyne and Beechams. From 2001 to 2004, he was in Sydney, Australia as GSK managing director for Australia and New Zealand. A London native, Scarlett-Smith has an undergraduate degree from Cambridge and law degree from St. John's College, Cambridge. He and his wife, Jennifer, have three children and live in Shadyside.
Stanley Thompson leads the education program for the Heinz Endowments. He comes to Pittsburgh from Providence, R.I., where for the past six years, he was executive director of the Times Academy for Engineering, Mathematics, Science and Technology, a charter school known nationally for its preparation of African-American, Hispanic and Native American students. He has been a teacher, principal and administrator in public, charter, suburban, urban and private school systems across the country. At the Heinz Endowments, he succeeds Joseph Dominic, who retires at the end of 2008. He has an undergraduate degree from Wheaton College (Illinois) a Masters in English Literature from SUNY at Stony Brook, a master's degree in Educational Administration from Harvard and a Ph.D. in Educational Leadership from Nova Southeastern University. A native of Racine, Wis., Thompson and his wife, Jeri, live in the Strip District. They have seven children.