Dye, Burgess, Coonelly, Sadovsky, Wafer, Zubik, Lamoureux, Sarro, Mellah
Arrivals new to Pittsburgh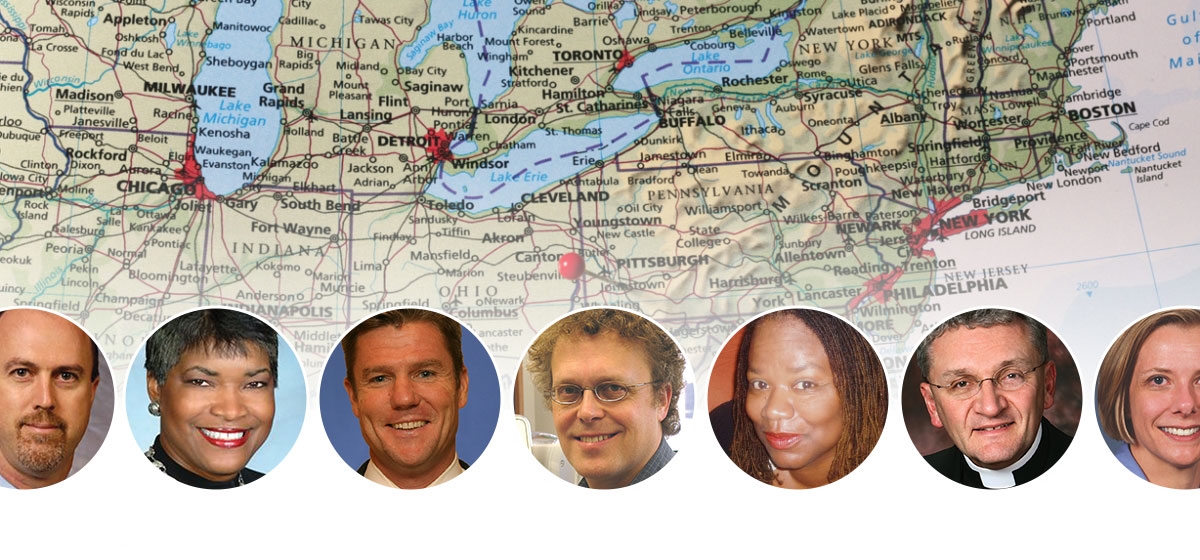 November 19, 2007
Robert Dye is vice president and senior economist for The PNC Financial Services Group. Dye came to PNC from Philadelphia, where he was vice president and econometrician, analyzing the economy and commercial real estate markets for Realpoint, a division of Capmark Investments. He has also been senior economist for Moodys.com and Wharton Econometrics.Dye is a graduate of Marietta College and received a master's in natural resources from Ball State anda Ph.D. in energy management and policy at University of Pennsylvania. He and his wife, Michele, are relocating to Pittsburgh.

Norma J. Burgess is dean of the College for Graduate Studies at Chatham University.She comes to Chatham after 14 years as a professor in the Department of Child and Family Studies at Syracuse, where she chaired that department from 1996-2005. She has been academic co-chair of Syracuse's Bachelor of Professional Studies Program since 2000 and has been on the faculty of Cornell's summer Administrative Management Institute since 2001. She received her undergraduate degree from the University of Tennessee and her master's and Ph.D. in sociology from North Carolina State. She and her husband, Charlie, who have two adult children, are living in Shadyside.
Frank Coonelly is the president of the Pittsburgh Pirates. Coonelly was formerly chief labor counsel for Major League Baseball, helping teams with salary arbitration and negotiating collective bargaining agreements with the union and umpires. Coonelly, who replaced Kevin McClatchy, was ranked by USA Today as 12th among baseball's most influential people. Previously, the Philadelphia native was a partner in the Washington, D.C., office of law firm Morgan, Lewis & Bockius. He has an undergraduate degree from Penn State and a law degree from Catholic University Law School. He and his wife, Debbie, have three teenage daughters and a teenage son.
Dr. Yoel Sadovsky is the scientific director of the Magee-Womens Research Institute. He comes to Pittsburgh from St. Louis, where he was a professor at Washington University and a specialist in high-risk pregnancy at Barnes-Jewish Hospital. Dr. Sadovsky's research focuses on reproductive development and function. The National Institutes of Health is supporting his study in the field. Dr. Sadovsky is president-elect for 2007-2008 of the Perinatal Research Society. He has received three Clinical Teacher of the Year awards from Washington University and has been honored with the 2004 President's Achievement Award from the Society for Gynecology Investigation. His medical degree is from Hebrew University-Hadassah Medical School, Jerusalem.
Shay Wafer is vice president of programs at the August Wilson Center for African American Culture. For the last seven years, she was managing director of Cornerstone Theater Company. Cornerstone artists move into a community, produce a script and create a performance that includes local talent. A graduate of Howard University and the Yale School of Drama, she has helped lead several nonprofit arts groups focusing on community outreach and arts-in-education programming. She has been managing director of L.A. Theatre Works and the St. Louis Black Repertory Company and was a founding partner of Crossroads Arts Academy and Theater in Los Angeles.
David Zubik is the bishop of the Catholic Diocese of Pittsburgh. A native of Ambridge, Bishop Zubik was most recently in Green Bay, Wisc., where he was bishop of the Green Bay Diocese. He finished his seminary studies at Baltimore's St. Mary Seminary. He was ordained in 1975 and spent five years as parochial vicar at Shadyside's Sacred Heart parish. He was later vice principal of Quigley High School in Baden and became secretary to Bishop Anthony Bevilacqua in 1987. Under Bishop Donald Wuerl, he became general secretary and vicar general of the Pittsburgh Diocese, becoming an auxiliary bishop in 1997 and bishop of Green Bay in 2003. Bishop Zubik lives in Oakland.
Karen W. Lamoureux is chief executive officer of Pace School. Previously, she was vice president of program operations at Lutheran Social Services in Concord, N.H. The agency provides foster and residential youth care, international adoption services and assistance for refugees and people with disabilities. She was president of the New Hampshire Partners in Service for Children, Youth and Families. Lamoureux has an undergraduate degree from Boston College and a master's degree in organizational management/ human services from New England College. She's a native of North Huntingdon and lives in Monroeville with her husband, Allyn, and two daughters.
Steven J. Sarro is director of animal programs at the National Aviary. He is responsible for overseeing the care of the aviary's more than 200 bird species and will direct the horticulture and education departments. A native of Norristown, he was most recently at Salisbury Zoo in Maryland, where he supervised medical care and records. He was formerly curator of birds and programs at the Ketchikan Indian Community in Alaska and curator of birds and mammals at the Baltimore Zoo. Sarro graduated from the University of Delaware.He's temporarily living on the North Side.
Farid Mellah is the director of operations at the Renaissance Pittsburgh Hotel. Mellah is a veteran of the hotel industry, having worked properties in Palm Springs, San Diego, New York City, Houston and Paris. A native of Casablanca, Morocco, he brings an international flair to the Renaissance, speaking Arabic, English, French and Spanish. He was named Marriott Food and Beverage Director of the Year in 1990. Mellah lives in the Strip District.