Zehr, Towey, Malkin, Rebholz, Wenzel, Latta, Walker, Busch
Professionals new to Pittsburgh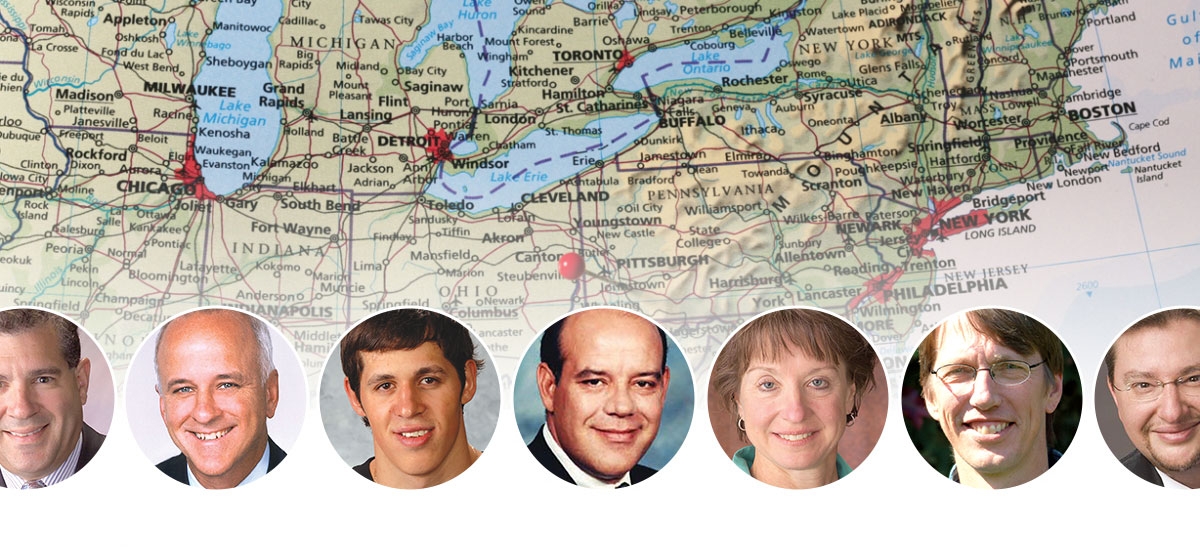 November 20, 2006
Dr. Kenton Zehr is chief of the division of cardiac surgery and professor of surgery at the University of Pittsburgh School of Medicine and associate director of UPMC's Heart, Lung and Esophageal Surgery Institute. He earned his undergraduate degree from Eastern Mennonite University and his medical degree from Penn State's College of Medicine.Dr. Zehr performed his residency at The Johns Hopkins Hospital. His specialties include thoracic aneurysm surgery, mitral and aortic valve repair and left ventricular assist device therapy for advanced heart failure. Before coming to Pittsburgh, Dr. Zehr was a cardiovascular surgeon at the Mayo Clinic. He is married to Dianne Shenk Zehr, who has just gotten her pilot license and instrument rating. They have four children and live in Squirrel Hill. Dr. Zehr enjoys studying other cultures, traveling and collecting Russian impressionistic art.

H. James Towey is president of Saint Vincent College. He was recently assistant to President George W. Bush and director of the White House Office of Faith-based and Community Initiatives. He was also Florida's secretary of the Department of Health and Rehabilitative Services under Gov. Lawton Chiles. In the last 12 years of Mother Teresa's life, Towey represented her and her charity in legal matters and volunteered full time for two years in her homes for the destitute and AIDS in Mexico and Washington, D.C., respectively. Towey founded Aging with Dignity, a nonprofit which helps families plan for medical care during serious illnesses. He received his undergraduate and law degrees from Florida State University and has received six honorary doctorates, as well as a service award from Pope John Paul II. He and his wife, Mary, have five children and live in Latrobe.
Evgeni Malkin is the Pittsburgh Penguins' latest rookie phenom. Though only 20, the 6 foot 3 inch, 192-pound star has been compared with hockey legends Jean Beliveau and Mario Lemieux. The young Russian was named top forward and MVP of the 2006 World Junior Hockey Tournament. He led his team, Metallurg Magnitogorsk, to the Russian Super League regular-season championship. With Malkin and young superstar Sidney Crosby, the Penguins are considered to have the nucleus upon which to build great teams in future years.
David. F. Rebholz is president of Moon Township-based FedEx Ground and in January succeeds Daniel J. Sullivan as CEO. Rebholz was formerly executive vice president, operations and systems support, for FedEx Express in Memphis, responsible for air operations, U.S. airground and freight services, U.S. ground operations, customer services and central support services, overseeing more than half of the company's employees worldwide. At FedEx since 1976, he was promoted to senior vice president of global sales and trade services in 1993 and senior vice president of U.S. ground operations in 1996. He is a native of Milwaukee and attended the University of Wisconsin-Milwaukee. Rebholz is scouting where to live in Pittsburgh.
Dr. Sally Wenzel is the director of the UPMC Asthma, Allergy, and Airway Research Center. Her current research, funded by the NIH, investigates treating severely asthmatic patients who do not respond to regular treatment. She also researches for the National Heart, Lung, and Blood Institute. She is a professor at the University of Pittsburgh and the UPMC Comprehensive Lung Center. Dr. Wenzel comes to Pittsburgh from the University of Colorado, where she was a professor of medicine in the National Jewish Medical and Research Center. She earned her undergraduate and medical degrees at the University of Florida. Dr. Wenzel and her husband, Dana Morganroth, live in Fox Chapel.
Steven Latta is assistant director for conservation and field research at the National Aviary. He is researching and conserving birds in Haiti and the Dominican Republic, which are winter homes to many Pennsylvania migratory birds. Princeton University Press is publishing his "Guide to the Birds of the Dominican Republic and Haiti," the most complete record of that region's birds. Latta received his undergraduate degree from Kalamazoo College, studied blue-footed boobies in graduate work at the University of Michigan and earned a Ph.D. from the University of Missouri. He and his wife have three children and live in Gibsonia.
Antony Walker is the Pittsburgh Opera's music director. He has conducted 52 operas and 47 large choral and orchestral works in the United States, Europe and his native Australia, most recently opening the 2006-07 New York City Opera season. Each season, he will conduct at least two Pittsburgh Opera's productions, beginning with "The Magic Flute" in March. Walker is also the artistic director of both the Washington Concert Opera in Washington, D.C., and the Pinchgut Opera in Australia and music director of Cantillation and the Orchestra of the Antipodes. He was musical director for Sydney Philharmonia Orchestra from 1992 to 1997. From 1998 to 2002, he was chorusmaster and staff conductor for the Welsh National Opera.
Jason T. Busch is curator of decorative arts at the Carnegie Museum of Art, replacing Sarah Nichols, who retired in April. Busch was most recently at the Minneapolis Institute of Arts where he was associate curator of architecture, design, decorative arts, craft and sculpture. In Minneapolis, Busch was also project director and curator for conservation and museum installation of the grand salon from the Hôtel Gaillard de La Bouëxière, Paris (c. 1735). Previously, he was assistant curator of American decorative arts at Hartford's Wadsworth Atheneum Museum of Art. Busch has a bachelor's degree in American studies from Miami University of Ohio and a master's degree in early American culture from the University of Delaware. He is living in Oakland.