Crossley, Ferris, Fogle, Gittes, Hillenbrand, Humphrey, Pape, Robinson
Professionals new to Pittsburgh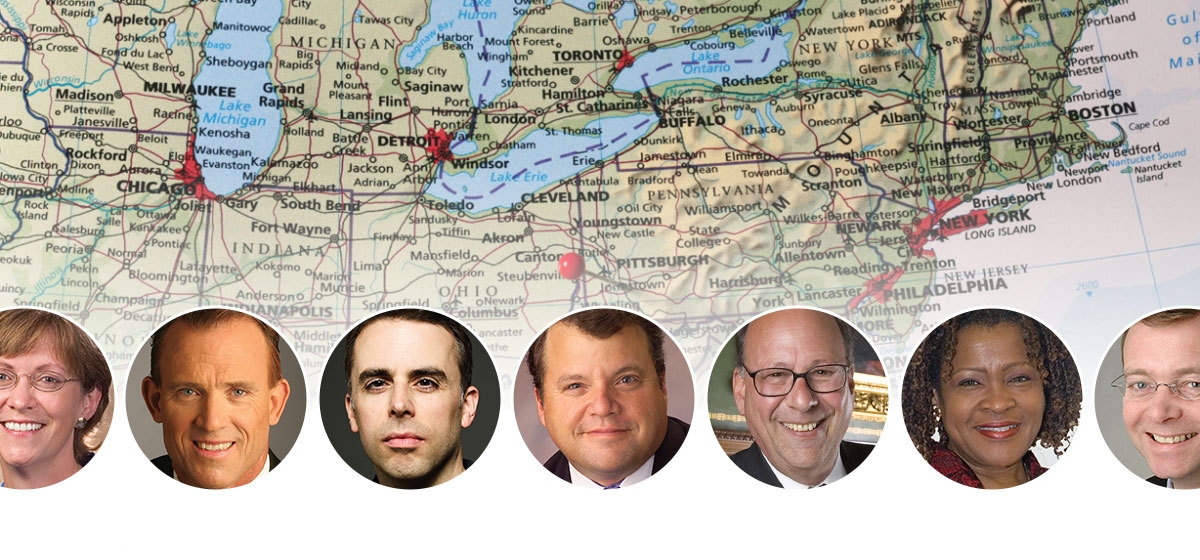 November 20, 2005
Mary Crossley is dean of the University of Pittsburgh School of Law. Crossley, 44, has focused on inequality in the financing and delivery of health care, including legal remedies for physician bias and examination of how trends in health insurance coverage discriminate against unhealthy people.She has published broadly in Columbia Law Review, Notre Dame Law Review, and Rutgers Law Journal. Crossley has taught courses in health law, bioethics & law, family law, torts, and contracts. Immediately prior to coming to Pitt Law in 2005, she was the Florida Bar Health Law Section Professor of Law at Florida State University. Prior to teaching, she practiced corporate and health care law in San Francisco and New Haven. She is a native of Knoxville, Tenn. and is living in Squirrel Hill.

Harris N. Ferris, 50, is the executive director of the Pittsburgh Ballet Theatre. A native of Madison, N.J., he was most recently the executive director of the Nevada Ballet Theatre in Las Vegas, where in five years he doubled operating revenue, reduced overall debt by 36 percent and expanded resident and touring programs. A graduate of Bard College and SUNY Buffalo with an MBA from Rutgers University, Ferris began his professional dance career in New York and became a principal dancer of The Empire State Ballet Theater in 1979. He also served as executive director of the Buffalo-based company. He was managing director of the American Repertory Ballet and Princeton Ballet School in New Brunswick, N.J., from 1993-2000 and is credited with the company's recovery from a deficit, doubling of operating revenue and launching of a successful capital campaign.
Douglas Fogle is the curator of Contemporary Art at the Carnegie Museum of Art. Fogle, 41, will organize the 55th Carnegie International, which will open in May 2008. He will be responsible for new acquisitions and the presentation of the museum's contemporary art collection. Fogle was most recently the curator of visual arts at the Walker Art Center in Minneapolis. Fogle started there in 1994 as a visual arts intern. In 1995, he was promoted to curatorial assistant, then assistant curator in 1997, associate curator in 2000 and curator in 2003. Fogle has also written for several exhibition catalogues and journals such as Artforum, frieze, Flash Art and Parkett. Anative of suburban Chicago, Fogle is living in Lawrenceville.
Dr. George K. Gittes is the chair of pediatric surgery and surgeon-in-chief at Children's Hospital of Pittsburgh. Dr. Gittes, 44, is a renowned researcher whose interest is in "organogenesis," focusing on the formation of the pancreas and, specifically, the cells in the pancreas that produce insulin. He hopes to cure diabetes through cellular engineering. A Boston native who was raised in California, Dr. Gittes is a graduate of Harvard Medical School. He did his residency at the University of California, San Francisco, and fellowship training at Children's Mercy Hospital in Kansas City, Mo. Prior to moving to Pittsburgh in August, he was Professor of Surgery, and Chair, Department of Pediatric Surgical Research, at the University of Missouri. He is the 2005-06 president of the Society of University Surgeons. He and his wife, Dr. Elissa Gittes, a pediatrician with specialization in Adolescence Medicine at Children's Hospital, have two sons, and live in Fox Chapel.
David M. Hillenbrand, Ph.D. is the president and CEO of the Carnegie Museums of Pittsburgh. Hillenbrand, 58, left retirement to return to Pittsburgh and lead the Carnegie Museums. He spent 28 years with Bayer, eight of which were in Pittsburgh in the 1980s. Hillenbrand held a succession of leadership roles with Bayer, including president and CEO of Bayer, Inc. in Canada, and executive vice president of Bayer Polymers in Germany The son of parents who were in the diplomatic service, Hillenbrand was born in Germany and spent his formative years there and in France, Great Britain, and Hungary. He and his wife, Georgianna, have two sons. They live in a Strip District loft.
Kathy W. Humphrey, Ph.D. is vice provost and dean of students at the University of Pittsburgh. For the past 11 years, Humphrey was at the St. Louis University (SLU), where she also received her Ph.D. in higher education administration. While there, she served in several capacities, most recently as vice president for student development before joining the University of Pittsburgh in June. Humphrey received several honors at SLU including, in 2002, being recognized as SLU's Woman of the Year. In 2001, SLU's International Student Federation created the Kathy W. Humphrey Award for Diversity in her honor. She's served as a voluntary youth leader for more than 20 years. Humphrey is a native of Kansas City, Mo. Her husband, Lyle, is a caterer, who intends to open a business in our region. Along with their twin teenage boys, the family lives in the North Hills.
Dr. Hans-Christoph Pape, 43, is chief of the division of orthopedic trauma in the department of orthopedic surgery at UPMC. He is a pioneer in "damage control orthopedics," in which seriously injured patients are stabilized, with organ and system functions restored as fully as possible before orthopedic repair begins. Dr. Pape and colleagues have published studies suggesting that the traditional approach of surgically repairing multiple orthopedic injuries simultaneously with severe organ and system traumatic injuries may cause additional unnecessary stress and unfavorable long-term effects. Before joining UPMC, Dr. Pape, a native of Bielefeld, Germany, was professor and vice chairman of trauma surgery at Hannover Medical School in Germany. Dr. Pape has more than 140 peerreviewed articles, nearly half of which he was the lead author. He is living in Squirrel Hill.
Hilary Robinson is dean of the College of Fine Arts at Carnegie Mellon University, now in its centennial year. She has been a member of the University of Ulster faculty since 1992, teaching the history and theory of art. She became head of the school in 2002 and led it to achieve the highest rating out of the 75 art and design institutions in the United Kingdom. Trained as a painter in the 1970s, she received her M.A. at the Royal College of Art, London, where she won the Allan Lane Award for the Outstanding Contribution to Cultural Theory. She earned her Ph.D. at the University of Leeds. Her research is in the field of contemporary art theory. In the U.K. Robinson is a member of the Executive Committee for the Council for Higher Education in Art and Design. She is living in the East End.
Mark Roosevelt is superintendent of the Pittsburgh Public Schools. He arrived in August and unveiled his comprehensive plan in November to reorganize the Pittsburgh Public Schools. While serving in the Massachusetts legislature, Roosevelt was the chairman of the House Committee on Education, and the architect of a massive educational reform bill for Massachusetts. He was formerly the managing director of the Massachusetts Business Alliance for Education. A native of Washington, D.C., Roosevelt, 50, is a graduate of Harvard College and Harvard Law School. In 2003, he attended the Broad Superintendents Academy, which prepares executives to assume leadership roles in urban education. He lives in Squirrel Hill with his wife, Dorothy. He is the great-grandson of Theodore Roosevelt.
Jim Tracy, 50, is the 37th manager of the Pittsburgh Pirates. Previously, Tracy spent five years as manager of the L.A. Dodgers, with a 427-383 record, including a first-place finish in the 2004 season. He placed third in manager-of-the-year balloting that year. Before joining the Dodgers in 2000, Tracy was bench coach for four years with the Montreal Expos. He has managed in Minor League cities Peoria, Chattanooga, Harrisburg and Ottawa. He made his Major League debut as a player with the Cubs in 1980. He also played two years in Japan. He is a native of Hamilton, Ohio, and attended Marietta College, where he was an NCAA Division III All-American. He and his wife, Debra, have three sons and live in Nevillewood.