Fall, Shlomchik, Hees, McFarlin, Cook, Suresh, Beehler
Professionals new to Pittsburgh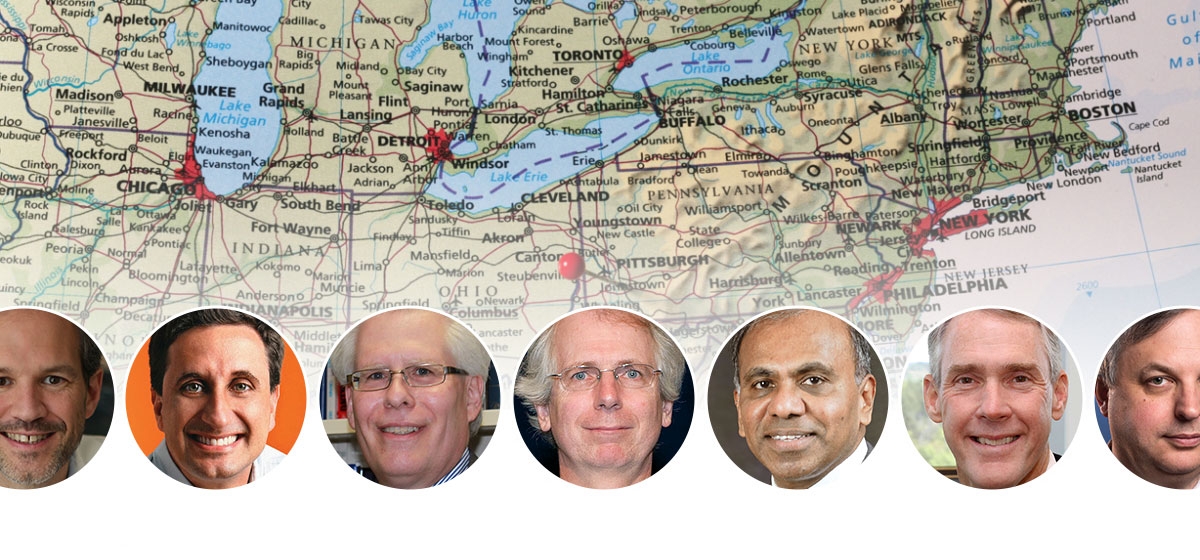 May 20, 2013
>Kevin Fall is deputy director for research and chief technology officer of Carnegie Mellon University's Software Engineering Institute. He will direct the research and development portfolio of the SEI's technical programs in cybersecurity, software architecture, process improvement, measurement and estimating. A native of Manhattan Beach, Calif., he comes to Pittsburgh from Berkeley, where he was principal engineer at Qualcomm.Previously, he was co-founder of software company NetBoost Corp. The holder of eight U.S. patents, Fall has served as a member of the U.S. Air Force Scientific Advisory Board. He has a bachelor's degree in computer science from the University of California, Berkeley, and a master's degree and Ph.D in computer science from the University of California, San Diego. He lives in the south hills with wife and children.

Dr. Mark Shlomchik will become chair of the University of Pittsburgh School of Medicine's Department of Immunology on July 1. He is renowned for his research and contributions to the understanding of lupus. He comes to Pittsburgh from New Haven, Conn., where he has taught at Yale University since 1993, becoming a full professor in 2004. He has an undergraduate degree from Harvard and medical and doctoral degrees from the University of Pennsylvania, where he also completed residency training in pathology and laboratory medicine. A native of Philadelphia, Dr. Shlomchik expects to live in Shadyside.
Bernardo Hees will be the seventh CEO of the H.J. Heinz. Co. He comes to Pittsburgh from Miami, where he was CEO of Burger King Worldwide. Hees is a partner in 3G Capital, which, in a joint venture with Warren Buffett's Berkshire Hathaway, is purchasing H.J. Heinz. Previously, Hees was CEO of America Latina Logistica, the largest railroad and logistics company in Latin America. A native of Brazil, he has a degree in economics from the Pontificia Universidade Catolica of Rio de Janeiro and an MBA from the University of Warwick in England.
Dean McFarlin will become dean of Duquesne University's Palumbo-Donahue School of Business on July 1. He comes to Pittsburgh from Dayton, Ohio, where he was chair of the management and marketing department at the University of Dayton's School of Business Administration. His research includes cross-cultural management, organizational justice, leadership and executive influence processes on top-management teams. A native of Milwaukee, he has a bachelor's degree in psychology from Marquette University and a Ph.D. in social/organizational psychology from SUNY Buffalo. McFarlin and his wife, Laurie, who have three grown children, haven't yet decided where they'll live in Pittsburgh.
William Cook is the John Swanson Endowed Chair and Professor of Industrial Engineering at the University of Pittsburgh's Swanson School of Engineering. He is known for his work involving the "traveling salesman problem," which seeks to find the shortest possible route that allows a salesman to visit a given number of cities exactly once, and then return to the original city. The problem has application across a number of industries. Before coming to Pittsburgh, Cook was a professor of industrial and systems engineering, and adjunct professor of mathematics at the Georgia Institute of Technology. A native of Princeton, N.J., Cook has a bachelor's degree in mathematics from Rutgers University, a master's of science in operations research from Stanford University and a Ph.D. in combinatorics and optimization from the University of Waterloo, Ontario. Cook is living temporarily in Oakland until his family joins him later in the year.
Subra Suresh will become Carnegie Mellon University's ninth president on July 1. He comes to Pittsburgh from the Washington, D.C., area, where he was director of the National Science Foundation. Previously, he was dean of the School of Engineering and the Vannevar Bush professor of engineering at the Massachusetts Institute of Technology. A native of India, he graduated from high school in Tamil Nadu, India, at the age of 15. He has a bachelor's of technology degree from the Indian Institute of Technology, Madras, a master's from Iowa State University, and a Ph.D. from M.I.T. His wife, Mary, is the former director of public health for Wellesley, Mass. They have two daughters and will live in Squirrel Hill.
John Beehler is dean of Robert Morris University's School of Business. He comes to Pittsburgh from Dallas, where he was among the founders of the University of North Texas at Dallas and served as the founding provost and vice president for academic excellence and student success at the university, which was launched in 2000. Beehler previously served as dean of the Haile/U.S. Bank College of Business at Northern Kentucky University and as dean of the Barton School of Business at Wichita State University. A native of Tobyhanna, Pa., in the Poconos, he has a bachelor's degree in accounting from Penn State and an MBA in finance and Ph.D. in accounting and taxation from Indiana University. Beehler and his wife, Pamela, live in Moon.