Chryst, Burns, Hall-Russell, Haney, Norton, Chambers, Fitzgerald, O'Brien
Professionals new to Pittsburgh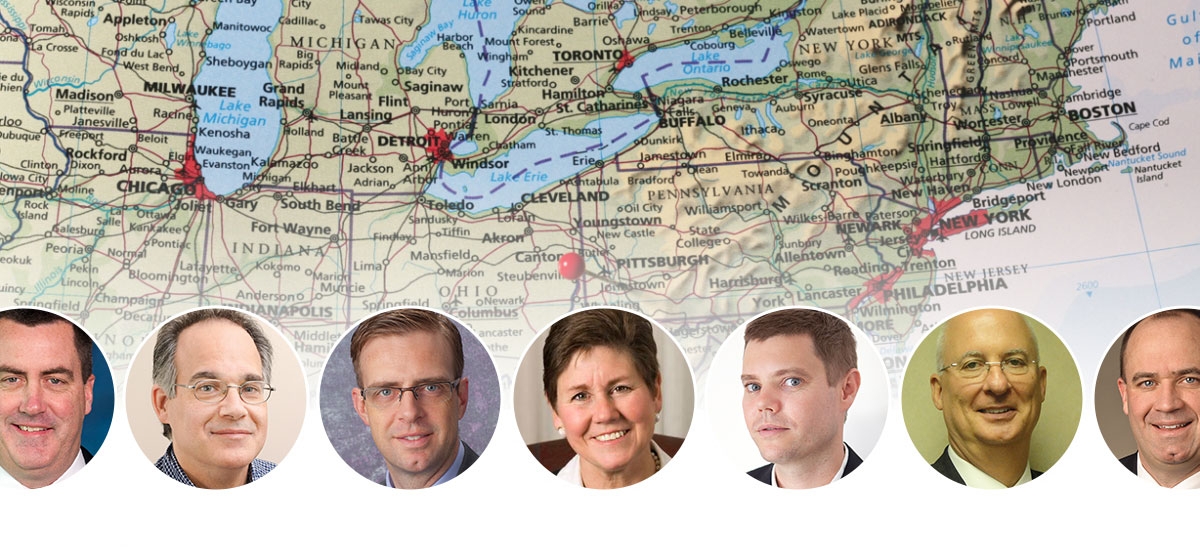 May 20, 2012
Paul Chryst is the head football coach of the University of Pittsburgh Panthers. He comes to Pittsburgh from Madison, Wisc., where he was offensive coordinator of the University of Wisconsin Badgers. During his eight-year tenure at Wisconsin, he became known as one of college football's leading strategists. The Badgers played in the Rose Bowl this year, losing 45-38 to Oregon in the highest scoring Rose Bowl ever. His 23-year coaching career includes 16 collegiate seasons and seven years in the pros. He earned his undergraduate degree in political science at Wisconsin and earned a master's in educational administration from West Virginia University. Chryst and his wife, Robin, have two daughters and a son.

Howard Burns is editor of the Pittsburgh Business Times. He comes to Pittsburgh from Los Angeles, where, most recently, he was editor of the film magazine Moving Pictures. Previously, he spent 18 years at the Hollywood Reporter, including four years as editor and one as editorial director. He is a graduate of the University of Miami, beginning his career as a city desk reporter at The Miami News. A native of Spring Valley, N.Y., Burns is living in McMurray with his 15-year-old son.
Cheryl Hall-Russell is the president and CEO of the Hill House Association. She comes to Pittsburgh from Indianapolis, her hometown, where she was CEO of the Indiana Youth Services Association, which works with juvenile delinquency prevention and counseling for troubled Indiana teenagers. Her 20-year career in nonprofits includes being vice president of urban services for the YMCA of Greater Indianapolis. She is the author of books on philanthropy in the African-American community. She and her husband have a son and daughter.
Tyler Haney is vice president of digital strategy at UPMC. He comes to Pittsburgh from North Carolina, where he was director of interactive marketing and digital strategy for the Wake Forest Baptist Medical Center. A native of Portsmouth, Ohio, Haney is responsible for creating and implementing a strategic plan to broadly increase UPMC's digital presence. He is a graduate of Eastern Kentucky University and has a master's degree from the University of Kentucky. Haney and his wife, Shazana, and their two daughters live in Shadyside.
Cheryl Joy Norton is president of Slippery Rock University of Pennsylvania. She comes to Slippery Rock from Washington, D.C., where she was a senior fellow with the American Association of State Colleges and Universities. In 2004, she became president of Southern Connecticut State University, a position she held for six years, serving as the university's first woman president. She is a native of suburban Cleveland and a Phi Beta Kappa graduate with honors from Denison University. She has a master's degree in applied physiology, a master's in education, as well as a doctorate in applied physiology from Teachers College, Columbia University.
Nicholas Chambers is the Milton Fine Curator of Art at the Andy Warhol Museum. He comes to Pittsburgh from Brisbane, Australia, where he was curator of contemporary international art at the Queensland Art Gallery – Gallery of Modern Art. He has both an undergraduate and a master of arts degree from the University of Sydney. Chambers has worked across a diverse range of exhibition platforms, from artist-run initiatives to university galleries and major public art museums. In 2007, he was a lead curator on a large survey exhibition of the work of Andy Warhol, staged by the Queensland Art Gallery in collaboration with The Andy Warhol Museum. A native of Sydney, Australia, he is living temporarily on the North Side's Mexican War Streets.
Brian Fitzgerald is general manager of the recently opened Wyndham Grand Pittsburgh Downtown. He comes to Pittsburgh from Cambridge, Mass., where he was general manager for the Royal Sonesta Hotel. Previously, he served at the Orlando Marriott in Orlando, Fla. and the Westin Bonaventure Hotel and Suites in Los Angeles. His hospitality career began as a line cook in Cincinnati, his hometown. Fitzgerald and his wife have three daughters and are living in the North Hills.
Bill O'Brien is head football coach of the Penn State Nittany Lions, rebuilding the program after the termination and death of Joe Paterno, the winningest coach in college football Division I history. O'Brien comes to Penn State from Boston, where he was offensive coordinator of the New England Patriots. He is a native of Andover, Mass., and like Paterno, is a graduate of Brown. He joined the New England Patriots in 2007 after 14 collegiate seasons at Duke, Maryland and Georgia Tech. O'Brien and his wife, Colleen, have two sons.