Burfitt, Cassell, Guess, Barrett, Tucke, Mansourian, Morrison, Nace
Professionals new to Pittsburgh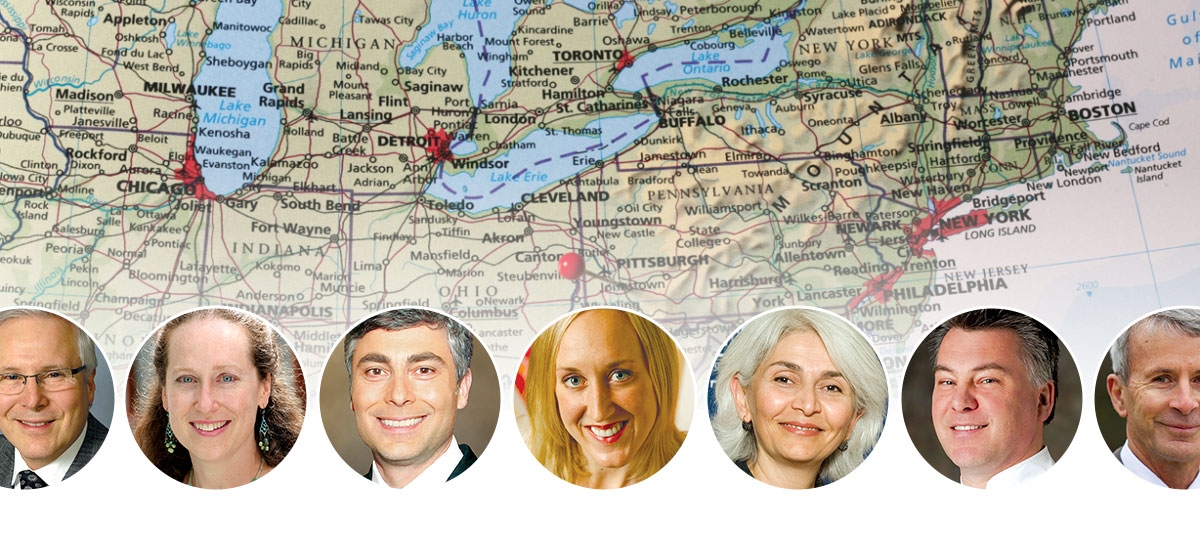 May 20, 2010
Gregory Burfitt is president and CEO of Allegheny General Hospital and The Western Pennsylvania Hospital. Burfitt grew up in Warren, Ohio and comes to Pittsburgh from Denver, where he was president and CEO of Centura Health, Colorado's largest integrated healthcare delivery system.Prior to Centura, he was chief operating officer for Inova Health System in Falls Church, Va. He earned his undergraduate degree from Youngstown State University and an MBA from the University of Florida. Burfitt also completed the Advanced Management Program at Harvard University. He and his wife, Sandy, are living in the Cultural District.

Justine Cassell is director of Carnegie Mellon University's Human-Computer Interaction Institute. A native of New York City, she comes to Pittsburgh from Chicago, where she has been director of Northwestern University's Center for Technology & Social Behavior. Cassell has a bachelor's degree in comparative literature from Dartmouth, master's degrees in literature from the Université de Besançon and in linguistics from the University of Edinburgh, and a double Ph.D. in psychology and linguistics from the University of Chicago. She developed the Embodied Conversational Agent, a virtual human capable of interacting with people via language and nonverbal behavior. Cassell will live in Highland Park.
Andre Kimo Stone Guess is president and chief executive officer of the August Wilson Center for African American Culture. A native of Louisville, Ky., Guess comes to Pittsburgh from Montclair, N.J., where he led GuessWorks, a consulting firm he founded in 2006. Previously, he was vice president, producer, and director of finance and administration at Jazz at Lincoln Center. He has also been vice president of the Lincoln Foundation in Louisville, which helps academically talented disadvantaged youth. He has an undergraduate degree in economics from the University of Louisville and is working toward a Ph.D. in urban and political affairs. He and his wife, Cheryl Peterson Guess, have three children—16, 13 and 10—and they are living Downtown.
Greg Barrett is president and chief development officer of the Children's Hospital of Pittsburgh Foundation. Most recently, he was associate vice chancellor for health sciences development at the University of California, San Diego, where he was responsible for raising funds for the university's School of Medicine, School of Pharmacy and Pharmaceutical Science, and the medical center. Previously, Barrett was associate vice president of institutional advancement and institutional strategy at the Illinois Institute of Technology in Chicago. Raised in West Virginia, Barrett has an undergraduate degree from James Madison University and an MA from Indiana University. He is living in the Strip District.
Bethany Tucke is deputy director of the Andy Warhol Museum. A Pittsburgh native, she returns via New York City, where she was a marketing and special projects consultant at Nike, generating and implementing marketing communications strategies for promotions, work on their artist product collaborations, special events and brand design. Previously, she was managing director in the New York office of Tomato, a London-based design agency. Tucke has a degree in communications and psychology from Denison University. She's currently living in Murrysville.
Ida Mansourian is executive director of international programs at Robert Morris University. A native of Iran, she has been to more than 40 countries and every continent except Antarctica. At Robert Morris, she will expand study abroad programs and international offerings on campus. She comes to Pittsburgh from Arizona, where she was director of the international education office at Mesa Community College. She earned a bachelor's degree in urban planning from Arizona State University and a master's of education in multicultural studies from Northern Arizona University. Mansourian is living in Moon.
Andrew Morrison is executive chef at Fairmont Pittsburgh. A native of northeast England and raised in Cheshire, Morrison comes to Pittsburgh from the Four Seasons Atlanta, where he was executive sous chef of Georgia's only five star, five diamond hotel. A proponent of contemporary cuisine and the slow food movement, Morrison is classically French-trained. He has worked at Four Seasons Miami and has been a private chef on two Bahamian islands. In New York City, he consulted, developed and launched successful ventures, including the award-winning Biltmore Room. Morrison and his family live in the Mexican War streets on the North Side.
Greg Nace is president of the Pittsburgh Botanic Garden. A native of Doylestown, he was most recently in Durham, N.C., where he was associate director of the Sarah P. Duke Gardens. Nace will oversee the reclamation of the garden site, including removing abandoned coal mines and polluted water, implementing the entrance garden, and building support to open the new amenity to the public. He has an undergraduate degree in botany from the University of Illinois and two master's degrees—from the University of Delaware's Longwood program and Duke University. Nace and his wife, BJ, a dental hygienist, live in Mt. Lebanon.