Lane, Meachem, Anderson, Keeler, LaCasse, Gleason, Gunther, Howard
Professionals new to Pittsburgh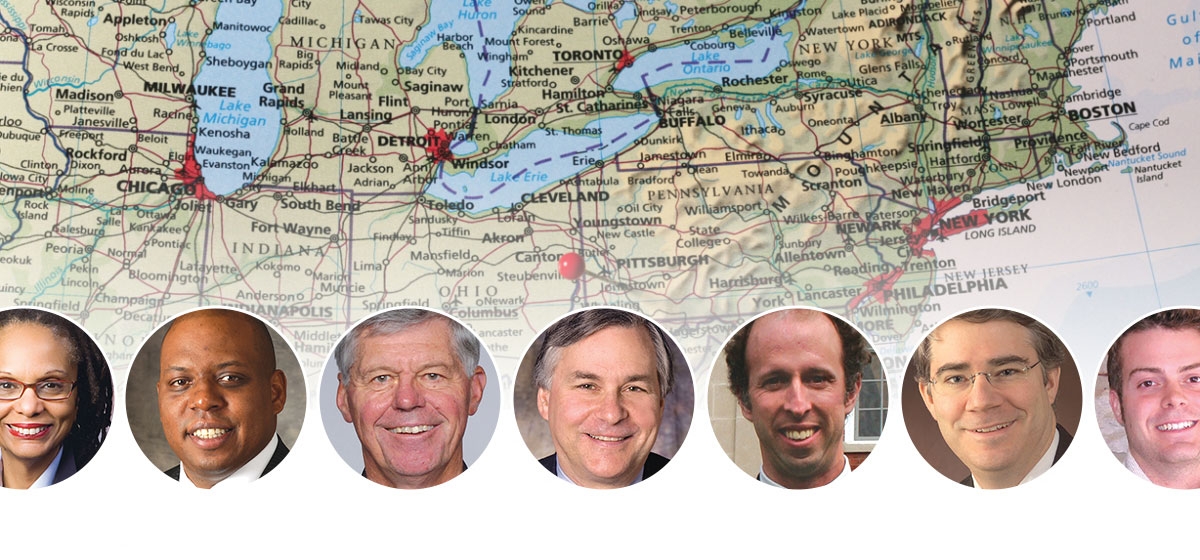 May 20, 2007
Linda S. Lane is the deputy superintendent of the Pittsburgh Public Schools. A 2003 classmate of Superintendent Mark Roosevelt at Broad Superintendents Academy, she comes to Pittsburgh from Des Moines, Iowa, where she was deputy superintendent of the Des Moines Public Schools.She was the first female and minority to serve as Des Moines' chief operating officer, overseeing human resources, business operations, finance, transportation and facilities. She also was executive director of human resources. Her undergrad degree is from the University of Iowa, and she has a Ph.D. in educational leadership from Drake. She and her husband, Coleman, have two grown children. Lane lives in Highland Park.

A. Fulton Meachem Jr. is the 12th executive director of the Housing Authority of the City of Pittsburgh. He comes to Pittsburgh from Winston-Salem, N.C., where since 1994, he rose in the ranks of that city's housing authority until he became interim executive director in late 2005. Meachem is credited with redesigning the Winston-Salem housing authority's business model from a public to a quasi-private sector model. He is a native of North Carolina and earned a business administration degree from North Carolina Central University. He was also quarterback of N.C. Central's football team. He and his wife, Jeanette, and their two sons live Downtown.
Ken Anderson is the quarterbacks coach for the Pittsburgh Steelers. A former NFL great at that position, Anderson played for the Cincinnati Bengals for 16 seasons. He still holds the NFL record for highest completion percentage in a season — 70.55 in 1982. He won four passing titles — third most in NFL history behind Sammy Baugh and Steve Young. He was a four-time Pro Bowler and still holds Bengal records for completions (2,654), passing yards (32,838) and touchdown passes (197). He also rushed for 2,220 yards and 20 touchdowns. Following his playing career, Anderson was an announcer and then coached with the Bengals for 10 years before joining the Jacksonville Jaguars as quarterbacks and wide-receivers coach. A native of Batavia, Ill., he graduated from Augustana College. He and his wife, Cristy, live in Pittsburgh and have three grown children.
John T.S. Keeler is the dean of Pitt's Graduate School of Public and International Affairs. A widely recognized scholar of European politics, comparative public policy and trans Atlantic relations, he currently chairs the European Union Studies Association, the premier scholarly and professional association focusing on the European Union. He comes to Pittsburgh after 26 years at the University of Washington in Seattle, where he was a political science professor and director of the Center for West European Studies and European Union Center. Keeler earned his Ph.D. and master's degrees in political science at Harvard University and his undergrad degree from the University of Southern California. Keeler and his wife, Anne, and their two children expect to live in the East End.
David Jeremy LaCasse is the head of Shady Side Academy's Senior School. He comes to Pittsburgh after serving most recently as dean of students at the Fountain Valley School of Colorado in Colorado Springs. In that post, he oversaw all non-academic aspects of student life, including the athletic, health and residential life departments. He taught U.S. history and European history and philosophy. He also taught at the Berkshire School. LaCasse has a master's in educational administration from Columbia University and an undergraduate degree from Bowdoin College. LaCasse and his wife, Diana, have two young children and will be living on the Academy grounds in Fox Chapel.
Dr. Thomas G. Gleason is the director of the new Center for Thoracic Aortic Disease of the UPMC Heart, Lung and Esophageal Surgery Institute. He is also associate professor of cardiac surgery at the University of Pittsburgh School of Medicine. Dr. Gleason specializes in the repair of thoracic aortic diseases including aneurysms, dissections and traumatic injuries. Before joining UPMC, Dr. Gleason was a cardiovascular surgeon at Northwestern University Feinberg School of Medicine in Chicago and director of the Thoracic Aortic Surgery Program in the Bluhm Cardiovascular Institute. He has an undergrad degree from Middlebury, a medical degree from Rush Medical College in Chicago and training in cardiothoracic surgery at the University of Pennsylvania.
Justin W. Gunther is the curator of buildings and collections at Fallingwater. He is responsible for the buildings and more than 950 works of art including prints, paintings, sculpture, furniture and ceramics. This includes 169 pieces of original walnut furniture, custom designed by Frank Lloyd Wright for Fallingwater. The Western Pennsylvania Conservancy, which preserves Fallingwater, hired Gunther, who was responsible for the preservation of 25 buildings at Mount Vernon, home of George Washington. A native of Richmond, Va., Gunther has an MFA in historic preservation from the Savannah College of Art and Design and an undergraduate degree from Virginia Commonwealth University.
Ann Howard is chief scientist at Development Dimensions International. She will lead DDI's Center for Advanced Behavioral Research. She has authored more than 90 book chapters and papers on assessment centers, management selection, managerial careers and leadership. While new to Pittsburgh, she joined DDI as a senior consultant in 1994 and in 1997 became manager of Assessment Technology Integrity. Before DDI, she was president of the Leadership Research Institute, a nonprofit she co-founded. Previously she led basic human resources research at ATT. She has an honorary doctorate from Goucher College, where she earned her undergrad degree and a Ph.D. in industrial psychology from the University of Maryland.