Kelly, Hines, Germain, Casillo, Manto, Sekiya, Dell'Omo, Goodfriend, Hilson, Katzner
Professionals new to Pittsburgh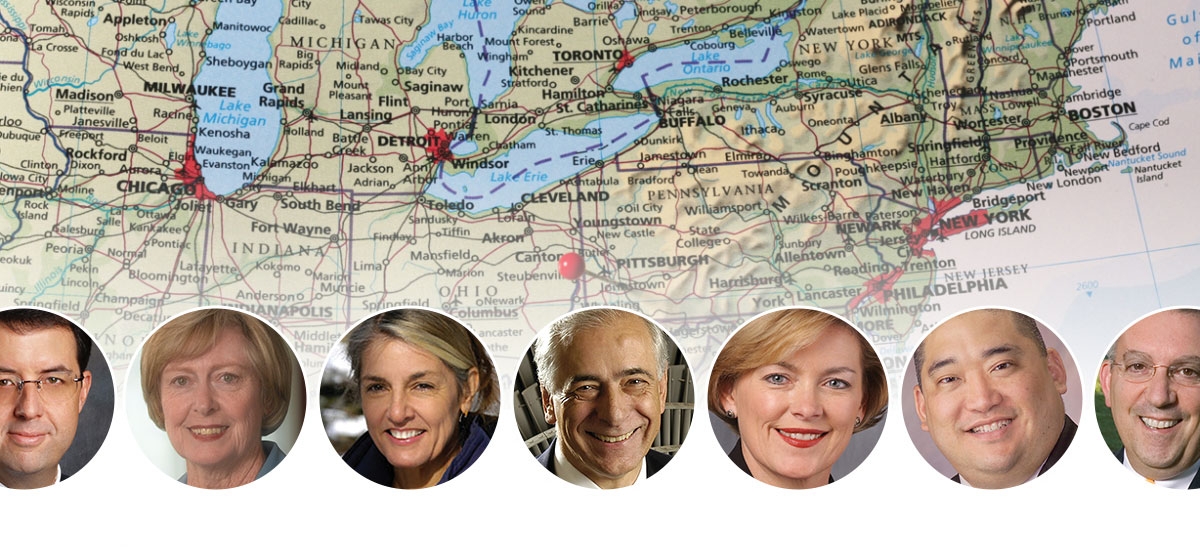 February 20, 2006
Robert P. Kelly is chairman, president and CEO of Mellon Financial Corp. Kelly, 51, took over Feb. 13, after serving as chief financial officer and senior executive vice president of Wachovia Corp., the fourth-largest bank holding company in the U.S. based on assets and the third-largest U.S. full-service brokerage firm, based on client assets.Kelly has a strong reputation in strategy, operational excellence and growth. In a poll of analysts by Institutional Investor magazine, he was voted the best large capitalization bank CFO in America in both 2004 and 2005. He joined Wachovia as chief financial officer in 2000 after spending 19 years with a major Canadian bank. He has extensive background in retail brokerage and banking and securities trading. He is a chartered accountant with an M.B.A. and an honorary doctorate from City University, London, and a bachelor's degree and honorary doctorate from St. Mary's University, Canada. He was active in numerous civic organizations in Charlotte, N.C. Kelly and his wife, Rose, have two children.


Mary E. Hines is president of Carlow University. A New York City native, Hines was most recently the chancellor/campus executive at Penn State's Wilkes-Barre campus, a post she held eight years, overseeing a successful capital campaign. She held faculty and administrative positions at Dundalk Community College, Catonsville Community College, the University of Baltimore, St. Mary's Seminary and University and the College of Notre Dame of Maryland. She graduated summa cum laude from St. Francis College and earned a Ph.D. in philosophy from The Catholic University of America. She has served on the American Council of Education Fellows' Executive Board. She was very active in community and business organizations in northeastern Pennsylvania, receiving in 2002 the Arthritis Foundation's "Community Leader of the Year" award. Her husband, Kenneth, has taught philosophy and religion at several institutions, including Penn State. They have four children.
Sheryl St. Germain is director of the MFA program in creative writing at Chatham College. She is a poet and prose writer with substantial publications — three poetry books, four poetry chapbooks, one nonfiction book, hundreds of poems and essays in journals and anthologies. She is particularly interested in environmental and place-based literature. St. Germain was most recently at Iowa State, where she was coordinator of the MFA program in creative writing and environment. A native of New Orleans, she hosted a benefit at Chatham in September to raise money for the victims of Hurricane Katrina. She plans to take a group of students to New Orleans in May to study the city's ecosystem and the effects of the hurricane. She has a Ph.D. from the University of Texas at Dallas.
Tony Casillo is CEO and president of Elliott Company, a global leader in gas compressors and steam turbines as well as the service and repair of rotating machinery. Before returning to the region, Casillo has held numerous posts within Elliott's European operations, most recently as vice president of Europe, Middle East and Africa Operations. He is a graduate of Union College with an advanced degree from Rensselaer Polytechnic Institute. He has written many technical papers but was most recently published in 2003 in Reader's Digest for "Tony Casillo's Italian Family Cookbook." Casillo and his wife, Carol, have two married daughters and three grandchildren, all of whom live in the London suburbs.
Gwen Manto is executive vice president and chief merchandising officer for Dick's Sporting Goods. She started in January and is responsible for all areas of merchandising as well as private label sourcing, merchandising planning, replenishment and allocation. Manto was most recently executive vice president of softlines for Sears, Roebuck & Company, where her responsibilities encompassed revenue of $6.5 billion, and she led the effort to focus, segment and differentiate Sears' assortment in the apparel and soft home categories. Prior to Sears, Manto was vice chairman and chief merchandising officer for Stein Mart, responsible for merchandising and marketing for the 270-store chain. Manto was also president of the Kid's Foot Locker division. She and her husband, Stephen, and their three children will reside in Sewickley Heights.
Dr. Jon K. Sekiya is an orthopaedic hip, knee and shoulder surgeon in the UPMC Department of Orthopaedic Surgery. He is affiliated with the UPMC Center for Sports Medicine and the UPMC South Hills facility. This spring he became an assistant team physician for the Pitt Panthers Football Team. He has served on the medical teams for the University of Michigan, the Pittsburgh Steelers and U.S. Navy SEALS. Dr. Sekiya also has been appointed assistant professor of orthopaedic surgery at the University of Pittsburgh School of Medicine. A native of Honolulu, he was the 1987 High School State Wrestling Champion of Hawaii. He is also a former member of the U.S. Navy, having served in the Middle East in support of Operation Enduring Freedom and Iraqi Freedom. He earned a bachelor's degree in electrical engineering from U.C. Davis and then received his medical degree from Wake Forest. He has received many orthopaedic surgery research awards and military honors. He has authored or co-authored more than 60 research articles and books. Dr. Sekiya and his family live in Upper St. Clair.
Gregory G. Dell'Omo is president of Robert Morris University. Dell'Omo came to RMU after 14 years at Saint Joseph's University in Philadelphia, where he most recently served as vice president for external affairs from 2002 to 2005. He was responsible for government and community relations, university communications and the development of joint academic programs in China. Under his leadership, Saint Joseph's was awarded $22 million in federal and state appropriations and contracts and greatly expanded its affiliate programs in China. He was instrumental in directing Saint Joseph's efforts to enhance its academic profile via a more integrated marketing communications program. He joined Saint Joseph's in 1991 as an assistant professor of management, becoming department chair of management and information systems (1993-1994), associate professor of management (1994-2000) and professor of management (2000-2005). Prior to his career in academia, Dell'Omo spent six years in human resources in the New York City retail industry. He has a Ph.D. in industrial relations/human resource management from the University of Wisconsin-Madison. Dell'Omo and his wife, Polly, have three children.
Marvin Goodfriend is a professor of economics and president of Carnegie Mellon's Gailliot Center for Public Policy. He is an expert on monetary policy issues and is currently writing a paper entitled "A framework for Independent Monetary Policy in China" which would allow the Chinese currency to float against the dollar. He is a graduate of Union College with a Ph.D. from Brown. He is widely published in a variety of journals including Federal Reserve publications and the American Economic Review. Goodfriend has been a senior vice president and policy adviser for the Federal Reserve Bank of Richmond. He was also director of research at the Federal Reserve Bank of Richmond. In addition, Goodfriend has been a visiting scholar at numerous institutions, including the European Central Bank, the Federal Reserve Board, the International Monetary Fund and the Swiss National Bank.
Joan H. Hilson is the executive vice president and CFO for American Eagle Outfitters. She is a CPA with extensive experience in merchandise-level planning and allocation. Prior to joining American Eagle, she held several finance positions with Limited Brands, most recently as executive vice president and CFO for the Victoria's Secret stores division. She originally was hired at American Eagle as senior vice president, finance, before she was promoted recently. Hilson is a native of Cleveland, and she and her husband have two children.
Todd E. Katzner is director of the National Aviary's department of conservation and field research. He graduated from Oberlin and received a master's from the University of Wyoming and a Ph.D. from Arizona State. His dissertation was on the ecology and behavior of four co-existing eagle species in Kazakhstan. As director of conservation and research, Katzner is responsible for identifying and building high-priority national and international ornithological research projects. His current projects include developing new research programs in the Dominican Republic and the Philippines, areas with large numbers of unique bird species that are poorly known and urgently in need of conservation action. He also is developing projects in the state to address critical ornithological conservation problems in Pennsylvania.