Rossi, Cotter, Beyer, Graham, Have, Hassenzahl, Berg, Wetenhall
Professionals new to Pittsburgh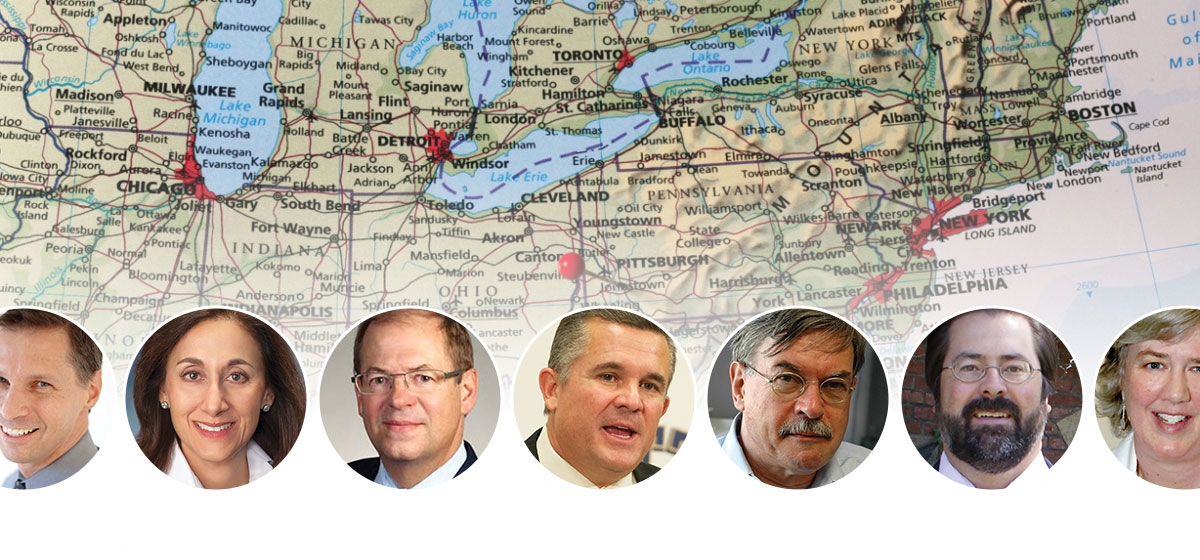 February 21, 2011
Daniel Rossi is executive director of the Animal Rescue League of Western Pennsylvania. A Pittsburgh native, Rossi was most recently in Phoenix, Ariz., where he was executive director of United Cerebral Palsy of Central Arizona. A 22-year veteran of the nonprofit sector, Rossi has a B.S. in administration and management science/economics from Carnegie Mellon University and a master's in nonprofit management from Robert Morris University. He's living in Forest Hills.

Andrea Cotter is senior vice president and chief communications officer of UPMC. She moves to Pittsburgh from Saratoga Springs, N.Y., where she held a variety of positions with IBM, most recently as director of global healthcare marketing with IBM. Cotter received a bachelor's degree in Spanish from the State University of New York (SUNY) Oswego and a master's degree in library sciences from SUNY Albany. At UPMC, she's responsible for national, regional and clinical marketing, advertising and public relations.
Richard Beyer is the ninth president of Wheeling Jesuit University. He moves to the region from Reston, Va. Most recently, Beyer was vice president of Trimble, an electronic navigation technology firm in Sunnyvale, Ca. Previously, he held senior executive positions in the wireless mobile solutions industry. He has a bachelor's degree from Olivet College, in Michigan. He is a past board chairman of Olivet and has served as a member of the Council of Board Chairs for the Association of Governing Boards for Colleges and Universities. Beyer will live in Wheeling.
Todd Graham is the head coach of the University of Pittsburgh football team. He comes to Pittsburgh from Tulsa, Okla., where he led Tulsa's Golden Hurricanes to a 36–17 record over four seaons. In 2007 and 2008, Tulsa's no-huddle offense led the nation in total offense. Previously, he was a coach at West Virginia University, under Rich Rodriguez. Graham began his coaching career in 1988 as an assistant at a high school in his hometown of Mesquite, Texas. In 2006, he became head coach at Rice University before joining Tulsa. Graham is a graduate of East Central University. He is bringing a new team of coaches to Pittsburgh, including Calvin Magee, Tony Gibson, Keith Patterson, Paul Randolph and Mike Norvell.
Dr. Henk ten Have is director of the Duquesne University Center for Healthcare Ethics. He relocated to Pittsburgh from Paris, France. He is a past director of the Division of Ethics of Science and Technology for UNESCO. Dr. ten Have has degrees in both medicine and philosophy from Leiden University in the Netherlands. He has practiced as a physician in Rotterdam and as a professor of philosophy at the University of Limburg, in Maastricht. His appointment fits with Duquesne's goals to provide assistance to people in developing nations. Dr. ten Have is living downtown with his wife, Nancy.
David Hassenzahl is the founding dean of Chatham University's School of Sustainability and the Environment. Prior to joining Chatham, he was chair and associate professor in the Department of Environmental Studies at the University of Nevada, Las Vegas. A native of Los Alamos, N.M., he has a B.A. in environmental science and paleontology from the University of California at Berkeley, and a Ph.D. in science, technology and environmental policy from Princeton University. A senior fellow of the National Council for Science and the Environment, Hassenzahl will help Chatham shape the mission and curriculum for its new Sustainability and Environment school, as well as the development of its 388-acre Eden Hall campus in Richland. Hassenzahl, his wife, Hilary, and their two children expect to live near the Eden Hall campus in the North Hills.
Dr. Wendie Berg will join the University of Pittsburgh's School of Medicine as a professor in the Department of Radiology in March. Dr. Berg is a native of Washington state and has B.S. and M.S. degrees in science from Stanford University and a medical degree and doctoral degree in pharmacology and molecular sciences from Johns Hopkins University.
John Wetenhall is the president and CEO of the Carnegie Museums of Pittsburgh. Wetenhall most recently was interim director of the Miami Art Museum and formerly led the John and Mable Ringling Museum of Art in Sarasota, Fla. Previously, he was director of the Cheekwood Museum of Art in Nashville, Tenn. He has a bachelor's degree in English literature from Dartmouth College, a master of arts in art history from Williams College, a master of arts and a Ph.D. from Stanford University, and an M.B.A. from Vanderbilt University. He will be joined in Pittsburgh by his wife, Tanya.