Meyer, Czarnecki, Neverett, Bolding, Moorman, Mathews, Donnelly
Professionals new to Pittsburgh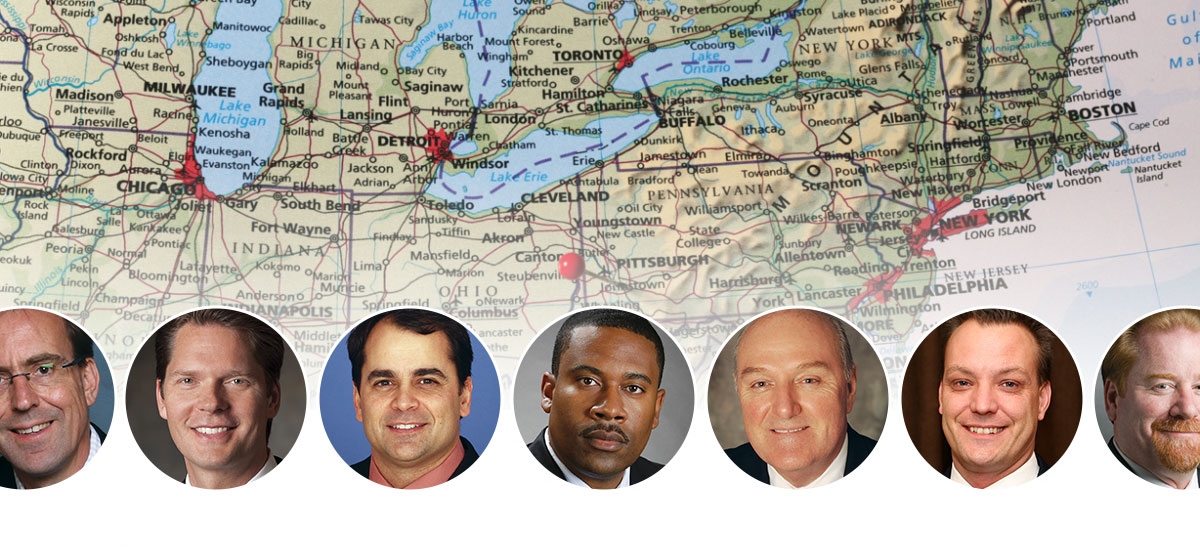 February 20, 2010
Jochen Meyer is president of Flabeg Solar US Corporation, which provides a full product line of high-performance mirrors for concentrating solar power. A native of Germany, he received his master's in mechanical engineering from the Technical University of Munich.He continued his education in business studies at the Fernuniversitaet Hagen while working as an industrial engineer at Claas KGaA in Germany. He continued his career with assignments in management consulting and operations management in Germany before coming to the U.S. as vice president of Global Payment Technologies. He became president of Flabeg Solar last year.

Leonard Czarnecki is the general manager of Fairmont Pittsburgh, which opens Downtown this spring. A native of Shippensburg, he comes to Pittsburgh from Boston, where he was hotel manager at The Fairmont Copley Plaza. He previously held the same post at The Plaza in New York. Czarnecki also has been in management at The Regency, The Hilton New York, The Waldorf-Astoria and New York Renaissance Hotel. He has a degree in hotel and restaurant management from Johnson & Wales University in Providence, R.I. He and his wife are living in Upper St. Clair with their three children.
Tim Neverett is the Pittsburgh Pirates' radio and television play-by-play announcer, replacing Lanny Frattare. Before coming to Pittsburgh, he spent four years in Denver as pre-game and post-game studio host for Colorado Rockies' games, as well as doing play-by-play. He has also worked in broadcasting for The Mountain West Conference Sports Network and Sporting News Radio Network, and ESPN radio. He began his baseball broadcasting career in 1985 with the Pirates' AA affiliate in the Eastern League. Neverett is a graduate of Emerson College in Boston. He and his wife, Barbara, live in Gibsonia with their three sons.
Kevin Bolding is vice president of the Downtown District YMCA, overseeing the YMCA at U.S. Steel Tower and the Downtown YMCA, which opens a new facility of 42,000 square feet this spring. He comes to Pittsburgh from Miami. He's been with the YMCA since 1996, holding district vice president posts in Miami and Detroit, where he oversaw the opening of a major downtown YMCA branch. Bolding is a graduate of the University of Virginia. He has been living downtown and expects to relocate to the North Hills this spring.
Dr. Donald Moorman is the chair of the West Penn Allegheny Health System Department of Surgery, responsible for integrating the system's various divisions and overseeing programmatic, academic, research and quality initiatives. He comes to Pittsburgh from Boston, where he was vice chair of clinical affairs and associate surgeon-in-chief of Beth Israel Medical Center and an associate professor of surgery at Harvard Medical School. Previously, he held clinical and academic positions at Iowa Methodist Medical Center in Des Moines. He is a graduate of the University of Iowa College of Medicine, and his clinical areas of interest include gastrointestinal surgery, general surgery, trauma and critical care.
Jon Mathews is director of operations at Fairmont Pittsburgh. He comes to Pittsburgh from Aventure, Fla., where he was assistant director of food and beverage at the Fairmont Turnberry Isle Resort & Club. Previously, he has been at the Fairmont San Jose and the Fairmont Royal York in Toronto. A native of Kitchener, Ontario, he was educated in Waterloo, Ont., and hopes to pursue an MBA in Pittsburgh. Mathews lives in Mt. Lebanon with his wife, Sarah, and their three children.
David Donnell is the dean of the College for Graduate Studies at Chatham University, where he is responsible for academic and co-curricular programming for the college, as well as new program development, recruitment and retention. He comes to Pittsburgh from Hamden, Conn., where he was dean of the School of Communications at Quinnipiac University. A native of Rye, N.Y., Donnelly has a bachelor of communications from the University of Maryland, College Park, and a master of arts and Ph.D. in communications from the University of Massachusetts. Currently living in Shadyside, Donnelly is married to Carol Bullock; they have four children.