Hessinger, Olivia, Price, Huntington, Sroufe, Skleder, Vagt, Patel, Mullen
Professionals new to Pittsburgh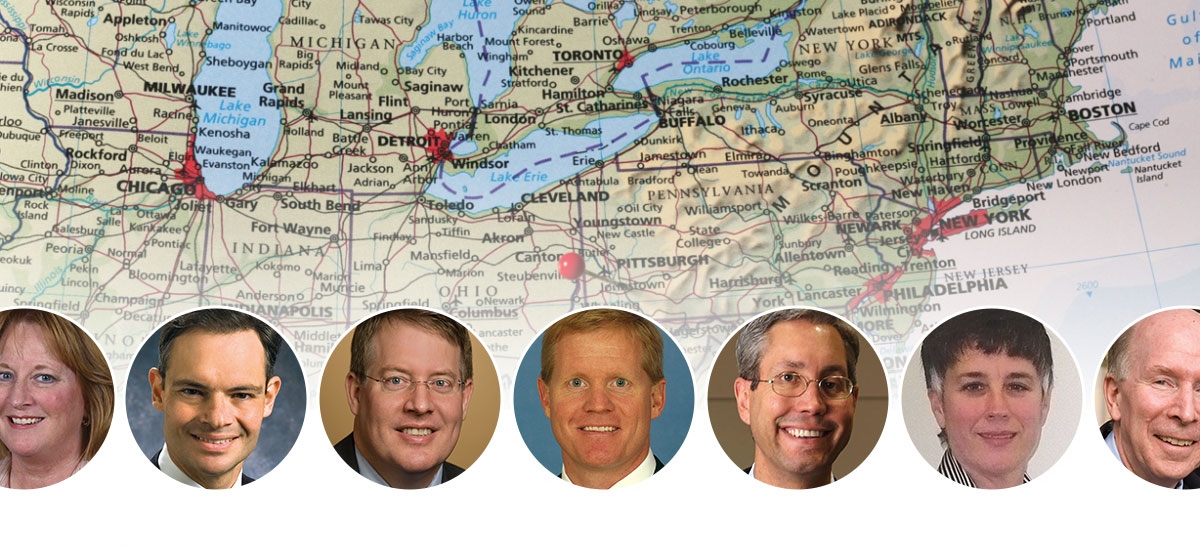 February 20, 2008
Linda Hossinger is senior vice president of Comcast's Three Rivers region. She has been with Comcast for the past 15 years, most recently as senior vice president for the Michigan region. In her current post, she replaces Doug Sansom and is responsible for a workforce of 2,400 serving 850,000 customers in four states, including Southwestern Pennsylvania, Eastern Ohio, Northern West Virginia and Maryland.She is a native of the state of Indiana and is currently living in Moon.

Dr. Christopher T. Olivia is the new president and chief executive officer of West Penn Allegheny Health System. He comes to Pittsburgh from Camden, N.J., where he was president and CEO of Cooper Health System. During his tenure, revenues at Cooper more than doubled and the hospital's financial rating was restored to investment grade. Dr. Olivia earned his undergraduate degree at Penn State and his medical degree from Hahnemann Medical School. He earned an MBA from Wharton. He lives with his wife, Laura, and two school-aged children.
T. Michael Price is president of First Commonwealth Bank. He was most recently in Cincinnati, where he served as chief executive officer for National City in the greater Cincinnati market. He was active in the Cincinnati community as a member of the United Way Board, the Cincinnati Business Committee Board, the Cincinnati Opera Board and the Board of the Holocaust & Humanity Center of Hebrew Union College. Price is from Johnstown, where he lives with his wife, Heather, and five daughters. He received his bachelor's degree from the University of Utah and earned his MBA from Cleveland State University.
Neal Huntington is the new general manager of the Pittsburgh Pirates. A 16 -year veteran of professional baseball, he comes to Pittsburgh from Cleveland, where he had been the Indians' director of player development and then assistant to the general manager. He has a strong scouting background, which fits the Pirates' strategy of building up from the farm system. Huntington, who replaced Dave Littlefield, also spent six years with the Montreal Expos. A New Hampshire native, Huntington graduated from Amherst, where he was a Division III second-team All American. He has a master's degree in sport management from the University of Massachusetts.
Robert P. Sroufe Jr. is the Murrin Chair in Global Competitiveness at Duquesne's John F. Donahue Graduate School of Business. Most recently, he was assistant professor of operations management at Boston College, where he taught operations management and supply-chain management. His most recent book, Strategic Sustainability: The State of the Art in Corporate Environmental Management Systems provides insights into strategic and sustainable ways of measuring corporate performance, including manufacturing, strategic planning, training and performance measures. He lives in O'Hara with his wife, Marybeth, and daughter.
Anne A. Skleder is dean of Chatham College for Women. Prior to Chatham, she was director of the Center for Community Engagement and associate professor of psychology at Alvernia College in Reading. She held several posts at Alvernia, including vice provost, associate vice president of academic affairs and enrollment management, and associate academic dean. She has also taught at Temple University, Lafayette College and DeSales University. A native of Pittsburgh, she received her bachelor's degree from Pitt and a master's degree and Ph.D. in social and organizational psychology from Temple.
Robert F. Vagt is president of The Heinz Endowments, succeeding Maxwell King in managing the endowments' $1.6 billion in philanthropy. He comes to Pittsburgh after serving as president of Davidson College. Vagt received a master's degree in divinity from Duke, becoming ordained as a Presbyterian minister and then working as a psychologist. He became a warden with the North Carolina Department of Corrections and then deputy commissioner of the Massachusetts penal system. He also directed clinical programs at Northwest Alabama Mental Health Center and spent 17 years in the international oil and gas exploration business as president or CEO of several energy corporations. He and his wife, Ruth Anne, have two daughters.
Ketul J. Patel is vice president of operations for Magee-Womens' Hospital of UPMC. He comes to Pittsburgh from Chicago where he was an executive with the Sisters of St. Francis Health Service Inc., responsible for strategy, marketing and new business services at two hospitals. He also has worked for Sharp HealthCare in San Diego, Conemaugh Health System in Johnstown and D.T. Watson Rehabilitation Services in Sewickley. At Magee, he'll be responsible for overseeing imaging, surgical and cancer services and the orthopaedics, bariatrics and gastrointestinal programs. He received an undergraduate degree from Johns Hopkins, and a master's in health administration from Pitt as well as an MBA from Pitt's Katz School of Business.
James H. Mullen Jr. becomes president of Allegheny College Aug. 1, succeeding Richard J. Cook. Mullen comes to Meadville from Chicopee, Mass., where he was president of Elms College. Previously, he was chancellor of the University of North Carolina at Asheville and senior vice president of Trinity College. He is a Holy Cross graduate and has a master's degree from Harvard's JFK School of Government and a doctorate in higher education from the University of Massachusetts. He and his wife, Mari Elizabeth, have two school-aged children.