Sullivan, Wright, Kindler, Tomlin, Balzano, Brubach, Paternostro, Palmer, Honeck
Professionals new to Pittsburgh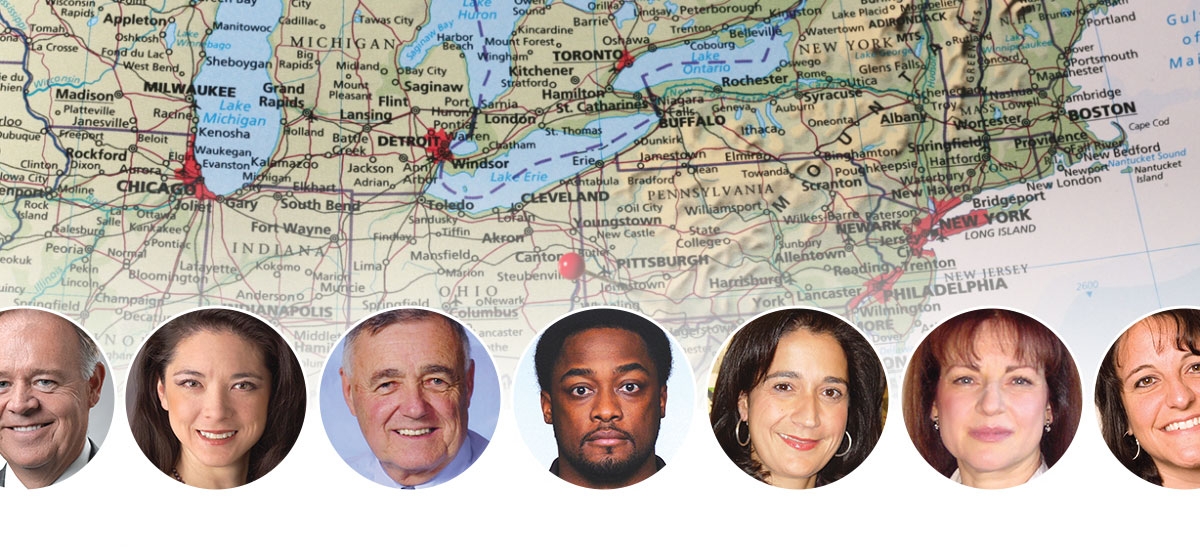 February 20, 2007
Mark L. Sullivan is vice chairman and chief financial officer of recently formed TriState Capital Bank. He has been a leader in the financial services industry for more than 35 years, starting at Price Waterhouse, where be eventually became partner. In Philadelphia most recently, he served as a member of Ernst & Young's Partner Advisory Council and as coordinating partner to Fortune 500 clients.He was co-founder of the firm's Global Automotive Center in Detroit and has also done work with M&T Bank, DuPont, Ford Motor Company and H.J. Heinz Co. He and his wife, Toni, live in the newly built Encore at Seventh Street and Fort Duquesne Boulevard, Downtown. Dr. Vonda Wright is an orthopedic surgeon specializing in sports medicine and athletes older than 40. She comes to Pittsburgh after completing a one-year sports medicine and upper extremity fellowship at the Hospital for Special Surgery in New York City. She received her bachelor's degree from Wheaton College and her medical degree from the Pritzker School of Medicine at the University of Chicago. Wright was research coordinator for the 2005 Summer National Senior Games (The Senior Olympics), which were held in Pittsburgh. She lives in Shadyside.

In July, William L. Kindler will become head of school at St. Edmund's Academy. For the past 16 years, Kindler has served in the same position at the Erie Day School. He is also the current president of the Pennsylvania Association of Independent Schools. He has a Ph.D. in educational administration and psychology from Northern Illinois University and a master's degree in education from New York University. He will be living in Squirrel Hill.
Mike Tomlin is the new head coach of the Pittsburgh Steelers. Last season, he was defensive coordinator for the Minnesota Vikings and coached defensive backs for Tampa Bay the previous five seasons. Under Tomlin, the Vikings' defense was eighth in the NFL and first against the run. During Tomlin's years with Tampa Bay, the Buccaneers led the league twice in overall defense and were ranked in the top five in the NFL in total defense and pass defense for four of his five years there. Before joining Tampa Bay, Tomlin was defensive backs coach for two seasons with the University of Cincinnati Bearcats. He succeeds Bill Cower, who led the Steelers for 15 years and won the franchise's fifth Super Bowl victory. As a college player, Tomlin was a three-year starting wide receiver at William and Mary, setting a school record with 20.2 yards per catch. The Steelers 35-year-old coach and his wife, Kiya, have two sons and a daughter.
Anne-Marie Balzano is the new director of the Campus School of Carlow University. She is also a new assistant professor at Carlow's school of education. Balzano received her bachelor of arts in literature from The American University and a doctorate in educational leadership from Mills College in Oakland, Calif. She currently lives in Shadyside.
Holly Brubach has been a contributing editor at Vogue, staff writer at Atlantic Monthly and The New Yorker and style editor at The New York Times. A Pittsburgh native, she purchased The Granite Building, which she is restoring and converting into condos, retaining the top two floors as her home. Brubach has written three books, including "Girlfriend," named one of the 100 Most Notable Books of 1998 by the New York Times Book Review. In 1998, she joined Prada, the Italian fashion house, directing development of a home collection and serving as design liaison for new flagship stores. In 2000, she formed StudioHollyBrubach, advising major companies in brand identity. Since 2003, she has served as creative director for Birks, the Canadian jewelers, where she supervises product design and development.
Krista Paternostro is vice president of operations at the Pittsburgh Technology Council. She served in similar capacities for the Greenville Chamber of Commerce in South Carolina and the Harrisburg Regional Chamber. She currently serves as vice chair of the Northeast Institute's Board of Regents at Villanova University. She was also recently named as one of central Pennsylvania's Top Forty under 40. Paternostro is a cum laude graduate of Penn State University with a degree in international politics. She recently completed the U.S. Marine Corps Marathon in Washington, D.C. Paternostro lives in Point Breeze.
Mark R. Palmer is the president and CEO of The Western Pennsylvania Hospital. He served as CEO at Alvarado Hospital Medical Center/San Diego Rehabilitation Institute in San Diego. He returned to West Penn after serving as vice president of operations in 1995. He has an MBA from Pitt's Katz Graduate School of Business and an undergraduate degree in accounting from the University of Southern California. Palmer lives in the North Hills. Manfred Honeck will be the new musical director of the Pittsburgh Symphony Orchestra. The Austrian conductor has a three-year contract that begins in the fall of next year, leading the orchestra for eight weeks in his first season and 10 weeks in the subsequent two. Honeck's work as a conductor has received rave reviews from newspapers across the world. He recently relinquished his post at the Swedish Radio Symphony Orchestra in order to work with the Stuttgart Opera, the PSO and the Czech Philharmonic Orchestra. He also has held positions at the MDR Symphony Orchestra Leipzig and the Oslo Philharmonic. Trained as a violinist, Honeck knew at the age of 13 he wanted to be a conductor. He and his wife, Christiane, have six children.