Howard, Bairnsfather, Hand, Li, Riley, Fullerton
Professionals New to Pittsburgh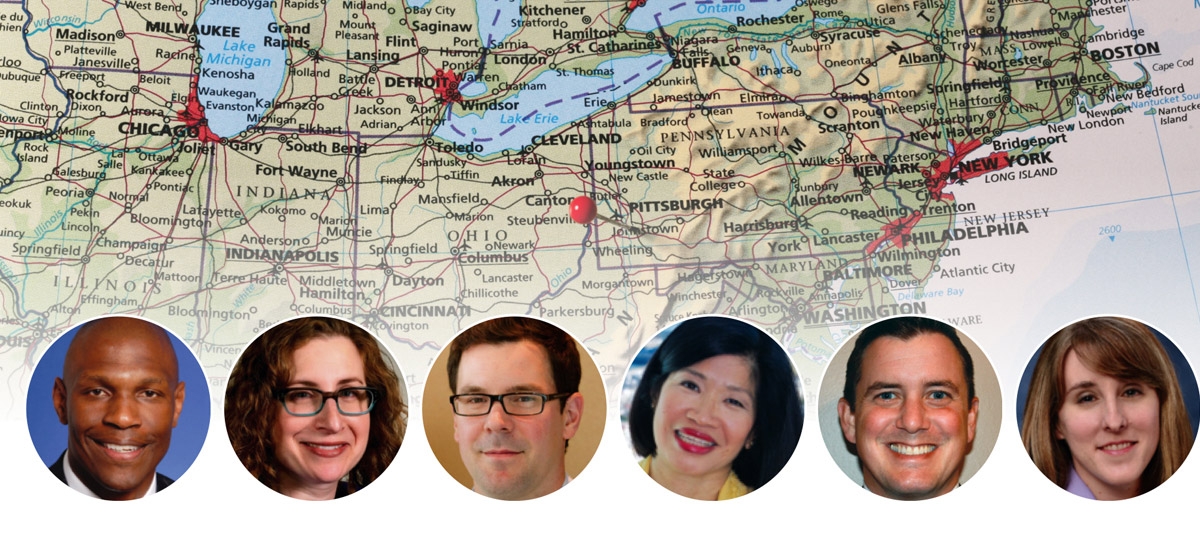 November 21, 2015
Christopher Howard will become president of Robert Morris University on Feb. 1. A native of Plano, Texas, Howard comes to Pittsburgh from Farmville, Va., where he has been president of Hampden-Sydney College since 2009. Howard previously was vice president for leadership and strategic initiatives at the University of Oklahoma, and has worked for General Electric's Corporate Initiatives Group and for Bristol-Myers Squibb. He has an undergraduate degree from the U.S. Air Force Academy, where he received the Campbell Trophy, the nation's highest academic honor for a senior college football player. He earned an MBA with Distinction from the Harvard Business School and a doctorate in politics from Oxford University while on a Rhodes Scholarship. Howard served as a lieutenant colonel in the Air Force Reserve, and earned a Bronze Star for military service in Afghanistan. He served as U.S. Reserve Air Attaché to Liberia and as intelligence operations and places officer with the elite Joint Special Operations Command. Howard and his wife, Barbara, will live in Moon.
Lauren Apter Bairnsfather is director of the Holocaust Center of Pittsburgh, an affiliate of the Jewish Federation of Greater Pittsburgh. She will lead a team transforming the 33-year-old center into a visitor-based institution with exhibits, events and educational programs for educators, students and the public. A native of McKeesport, she returns to Pittsburgh from Austin, Texas, where she worked in the University of Texas College of Liberal Arts Dean's Office and was a top fundraiser for the National Multiple Sclerosis Society. She has also run the Spertus Museum in Chicago and worked with the Morton H. Meyerson Family Foundation in Dallas. She has undergraduate and Ph.D. degrees in history from the University of Texas and a master's degree in social science from the University of Chicago. Bairnsfather will live in Edgewood with her husband.
Timothy Hand is a scholar in the Richard King Mellon Foundation Institute for Pediatric Research at Children's Hospital of Pittsburgh of UPMC. A specialist in gastrointestinal immunology, Hand is a native of Toronto, Ontario, who comes to Pittsburgh from Bethesda, Md., where he has been a post-doctoral fellow since 2009 in the Laboratory of Parasitic Disease at the National Institute of Allergy and Infectious Diseases. The Mellon Scholars program enables promising researchers in the early stages of their careers to pursue potential breakthrough research projects in biomedicine. Hand's research focuses on the development and regulation of T-cell responses against microbiota and how gastrointestinal infection may "unleash" the immune response against bacteria. Hand has an undergraduate degree from Trinity College, University of Toronto, and a Ph.D. from Yale University. He lives in Squirrel Hill with his wife, Amanda Poholek, and their daughter.
Vivien Li is president and CEO of Riverlife, the public-private partnership that works with property owners, elected officials and community organizations to build Pittsburgh's riverfront park system and redevelop its riverfront. A native of New York City, she comes to Pittsburgh from Boston, where she worked for The Boston Harbor Association as executive director and as president. Previously she was on the senior staff for Massachusetts Gov. Michael Dukakis, special assistant to the state's commissioner of public health, project manager for the Boston Redevelopment Authority, and was an urban conference manager for the National Urban League. She has an undergraduate degree in environmental management from Barnard College, Columbia University, and a joint master's degree in public affairs and urban and regional planning from Princeton University. Li will live Downtown.
Jason Riley is executive director of Tickets for Kids Charities, which gives donated tickets to arts and sporting events to low-income youngsters. Riley comes to Pittsburgh from his hometown of Philadelphia, where he was chief program officer with the Eisenhower Fellowships. Riley began his professional career working as a Spanish teacher at Hallahan Catholic High School for Girls. He went on to direct the newly created Office of Community Service at Temple University, increasing student involvement in the neighboring communities. He has also run a residential construction business. Riley has an undergraduate degree from Saint Joseph's University and a master's degree in public administration from the University of Pennsylvania. He lives with his husband in Robinson.
Susan Fullerton is a nanoelectronics and polymer researcher in the Department of Chemical and Petroleum Engineering at the University of Pittsburgh's Swanson School of Engineering. A native of Freeport, she comes to Pittsburgh from South Bend, Ind., where she was a research assistant professor at the University of Notre Dame's Department of Electrical Engineering and Center for Nano Science and Technology. She has a bachelor of science and a doctorate in chemical engineering from Penn State. Her research focuses on the development of materials for low-power electronics and next-generation batteries. Specifically, she focuses on using polymers and polymer electrolytes in an attempt to develop lower voltage transistors and dramatically improve the next generation of electronic devices. Fullerton is living in Sarver, with her husband, Patrick Shirey, and their daughter.