Winkenwerder, Driscoll, Prewitt, Poll, Cohn, Magee, Martino
Professionals new to Pittsburgh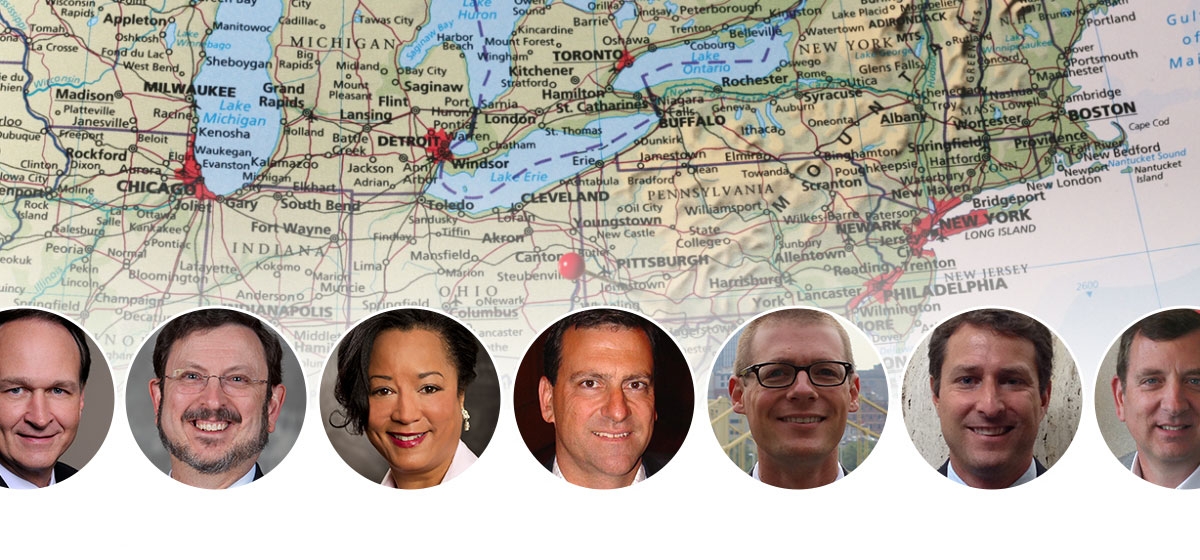 August 21, 2012
Dr. William Winkenwerder Jr. is president and CEO of Highmark Inc., America's eighth largest health insurer. He comes to Pittsburgh from Alexandria, Va., where he was chairman and CEO of The Winkenwerder Company, a healthcare consulting firm. From 2001 to 2007 he was assistant secretary of defense for health affairs with the U.S. Deptartment of Defense, with responsibility for a $40 billion annual budget, 132,000 personnel, and 9.2 million beneficiaries worldwide. Before that, he served for over 20 years in senior leadership positions at Blue Cross of Massachusetts, Prudential Healthcare, and Emory University. He also practiced primary care internal medicine for several years. A graduate of Davidson College and the University of North Carolina School of Medicine, Dr. Winkenwerder received his MBA from the Wharton School.

Michael A. Driscoll is president of Indiana University of Pennsylvania. He comes to western Pennsylvania from Alaska, where he was provost and executive vice chancellor of the University of Alaska Anchorage. Previously, Driscoll spent 18 years at Portland State University in Oregon, serving in several roles, including vice provost for academic personnel and budget, associate dean and then executive dean of the Maseeh College of Engineering and Computer Science, and associate chair of the Electrical Engineering Department. He earned his bachelor's, master's and doctorate degrees in electrical engineering from Michigan State University. A native of Montague, Mich., Driscoll and his wife Becky are living in Indiana, Pa.
Janice Prewitt is vice president of health services for Gateway Health Plan. An experienced nurse, she comes to Pittsburgh from Washington, D.C., where she was the senior program manager in Health Operations for the Blue Cross Blue Shield Association, covering five million federal employees across the country. She has been involved in managed care for the past 27 years, having worked for some of the most prominent companies in the field, including UnitedHealthcare, Care Source, Anthem Blue Cross Blue Shield, and Kaiser Permanente. She grew up in Yellow Springs, Ohio, and studied at Ohio State University. She earned her nursing degree from Sonoma College in California. Prewitt will be living in a condo in the Strip District.
Michael Poll is vice president for enrollment management at Seton Hill University, where he will manage undergraduate admissions, graduate and adult studies, financial aid, student accounts and marketing. He comes to western Pennsylvania from Charlotte, N.C., where he was vice president for enrollment management and marketing at Pfeiffer University. Previously, he was vice president for graduate and undergraduate enrollment at Chatham University. A native of Santa Cruz, Calif., Poll is also the founder of Carolina Educational Consultants, a comprehensive planning service that helps families navigate the college application process. He has an undergraduate business degree from Menlo College and a master of arts in higher education administration from San Jose State University. Poll will be living in the Academy Hill neighborhood in Greensburg.
Aaron Cohn is senior director of corporate sponsorship for the Pittsburgh Pirates. Cohn comes to Pittsburgh from Tampa, Fla., where he was senior director of corporate partnerships for the Tampa Bay Rays. Previously, he worked at Palace Sports & Entertainment as a manager of corporate partnerships, representing the Tampa Bay Lightning, Tampa Bay Storm and the St. Pete Times Forum. A Cleveland native, Cohn has a bachelor's degree in communications from Ohio University. He and his wife Karen have three children and are living in Franklin Park.
Brian Magee is the chief executive officer of PUMP (Pittsburgh Urban Magnet Project). A native of Upper St. Clair, he returns to Pittsburgh from Montana, where he was executive director of the Montana Nonprofit Association, responsible for business strategy and planning, regional and national network development, advocacy and public policy, and overall agency leadership and operations. Magee is a graduate of Notre Dame and has an MBA from Northwestern University's Kellogg School of Management. He and his wife Michelle live in Venetia, Washington Co., near her family-owned business, DeBlasio Beverages in Canonsburg.
Thomas Martino is vice president of delivery, Americas, for Ansaldo STS. He moved to Pittsburgh from Paris, France, where he was director of worldwide projects at Alstom Transportation in the Urban Signaling Group. He has more than 33 years of experience at Rockwell Collins and Alstom Transportation. At Ansaldo STS, he will lead the U.S.-based program management organization and oversee the commissioning and operations and maintenance teams. A native of Indianapolis, Ind., Martino has a bachelor of science degree in industrial engineering from Purdue University. He will be living in Shadyside with his wife Barbara.