Waldrup, Opfer, Glassman, Thomas, Walsh, Mosse, Britten, Young
Professionals new to Pittsburgh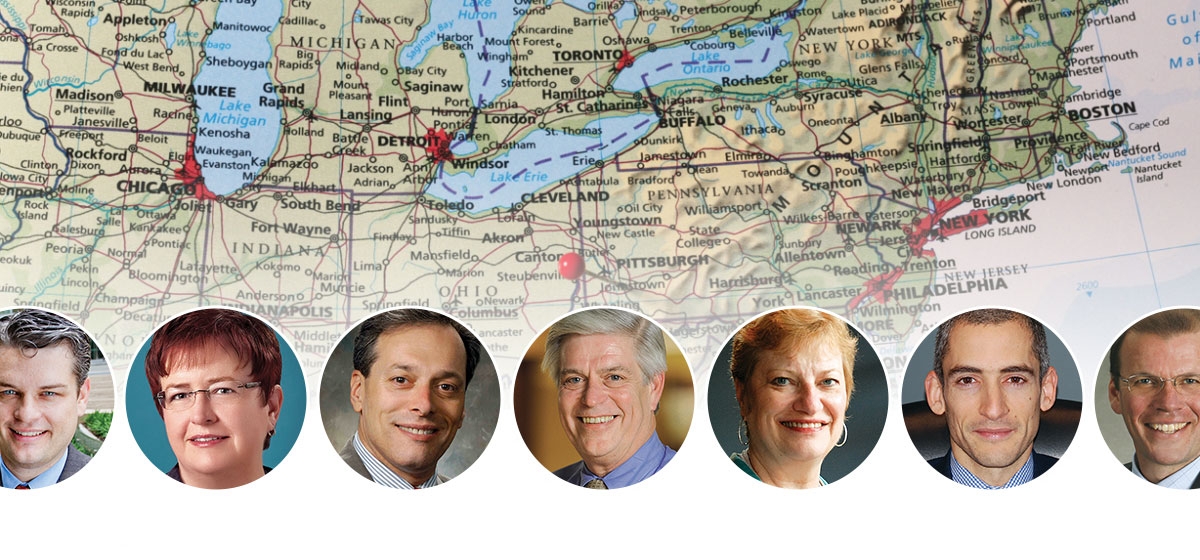 August 20, 2011
Jeremy Waldrup is president and CEO of Pittsburgh Downtown Partnership. Before joining PDP, Waldrup worked with New York City's Department of Small Business Services.Waldrup holds a bachelor's degree in economics from the University of North Carolina at Charlotte and a master's from the University of Colorado's School of Public Affairs. Waldrup moved to Pittsburgh from Brooklyn, N.Y., and lives in Squirrel Hill with his wife, Wesley, and two children.

Darleen Opfer is director of education at RAND. She comes to Pittsburgh from Cambridge, England, where she taught education at the University of Cambridge. Previously, she directed a policy research center at Ohio State University. She has a bachelor's in education from Stetson University, and a master's and Ph.D. in behavior disorders and education policy from the University of Virginia. A native of Daytona Beach, Fla., Opfer plans to live in Squirrel Hill with her husband, David J. Garrow, a Pulitzer Prize-winning historian.
Stephen A. Glassman is president and CEO of Community Design Center of Pittsburgh. He joins the Center after serving as chairman of the Pennsylvania Human Relations Commission and principal of his Maryland and Pennsylvania-based architectural firm. A native of Toronto, Glassman grew up in Baltimore. He graduated from Brown University with degrees in art history and fine arts, and from Yale University with a master's degree in architecture. He plans to live in East Liberty.
Dana Thomas is area director of marketing operations for HealthSouth Hospitals of Pittsburgh. Thomas joined HealthSouth after serving as vice president of marketing for a start-up biotechnology company. Thomas received a bachelor's degree in biology and started his career with E. I. DuPont de Nemours after pursuing a doctorate in microbiology from the University of Louisville School of Medicine. Thomas is from Louisville, Ky., and lives in Fox Chapel with his wife, Pam.
Sharon Walsh is editor of PublicSource, a news outlet created by The Pittsburgh Foundation and Pittsburgh Filmmakers. Walsh comes to PublicSource from the Lexington Herald-Leader. She has been an investigative reporter and editor at various publications, including The Washington Post, The Philadelphia Inquirer and The Chronicle of Higher Education. A native of Louisville, Ky., Walsh has a bachelor's degree in English and humanities from the University of Louisville, and a master's in journalism from the University of Kansas.
David Mossé is senior vice president and general counsel at Dick's Sporting Goods, Inc. Prior to Dick's, Mossé was senior counsel with the investment firm Trian Partners, and was vice president and assistant general counsel of Triarc Companies. A former tri-athlete who competed in the Ironman Triathlon, Mossé is a native of Paris, France, who grew up in Potomac, Md. He received his undergraduate degree from Duke University and attended law school at New York University. He moved to Pittsburgh from Weston, Conn. and lives with his wife, Danielle, and their three boys in Shadyside.
David Britten is vice president of tubular technology and business development at U. S. Steel Corporation. Prior to Joining U.S.S., Britten worked as executive vice president of Sweden-based steelmaker SSAB. A native of Sydney, Nova Scotia, Canada, Britten earned his bachelor's degree in mechanical engineering from the Technical University of Nova Scotia (now known as Dalhousie University) in Halifax, and his master's degree in mechanical engineering from Queen's University in Kingston, Ontario. Britten will relocate to Pittsburgh with his wife, April, and their children.
Jeff Young is manager of the corporate/commercial market at Burt Hill. A Squirrel Hill native, he returns to Pittsburgh after 14 years at the New York office of Skidmore, Owings & Merrill, where he was associate director in project management. Young has a bachelor's degree from Miami University of Ohio and a master's in architecture from the University of Pennsylvania. He lives in Mt. Lebanon with his wife and daughter.