Zelevansky, Frantz, Boyd, Tuan, Johnson, Fleurov, Harris, Jesse
Professionals new to Pittsburgh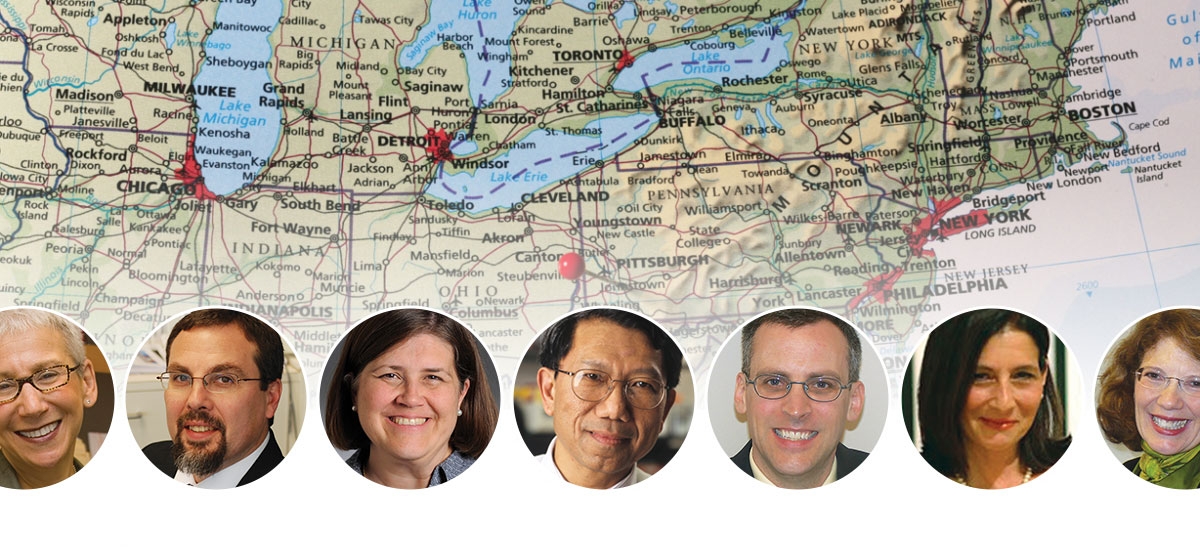 August 20, 2009
Lynn Zelevansky is director of the Carnegie Museum of Art. She was most recently curator and department head of contemporary art at the Los Angeles County Museum of Art. Prior to her work in Los Angeles, she spent seven years in the department of painting and sculpture at New York's Museum of Modern Art. A native of New York City, she studied at Carnegie Mellon University before earning a BFA at Pratt Institute and a master's in photography at New York University. Zelevansky and her husband, Paul, will be living in Shadyside. They have two grown daughters.

Mike Frantz is vice president of enrollment and financial aid at Robert Morris University. He comes to Robert Morris from Wilkes University in Wilkes-Barre, Pa., where he held a similar position. Previously, he worked at Buena Vista University in Iowa. A native of Mt. Vernon, Iowa, Frantz received his bachelor's degree in German and political science at Simpson College in Iowa and a master's in political science from the University of Iowa. He and his wife, Andrea, and their daughter expect to live in Moon.
Karen Boyd is dean of student affairs at Carnegie Mellon University. She was most recently a doctoral graduate assistant with the Department of Counseling and Human Development Services at the University of Georgia. She has also worked at Clemson University, the Georgia Institute of Technology, and East Carolina University, in a variety of teaching and student- life positions. A native of Hope Mills, N.C., she has a bachelor's degree in economics and industrial relations from the University of North Carolina and a master's in counseling and student development from Appalachian State. She is completing her doctorate in higher education from the University of Georgia. She lives in Oakland.
Rocky Tuanis the founding director of the Center for Cellular and Molecular Engineering at the University of Pittsburgh School of Medicine. Tuan is a world-renowned expert in stem-cell biology and tissue engineering, and will lead research into the restoration of organ functions. Since 2001, he has been chief of the Cartilage Biology and Orthopaedics Branch in a division of the National Institutes of Health. A native of Hong Kong, he received his undergraduate education at Swarthmore College and Berea College, and his doctorate from Rockefeller University. He and his wife, Cecilia Lo, have a school-aged son and expect to live in the city.
Philip Johnson is a senior program officer in The Heinz Endowments' environment section. A native of northern N.J., Johnson has an undergraduate degree from Northwestern University and two master's degrees from Yale, in environmental science and public health. Johnson has worked for government agencies and nonprofits on air and water pollution issues. He founded the nonprofit organization Air Intelligence, which provides scientific and legal expertise to communities facing contamination issues. He is currently completing a doctorate in environmental and risk management. He is living in Robinson.
Ellen Fleurov is executive director of the Silver Eye Center for Photography. A Philadelphia native, she comes to Pittsburgh from San Diego, where she started an arts consulting firm. Before that, she was museum director of the California Center for the Arts in Escondido, Calif., and founding curator of the department of photography at the High Museum of Art in Atlanta. She has curated over 50 exhibitions and is the author of numerous books and essays. Fleurov has an undergraduate degree from McGill University and a master's degree in art history from New York University. She's currently living on the South Side.
Rebecca Harris is director of Chatham University's Center for Women's Enterpreneurship. Prior to joining Chatham, she was president of Harris Consulting in Toledo, Ohio. She has started and run a number of businesses, including a publishing company, a marine business and a food company. Harris has an undergraduate degree from Northwestern University and an MBA in marketing from The Fox School of Business at Temple University. She's a native of suburban St. Louis and is living in Point Breeze with her husband and two children.
Peter Jesse is director of international development at Carnegie Mellon University. His job is to expand the university's fundraising efforts around the globe, with an emphasis on Asia. For the past 10 years, he was associate director of international advancement/ major & leadership gifts at Duke University. Prior to that, he served for 11 years as director of annual giving at the Colonial Williamsburg Foundation. Jesse has a bachelor's degree from the University of Wisconsin-Madison, a master's from Washington University, and an MBA from the College of William & Mary.