Reeves, Spence, Johnson, Halevy, Gellman, Griffin, Chamberlain, Fouts
Professionals new to Pittsburgh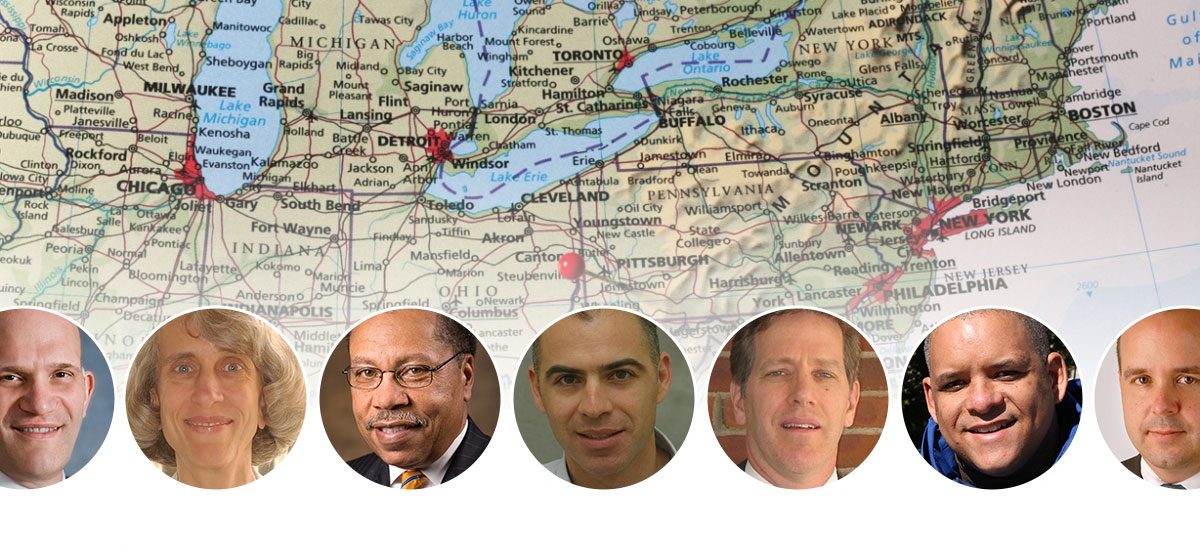 August 20, 2008
Todd S. Reeves is executive director and superintendent of the Western Pennsylvania School for Blind Children. He comes to Pittsburgh from the Washington School for the Deaf in Vancouver, where he was superintendent.A native of Eugene, OR, Reeves began as a speech and language pathologist and teacher, and later served as director of special education of Tacoma Public Schools, overseeing a program for 4,400 students with disabilities in the 34,000-student district. He received his undergraduate degree from Pacific University and a master's in deaf education and clinical audiology at Lamar University in Texas. He earned a J.D. from the University of Washington School of Law. Reeves and his wife, Jodi, will live with their four children in Friendship.

Christine Spence is clinical laboratory director with Red Path Integrated Pathology, a research company committed to the early and definitive diagnosis of cancer.A native of State College, she comes to Pittsburgh from Salt Lake City, where she worked on cancer testing with Myriad Genetics, which holds the patent for breast cancer genes. She did her undergraduate work at Penn State and earned a Ph.D. at the Medical College of Virginia in Richmond. She is a board-certified geneticist and from 1993-2003 worked at the Genetics and IVF Institute in Fairfax, VA, as associate lab director, involved with genetic testing for inherited genetic diseases, such as cystic fibrosis. She arrived in Pittsburgh in June and is living with her husband Larry, an IT professional, in the North Hills.
Alex Johnson is president of the Community College of Allegheny County. He comes to Pittsburgh from New Orleans where he was chancellor of Delgado Community College. Previously, Johnson was president of the Metropolitan campus of Cuyahoga Community College in Cleveland. At CCAC, he'll concentrate on integrating the college's 10 campuses and centers with the region's workforce and economic development needs. He has an undergraduate degree from Winston-Salem State University; a master's from Lehman College and a doctorate from Penn State. He is a native of Harlem in New York City and was raised in Concord, NC. He chose his profession to follow role models who were educators dedicated to civic and community involvement. Johnson and his wife, Daphne King-Johnson, will live in Wexford.
Assaf Halevy is co-founder and vice president of business development and strategic accounts of dbMotion. The company moved its North American headquarters to Pittsburgh after receiving a major investment from UPMC for creating software to allow computer systems to share medical information. UPMC will use the software to enable clinicians in its system to securely access patient information with the goal of creating a national model that improves safety and reduces costs. Halevy is anhonors graduate of computer science from The Academic College of Tel Aviv-Jaffa and Tel Aviv University. A native of Israel, Halevy most recently lived in Atlanta. He and his wife, Sharon, live in Squirrel Hill with their two children.
William Gellman is executive directorof Sewickley Academy's Summer bridge program, which seeks to launch low-income students on the road to college and inspire their teachers to pursue careers in education. Gellman was most recently a member of the faculty of the Kinkaid School in Houston, where he taught sciences. He has also taught at the Asheville School in North Carolina and worked as a fisheries biologist for the U.S. Fish & Wildlife Service in Alaska. He has an undergraduate degree from Penn State and a master's in zoology from the University of Montana. Gellman lives in Sewickley with his wife Maria Elena and their three children.
James Griffin has joined the Pittsburgh Parks Conservancy as manager of Schenley Plaza and the Schenley Park Visitors Center.He comes to Pittsburgh after serving as systems support and development manager at the Department of Public Health of the Commonwealth of the Northern Mariana Islands, a U.S. territory in the Pacific where he led a five-person team supporting the technology of the islands' only hospital. He has served as a consultant for IBM Business Consulting Services and PricewaterhouseCoopers. He received his undergraduate degree in history from Yale and a master of science degree in industrial administration from CMU. A native of Washington, Pa., Griffin lives in Squirrel Hill with his wife Elisa Long and their three school-aged children.
Chris Chamberlain is General Manager of the Pittsburgh Post-Gazette, responsible for day-to-day business operations and executing the long-term strategic plan. He comes to Pittsburgh from Fairfield, CT, where he was vice president of operations atthe Journal Register Company, overseeing daily and weekly newspapers and magazines in New England. Previously, he worked for The New York Times in strategic planning. A native of the south shore of Massachusetts, he majored in English at Colby College and received an MBA from New York University. Chamberlain and his wife will live in the East End with their two young sons.
Andrew Foutsis a violinist with Chatham Baroque. The California native joins the acclaimed trio known for presenting a musical repertoire of the 17th and 18th centuries. His formal violin instruction began at the Eastman School of Music where he studied with Charles Castleman and Mitchell Stern. Fouts recently received a performer diploma from the Early Music Institute at Indiana University, where he won the 2007concerto competition. He has played regularly with San Francisco's American Bach Soloists, the Indianapolis Baroque Orchestra and Washington, D.C.'s American Opera Theater.