Saunders, Gibson, Dietz, Perkins, Nollen, Astorga, Dayan, Suver, Wright
Professionals new to Pittsburgh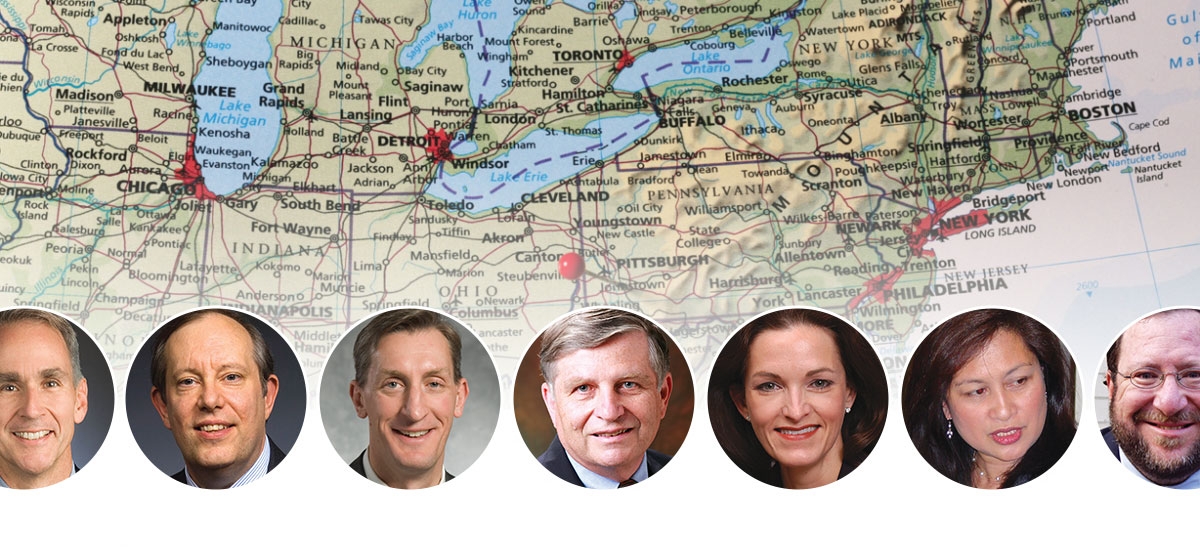 August 20, 2007
Thomas D. Saunders is the new president and CEO of the Western Pennsylvania Conservancy. Saunders was most recently in Gainesville, Fla., where he was community development director for the city for the past 10 years, directing planning, growth management, redevelopment, housing, historic preservation and neighborhood planning.Prior to that, he directed the Maryland Environmental Trust, a statewide land trust that also serves as the parent organization for 40 local land trusts across the state. He has a law degree from Stanford Law School and a master's in public affairs and urban and regional planning from Princeton. He and his wife, Lisa Auel, live in the city with their 12-year-old daughter and 8-year-old son.

Lloyd Gibson is the director of the MBA program at Seton Hill University. His background is in banking and finance, and he comes to Pittsburgh from Chicago, where he served as president, CEO and director for New Asia Bank, a Chinese American Bank. He led the bank's restructuring, returning it to profitability. He has an MBA from Wharton, where he specialized in finance, public management and accounting, and a doctorate in information systems and communications from Robert Morris. Gibson is on the board of the Pittsburgh History and Landmarks Foundation.
James Dietz is vice president of business development at Plextronics. He comes to Pittsburgh from Scarsdale, N.Y., where he was director of marketing for Advanced Technology Materials Inc., a $300 million supplier of specialty chemicals and materials to the semiconductor industry. He has an executive master's in technology management from University of Pennsylvania and an undergraduate degree in chemical engineering from Johns Hopkins. Dietz and his wife, Dina Johnson, live in Hampton with their 6-month-old daughter. He enjoys running and biking in Western Pennsylvania's hilly terrain.
Charles Perkins is the new provost at Point Park University. He comes to Pittsburgh from Alvernia College in Reading, where he was provost and executive vice president. Perkins is a graduate of the U.S. Naval Academy, where he also taught as part of a wide-ranging, 20-year career as a naval officer, retiring as a commander. He has a Ph.D. from George Washington University and an MBA from University of California at Berkeley. He is married with three adult children and is an avid sailor. Perkins is also a volunteer with the Boy Scouts as well as arts and economic development organizations.
Meg Nollen is vice president of investor relations at the H.J. Heinz Company. She comes to Pittsburgh from Marietta, Ga., where she was vice president of investor relations at Georgia-Pacific Corp. Prior to that post, Nollen was senior vice president, investor relations, for Dynegy Inc. Nollen is a graduate of the University of Texas at Austin, and she received her MBA from Texas State University. She and her husband, Fred, and their son live in Pine.
Christina A. Astorgais the director of the new Spiritan Center for the Study of Catholic Social Thought at Duquesne, which will focus on issues in Catholic social thought, including race, poverty and interreligious dialogue. She was most recently a visiting professor of religious studies and theology at Canisius College in Buffalo. Her areas of expertise include moral theology, feminist ethics, bioethics, sexual ethics and social ethics. She has also taught at the University of San Diego, the East Asian Pastoral Institute and the Loyola School of Theology. At Ateneo de Manila University, a Jesuit university in the Philippines, she became the first layperson and woman to be named chair of the theology department and also served as director of the Ateneo Formation Institute for Religion Educators.
Marshall Dayan is an assistant federal defender in the Capital Habeas Unit in Pittsburgh. He comes to Pittsburgh from Durham, N.C., where he was state strategies coordinator for the national ACLU's Capital Punishment Project, assisting ACLU state affiliates to develop strategies to minimize use of the death penalty. He has appeared on CNN, Donahue! and A&E in his work against the death penalty. He has an undergraduate degree from the University of Georgia and a law degree from the Antioch School of Law in Washington, D.C.. He is active in the Jewish community, having served on the board of directors of his former congregation. He also served as vice-chair of the Commission on Social Action for Reform Judaism, a national policy-making board. He is married to Sonja Boyd, and they will be living in Oakmont.
Susan M. Suver is the new vice president of human resources for U.S. Steel. A native of Meadville, she was raised in Arizona, has an undergraduate degree in organizational communications from Arizona State and an advanced degree from the Thunderbird Graduate School of International Management's Global Executive Management Program. She was formerly with Phelps Dodge in communication and most recently was vice president of global human resources with Arrow Electronics in Melville, NY. She joined U.S. Steel in July.
Camille A. Wright is the head of Fox Chapel Country Day School. The California native was most recently principal of the M.I.S. Hebrew Academy in Las Vegas, Nev. She replaces Robert Kirkpatrick and becomes the third head in the school's 60-year history. Prior to the Hebrew Academy, Wright held a number of leadership positions in the Challenger Schools — a California-based elementary school with 26 school campuses throughout Nevada, Utah and California — including regional director of the Utah schools and principal of the Las Vegas campus.