Dorfman, Ranjan, Schaffner, LeBlanc, Barnes, Tourangeau, Salgado
Professionals new to Pittsburgh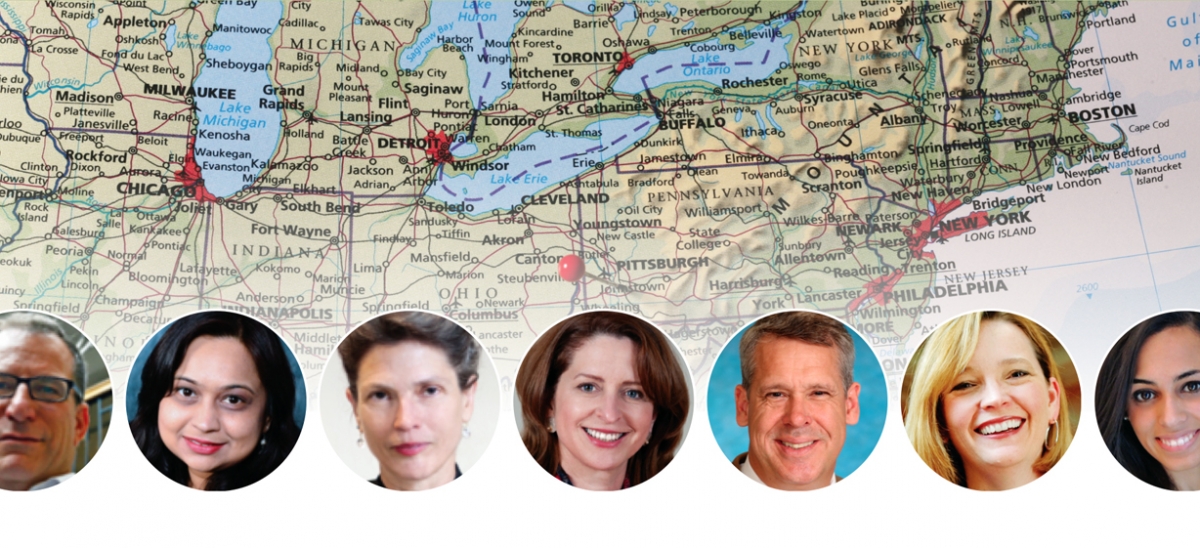 August 21, 2015
Eric Dorfman is director of the Carnegie Museum of Natural History. He comes to Pittsburgh from Whanganui, New Zealand, where he was director of the Whanganui Regional Museum and Ward Observatory. Previously, he was executive director of Eklektus Inc., a company that developed and implemented major exhibitions for clients such as The Australian Museum and the New Zealand Post. A native of Los Angeles, he has an undergraduate degree in ecology, behavior and evolution from the University of California, San Diego, a master's degree in marine science from San Jose University/Moss Landing Marine Laboratory, and a Ph.D. in ecology from the University of Sydney. Dorfman expects to live in the city.
Dr. Tulika Ranjan is director of Allegheny Health Network's neuro-oncology program. She comes to Pittsburgh from Durham, N.C., where, as part of Duke University's Brain Tumor Center, she helped develop a therapy using the polio virus to treat the most common and aggressive type of malignant primary brain tumor. Infused directly into the tumor, the virus-based therapy triggers the body's immune system to attack tumor cells. A native of Patna, India, Dr. Ranjan earned her medical degree at Sri Krishna Medical College, India. She completed her neurology residency at the University of Medicine and Dentistry of New Jersey and a neuro-oncology fellowship at Memorial Sloan-Kettering Cancer Center. She will be living in Wexford.
Ingrid Schaffner is the curator of the 57th Carnegie International. Currently living in Philadelphia and Lubbock, Texas, she will move to Pittsburgh in September. Since 2000, she has been chief curator at the Institute of Contemporary Art at the University of Pennsylvania. Her work often coalesces around themes of archiving and collecting, photography, feminism, and alternate modernisms, especially Surrealism. The author of more than 20 books, she is a native of Pittsburgh and grew up in Los Gatos, Calif. She attended Mount Holyoke College and the Whitney Museum of American Art's Independent Study Program and received a master's degree in art history at New York University's Institute of Fine Arts.
AnnMarie LeBlanc is the dean of the School of Communications and Information Systems at Robert Morris University. She comes to Pittsburgh from Kent State University, where she was interim dean of the College of Communications and Information and, previously, director of the university's School of Visual Communication Design. She also has taught at Indiana University-Purdue University Fort Wayne, where she was chair of the department of visual communication and design, and at the University of Michigan, Purdue University, and the University of Massachusetts Amherst. A native of Baton Rouge, La., she has a bachelor of fine arts from Louisiana State University, a master of fine arts from Bowling Green State University and a master of arts from Purdue University. She and her husband, Doug, will live in Mt. Lebanon.
Scott Barnes is the University of Pittsburgh athletic director. He comes to Pittsburgh from Logan, Utah, where he was athletic director at Utah State University. His seven-year tenure saw a dramatic turnaround of programs there, including fundraising, capital projects and winning—Aggie Athletics captured 20 conference championships, in addition to football winning back-to-back-to-back bowl games for the first time in program history. Previously, Barnes worked at the University of Washington, Eastern Washington University, the University of the Pacific and Iowa State University. A native of Spokane, Wash., he has an undergraduate degree and a master's degree in physical education from California State University, Fresno. He and his wife, Jody, will live in Gibsonia.
Melia Peters Tourangeau is the president and CEO of the Pittsburgh Symphony Orchestra. She comes to Pittsburgh from Salt Lake City, where she was president and CEO of Utah Symphony/Utah Opera. In Pittsburgh, she succeeds Jim Wilkinson, who is retiring. During her seven-year tenure in Utah, she significantly increased fundraising, ticket sales and subscription sales. Previously, she was president of the Grand Rapids Symphony in Michigan. A native of Hawaii, Tourangeau has an undergraduate degree in piano and musicology from the Oberlin Conservatory. Tourangeau and her husband, Mike, will live in Wexford with their son and daughter.
Christina Salgado is the director of education and community engagement at the Pittsburgh Ballet Theatre. She comes to Pittsburgh from Paterson, N.J., where she was early learning coordinator for the New Jersey Community Development Corporation. She also has served as a curriculum developer and researcher for Head Start, integrating creative movement and motor development techniques, through Columbia University's Teachers College. A native of Newburgh, N. Y., she has an undergraduate degree in dance and early childhood special education from George Mason University and a master's degree in motor learning and control from Columbia University. Salgado will be living in Oakland.