All Hands On Deck
Management and labor leaders call for more training to prepare for the new "industrial renaissance"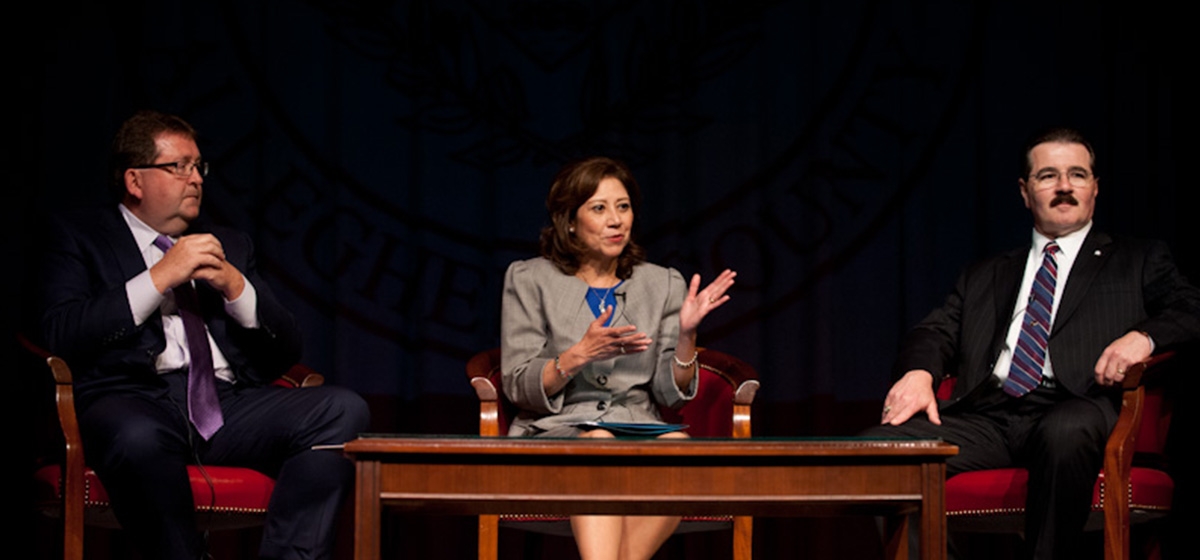 August 21, 2012
Opening the lecture series named in his honor, Community College of Allegheny County graduate Robert Mill described labor-management relations in western Pennsylvania as "a regional asset, as much as the zoo and the ball parks. We are the first out of the recession because our community relationships are so exquisite."

Titled "Industry Trades and Skills," the series's third event featured Hilda Solis, U.S. secretary of labor; Morgan O'Brien, CEO of Peoples Natural Gas; and Michael Dunleavy, business manager/financial secretary of the International Brotherhood of Electrical Workers (IBEW), Local 5.
Allegheny County Executive Rich Fitzgerald set the stage by calling Pittsburgh "the only urban area that has gotten back all of its jobs and filled its office vacancies downtown since the Great Recession." Solis followed, describing a national manufacturing revival since January 2010 that has seen 470,000 new jobs. However, the game changer locally is the Marcellus Shale.
"We are sitting on the second largest gas reserve in the planet. This means manufacturers will want to be here, close to the source of the energy," O'Brien said.
This Pittsburgh industrial renaissance will need trained workers, and participants focused on apprenticeship programs and a combination of classroom and on-the-job training.
"Employers tell me they need skilled welders, electricians and these hard-skill workers," Solis said. "But young people don't get to tinker the way they used to. Everything is what they call modular. When something breaks, the whole circuit board goes. Apprenticeship programs give workers the chance to get hands-on instruction from a mentor. They can count on earning upwards of $50,000 when they graduate in this economy."
When he became CEO of Duquesne Light in 2001, O'Brien recalled, "I was incredibly scared of failing. I spent the first couple weeks in the field, asking the workers this simple question: 'What is it that you know that, if I knew, would help this company be successful?' One of our veteran workers came over to me and said, 'Take a look around; you're the youngest person in this room. If I were you, I wouldn't sleep at night, knowing that.' We needed to work hard to get new blood into the company, and one of the first things we did was come to CCAC. Within six months, they put together a program to train linemen—it became a feeder system for the company.
"I truly believe the biggest renaissance this region has ever seen is sitting before us. We recently signed an agreement with CCAC for a program to bring more gas workers online. This year we are going to be hiring over 100 workers, and community colleges will be training them. But what about next year? In this region, U.S. Steel is going to make a large investment on improvements to the Clairton Works; Allegheny Ludlum is spending over a billion dollars to build a new plant, and we have a new cracker plant coming into the area. The biggest challenge we face is having a work force big enough to meet the needs of the future. I have a lot of people asking about early retirement. I tell these older workers 'I need you to train the people I bring in,' rebuilding what we used to have here—jobs in the trade that people took pride in, and something they aspired to do."
Dunleavy: "When I went through my training here at CCAC in 1975, the apprenticeship required 8,000 hours on-the-job training, attendance at class two nights a week for four years. I thought I was highly trained. At that time, computers took up an entire room, and there was no such thing as a cell phone. Now, training takes 10,000 hours on-the-job training, eight hours a week for five years of classroom training, plus special training for post-journeymen work. We have a two-pronged strategy at IBEW: a culture of lifelong learning and a quick adaptation to new techniques. For example, U.S. Steel's renovation of the Clairton Works called for a special type of pulling, splicing and terminating a particular kind of cable. We quickly recognized the need and called for volunteers from our workforce to come in for additional training."
O'Brien: "Somewhere along the way, we defined educational success as going to college, and I would think to myself maybe some of those kids should be in trade schools learning valuable skills that have a valuable career opportunity."
Solis: "There are over 3 million unfilled jobs across the country. When I speak to employers today, they often mention 'skills mismatch.' Local workers may not have what we call STEM skills: science, technology, engineering and math. Jobs for today and tomorrow will require these skills.
"My father was a shop steward in a battery recycling plant. When I was in the 9th grade, my dad would come home at the end of the day and sit down at the kitchen table. From his pockets, he would pull out pieces of paper with writing on them, in Spanish. They were notes scribbled by his co-workers about safety issues, health issues, and ideas about how to improve the efficiency. I would translate them into English for him. He said that the scraps of paper started a conversation between union and management. He told me it was a way to get them together. I often recall this talk with my father, because, as we recover from one of the worst recessions, our prosperity depends on us working together to train workers for the 21st century."
Dunleavy: "Pittsburgh has an undeserved reputation as a tough labor market. We have not had a work stoppage in the 31 years I have been in the IBEW. We have language built into the contract that says we will not strike. If there is a disagreement, both sides will agree to the decision of the Council on Industrial Relations." This fall, CCAC will offer its first class in a proposed curriculum of Pittsburgh Labor and Management Past and Future.