Nicholson, Bullock, Parker, Gee, Holmberg, Walker, Vignali
Professionals new to Pittsburgh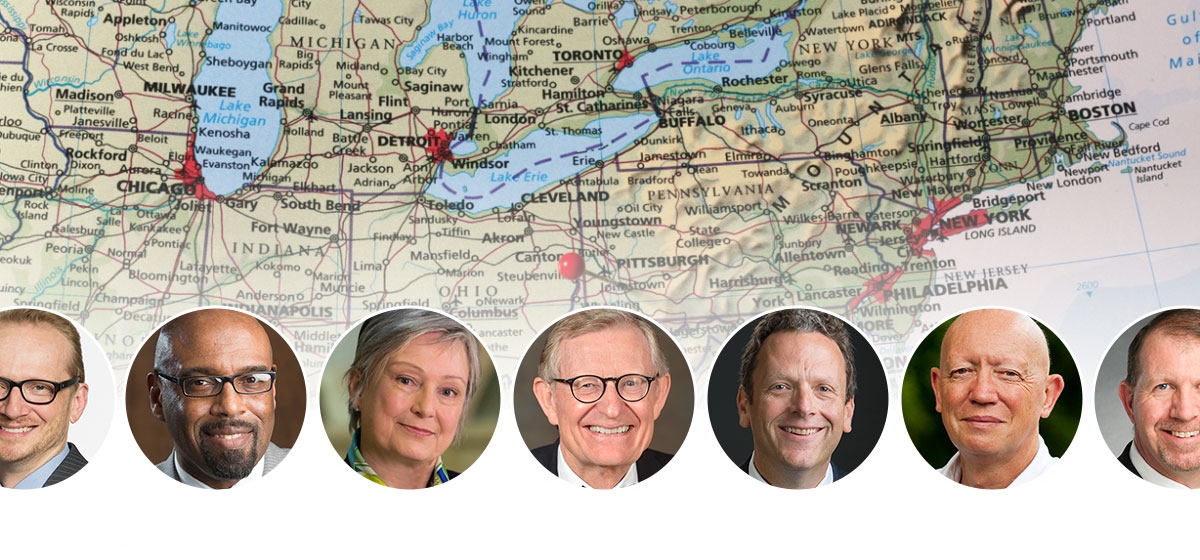 August 21, 2014
Robin Nicholson will become the third director of the Frick Art & Historical Center. A native of Edinburgh, Scotland, he comes to Pittsburgh from Richmond, Va., where he was deputy director for art and education at the Virginia Museum of Fine Arts. Previously, he was director and curator of the corporate art collection of the Drambuie Corporation, headquartered in Edinburgh. A renowned scholar of the art of the 18th-century Stuart royal courts in Paris and Rome, Nicholson was educated at Queen's University, Ontario, Canada, and the University of Cambridge, England, where he earned an M.A. He also has served as cultural representative on the U.S.-Russia Bilateral Presidential Commission. He expects to live in Shadyside.

Quintin B. Bullock is the ninth president of the Community College of Allegheny County. He comes to Pittsburgh from Schenectady, N.Y., where he was president of Schenectady County Community College. While there, he developed a five-year strategic plan, established business, industry and community partnerships and secured more than $12 million in federal, state and private funding to expand services and programs. Previously, he was provost of Tidewater Community College Norfolk Campus in Virginia and, in 2006, became provost of the Virginia Beach Campus. Bullock has bachelor's and master's degrees from Prairie View A&M University and a doctor of dental surgery degree from the University of Texas Health Science Center: Dental Branch. Bullock is building a home in Allison Park.
Jo Ellen Parker is president of the Carnegie Museums of Pittsburgh. A native of Independence, Mo., she comes to Pittsburgh from central Virginia, where she was president of Sweet Briar College since 2009. She also is a past president of the Great Lakes Colleges Association (GLCA), a consortium of 12 selective liberal arts colleges. Previously, she was a faculty member and academic affairs and student life administrator at Bryn Mawr College and taught in the English department at Swarthmore College. She earned her undergraduate degree in English from Bryn Mawr, her master's in English from the University of Kansas, and her Ph.D. in English literature from the University of Pennsylvania. Parker and her husband, Richard G. Manasa, will live in Point Breeze.
E. Gordon Gee is the 24th president of West Virginia University. Gee, who was president of WVU from 1981-85, returns to Morgantown from Columbus, Ohio, where he was president of Ohio State University from 2007-13. He also has served as president of Vanderbilt University, Brown University and the University of Colorado. A prolific fund-raiser and experienced leader, Gee was named by Time Magazine as the best college president in America in 2010. A native of Vernal, Utah, he has a B.A. in history from the University of Utah, a J.D. from Columbia University Law School and an Ed.D from the Teachers College, Columbia University. He lives in Blaney House in Morgantown.
David L. Holmberg is president and CEO of Highmark. He comes to Pittsburgh from his native San Antonio, Texas. Holmberg joined Highmark in 2007; most recently he was president of Diversified Businesses for Highmark Inc., responsible for businesses representing more than $3.5 billion in revenue. He also has served as chief executive officer for HVHC Inc. and chief executive officer and chairman for HM Insurance Group, United Concordia Dental and Visionworks, formerly Eye Care Centers of America. Prior to joining Highmark, Holmberg was the executive vice president of operations for Jo-Ann Stores, Inc. and was president of Cole Licensed Brands. He received his MBA from the University of Texas at Dallas and is a graduate of the Harvard Business School's Advanced Management Program. He is living in Pittsburgh with his wife, Kim.
Peter Walker is dean of the Falk School of Sustainability at Chatham University. He comes to Pittsburgh from Tufts University in Boston, Mass., where he served as associate provost, director of the Feinstein International Center, and the Rosenberg Professor of Nutrition and Human Security. He has more than 25 years of field work experience in humanitarian crises and in addressing some of the most pressing sustainability and climate-change challenges around the world, including those faced in the Sudan, Ethiopia, Iran and Pakistan. A native of Ireland, Walker holds a B.S. in environmental sciences and a Ph.D. in soil science from Sheffield University in the United Kingdom. Walker and his wife, Ceri, are planning to live near Chatham's Eden Hall Campus in Richland Township.
Dario Vignali, Ph.D., is vice-chair of the University of Pittsburgh School of Medicine's Department of Immunology and co-director of the Cancer Immunology Program at the University of Pittsburgh Cancer Institute. A native of London, England, Vignali comes to Pittsburgh from Tennessee where he worked at St. Jude Children's Research Hospital in Memphis, was vice-chair of its immunology department and taught in the Department of Pathology at the University of Tennessee Medical Center. He received his undergraduate education at North East London Polytechnic, now East London University, and completed his doctoral studies at the London School of Hygiene and Tropical Medicine at the University of London. He completed postdoctoral fellowships at the Institute for Immunology and Genetics at the German Cancer Research Center in Heidelberg, Germany, and at Harvard University's department of biochemistry and molecular biology. He and his wife, Kate, live in O'Hara with two of their four children.