Albrecht, Kinne, Wildermuth, Behre, Suroviec, Sullivan, Chalikonda
Professionals new to Pittsburgh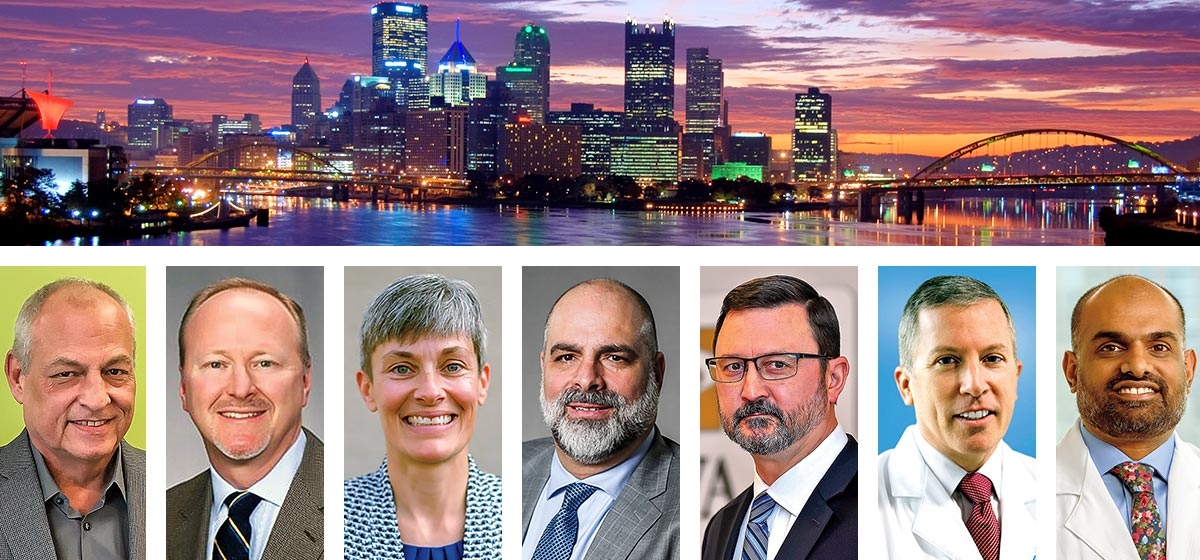 May 24, 2018
Chuck Albrecht is the new executive director of the Persad Center, a licensed counseling center created to serve LGBT people. A native of Portsmouth, Ohio. Albrecht comes to Pittsburgh from Florida, where for the past 17 years he was chief operating officer at the Florida Gulf Coast Chapter of the Alzheimer's Association. Previously, he was executive director of the Tampa AIDS Network and executive director of the AIDS Volunteers of Cincinnati. He has a bachelor's degree in zoology and an MBA in finance, both from Miami University of Ohio.

Michael Kinne is vice president of strategic business development for government programs at UPMC Health Plan. A native of Winchester, Va., he comes to Pittsburgh from Chicago, where he was co-founder and president of NextLevel Health Inc., a Medicaid HMO with 80,000 members and $300 million in revenue. He also served as president of Centene Corporation's IlliniCare Health Plan, as well as having key roles at VirtualHealth, Inc., Anthem, Inc., WellMed Medical Management LLC and Aetna Inc. Kinne has a bachelor's in gerontology from Baylor University and a master's in gerontology and health administration at the University of Southern California.
On July 1, Amy J. Wildermuth will become dean of the University of Pittsburgh School of Law. A native of Park Forest, Ill., she comes to Pittsburgh from Salt Lake City, where she has been associate vice president for faculty and academic affairs at the University of Utah. She was also the university's first chief sustainability officer and professor in the S.J. Quinney College of Law. She has focused on areas of civil procedure, administrative law, environmental law and U.S. Supreme Court practice (she clerked for U.S. Supreme Court Justice John Paul Stevens). She has a law degree and a master's in environmental engineering from the University of Illinois and a bachelor's in history and in engineering from Washington University in St. Louis.
On July 1, William J. Behre will become president of Slippery Rock University. A native of Smithtown, N.Y., he comes to Slippery Rock from Lakewood, N.J., where he has been provost of Georgian Court University. Previously, he held a variety of positions at The College of New Jersey in Ewing, N.J., including vice provost assistant, vice president of the Division of College Advancement, dean of the School of Education, and chair of the Department of Special Education, Language and Literacy. He also spent four years in Brooklyn, N.Y., as a special education teacher. He has a bachelor's degree in economics from Vassar College, a master's in education from Hunter College of the City University of New York and a Ph.D. in education with a focus on special education policy from the University of Michigan.
Stephen Suroviec is the president and CEO of ACHIEVA, which helps people with disabilities. A native of Erie, he comes to Pittsburgh from Harrisburg where he was COO and division director for intellectual/developmental disabilities at the Rehabilitation and Community Providers Association. Previously, he was deputy secretary for developmental programs, executive director for the Office of Vocational Rehabilitation and Erie County's Human Services director. He also led The Arc of Pennsylvania, a statewide advocacy organization for people with intellectual disabilities and their families. He served honorably in the U.S. Air Force. He has an undergraduate degree in business administration from National University and holds a master's degree in public and international affairs from the University of Pittsburgh.
Dr. John T. Sullivan is the chief medical officer and senior vice president at St. Clair Hospital. A native of Detroit, he comes to Pittsburgh from Chicago's Northwestern Memorial Hospital, where for 17 years he served in several clinical, academic and management positions, most recently as associate chief medical officer for academic affairs and as professor of anesthesiology in the Northwestern University Feinberg School of Medicine. He has an undergraduate degree from the University of Michigan and a medical degree from the University of Michigan Medical School. He completed a residency in anesthesia at Massachusetts General Hospital. He has an MBA degree from the Kellogg School of Management at Northwestern University. 
Dr. Sricharan Chalikonda is chief of clinical operations and strategic initiatives at Allegheny Health Network. A native of India, he comes to Pittsburgh from Cleveland, where he was chairman of surgical operations and the Enterprise Surgical Council at the Cleveland Clinic. He also was a member of the health system's board of governors and a staff surgeon in the Cleveland Clinic Digestive Disease and Surgical Institute. At AHN, Dr. Chalikonda will lead clinical operations for the network's physician organization (Allegheny Clinic). He also will maintain his surgical practice as part of AHN's Center for Digestive Diseases and Cancer Institute. He earned his medical degree from Kasturba Medical College in Manipal, India, and a master's in healthcare administration from Ohio University. He completed his general surgery residency and a fellowship in minimally invasive and bariatric surgery at the Cleveland Clinic.