Airport Overhaul
Changes at Pittsburgh International acknowledge the new reality
Image illustration by Allegheny County Airport Authority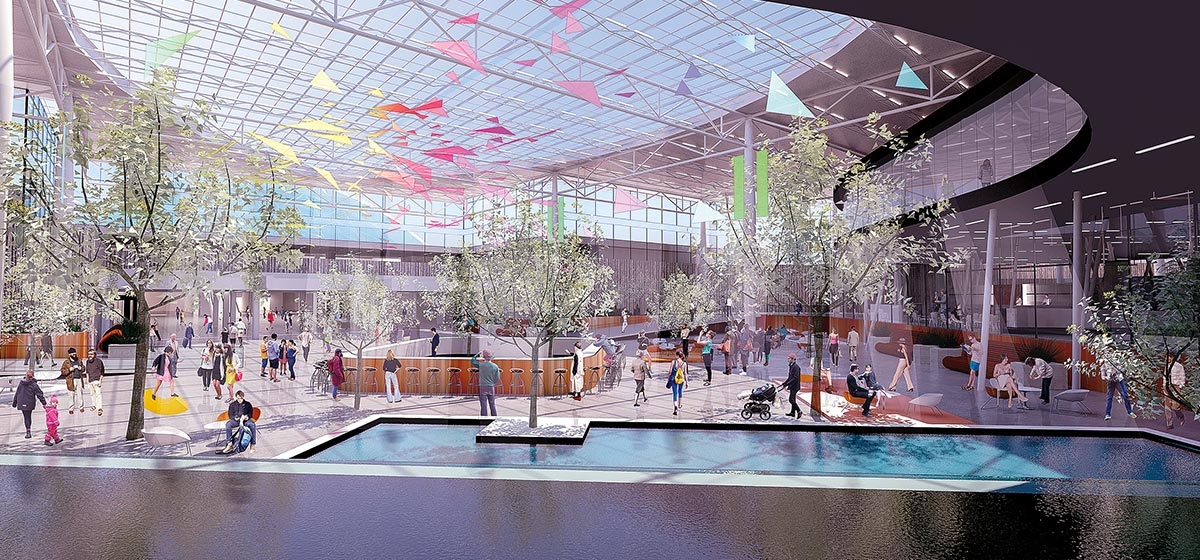 February 20, 2018
As birthday celebrations go, this one was fairly harsh. The local news media was gathered at Pittsburgh International Airport's Midfield Terminal on a late-summer day last September. Earlier, they'd reported the terminal complex, once lauded for its innovative design, had turned 25. Now, with cameras rolling, airport officials noted its inefficiencies, declared it was time for much of it to go and announced their willingness to borrow upwards of $1 billion to overhaul it, just as the last of the nearly $700 million borrowed to build it were rolling off the books.

As the price tag suggests, the modernization plan they presented isn't a collection of cosmetic changes. The Landside Terminal that houses ticketing, baggage and security operations will be retired. A new one will be built adjoining the Airside Terminal. Conceptual designs depict a stunning steel and glass gateway to the city and region designed for operational efficiency and traveler convenience with advanced technologies, an atrium, trees, water and natural lighting.
The airport's cumbersome dual baggage systems will be replaced with an integrated one, a new international arrivals portal will be built with covered parking, and the tram shuttling passengers between Landside and Airside terminals will be eliminated and more.
Those on board with the changes include Allegheny County Executive Rich Fitzgerald, the county Airport Authority, the Allegheny Conference on Community Development, and the airlines, which will pay the lion's share of the cost. But is an ambitious makeover and $1 billion in debt really necessary?
"It's a fair question," said Matt Smith, president of the Greater Pittsburgh Chamber of Commerce and member of the Allegheny County Airport Authority. "Right now, the airport is inefficient. It was built for a market that doesn't exist anymore. We're paying to operate large parts of the airport we don't fully utilize. We were going to have to spend money to do something."
What is clear is that over the past quarter-century, profound changes within the airline industry, the 9-11 terrorist attacks, USAirways' decision to abandon Pittsburgh International as the connecting hub the Midfield Terminal was designed to accommodate, and the emergence of a new strategy for growing air service in southwestern Pennsylvania all conspired to shorten the lifespan of the airport as configured today.
Great expectations
The crush of passengers inching through the zigzagging maze of TSA security checkpoints during morning departure hours reveals an airport designed for a different function and a different time. Such passengers are known in the industry as "origin and destination" or "O&D" traffic—passengers who begin their travels in Pittsburgh or fly to the airport with Pittsburgh as their destination. They were not the focus of the Midfield Terminal design when it opened in 1992.
The Midfield Terminal complex was built to handle more than 30 million passengers a year as a mega-connecting hub for USAirways. As such, most passengers were connecting passengers. They never left the Airside Terminal, moving instead from one gate to another to board connecting flights to other cities. And the airport terminal complex was designed around that fact.
Airside is the more spacious, amenity-laden and passenger- friendly of the two terminals. Its "air mall" offers some 100 shops and restaurants in walking distance of 75 gates. Half a mile away, the Landside terminal is home to ticketing, security and baggage claim for O&D passengers.
It offers few amenities and requires passengers to use elevators, escalators and a tram to get to where they need to go.
"They had no choice in the 1990s to build that [Midfield] terminal," said Michael Boyd, president of The Boyd Group, a Coloradobased aviation-consulting firm. "They had USAir, which was strong and growing at the time. It made a lot of sense."
USAir predecessor Allegheny Airlines expanded quickly following airline industry deregulation in 1978. The modern Pittsburgh hub helped the airline expand its routes and leverage strong gate positions in passenger-dense airports, such as New York LaGuardia and what is now Ronald Reagan Washington National.
"It turned into a little profit engine," said William Lauer, principal and chief financial officer of Allegheny Capital, who studies the airline industry and local aviation. "It allowed Allegheny Airlines to grow and acquire Pacific Southwest out of San Diego and Piedmont in Charlotte."
Total passengers at Pittsburgh International peaked at nearly 21 million in 1997 driven by connecting travelers flying USAir, which occupied two-thirds of the airport's gates. Such dominance by one airline meant higher fares for local travelers. A 1999 Allegheny Institute for Public Policy study reported the average cost per passenger mile to fly from Pittsburgh was more than 30 percent higher than what passengers at nine comparable U.S. airports paid.
Travel options, on the other hand, were vast. Pittsburgh International offered passengers nearly 600 daily flights, including nonstops to 110 destinations when USAir was at its healthiest. But the airline soon encountered strong headwinds.
The Midfield Terminal was less than a decade old when the airport's status as a connecting hub started to fade. Low-cost carriers, such as Southwest Airlines, challenged USAir in a growing number of cities. The threat of terrorism and rising fuel costs roiled the industry. The airline filed for bankruptcy twice in the span of four years and aggressively cut costs. Negotiations to lower fees at Pittsburgh International were unsuccessful. Through mergers, USAir inherited other hubs, including Charlotte. And its Philadelphia hub offered a much larger local market.
USAir closed its Pittsburgh hub in 2004. Total annual passengers fell to little more than 13 million that year and continued to slide. Fares became more affordable, but nonstops sank to a low of 37 destinations.
Reality check
"I was hired to answer the question, 'Is this the best we can do?'" said Allegheny County Airport Authority CEO Christina Cassotis, who was hired in 2015 from a global commercial aviation consulting firm. "My answer to the board was, 'There's a lot you can do, but none of it involves becoming a hub again.'"
Major carriers have consolidated into their respective hubs, where they appear to be entrenched. And whether expanding carriers, such as Alaska Airlines, will open a mid-Atlantic base remains to be seen. The way airport officials and most experts see it, Pittsburgh International should get used to being an O&D airport.
Restoring air service to the region continues to be a priority, particularly nonstop flights that make doing business here more efficient and appealing.
The airport's strategy is to recruit airlines, flights and destinations one at a time by convincing airlines the local market is underserved and money can be made by filling in the gaps. Pitches for flights are based on what the local market needs and can reasonably support, which a coalition of community partners, ranging from tourism to technology, helps define.
Southwestern Pennsylvania's energy industry places a premium on convenient access to places such as Dallas and Houston. At the top of the wish list of the region's growing innovation economy are nonstops to the West Coast, where technology investors, major tech companies and talent are heavily concentrated.
"That's a hard sell," Cassotis said. "It's long-haul flying and those guys make a lot more money getting six plane loads of people rather than one. And the big carriers want to take you through their hubs."
As of November, nonstops to 72 destinations were available from Pittsburgh International—nearly double the total four years earlier, but 35 percent fewer than the peak years as a USAir hub. Several new West Coast flights begin this year, including an Alaska Airlines nonstop to Seattle and a second daily United Airlines nonstop to San Francisco during summer months.
"All decisions about flights are driven by market demand," said Dan Landson, spokesman for Southwest Airlines, a leading Pittsburgh International carrier. "If there's demand for a certain route, we want to make sure we provide that service."
While not a deciding factor in adding flights, the cost of operating at a particular airport is part of an airline's business equation, especially at low-cost airlines. Airport operations, including debt service, are largely paid with fees charged to airlines. Those costs have historically been high in Pittsburgh, but never more so than immediately after the USAir hub closed and passenger traffic and leased terminal space sharply declined. The cost per enplaned passenger—the industry standard for measuring charges to airlines— rose to nearly $15 in 2011, almost twice what airlines paid in 2002 and one of the highest rates in the nation.
Passenger totals have risen incrementally since. Estimates suggest the airport finished 2017 with nearly 9 million passengers, about 1 million more than in 2013, when the fewest passengers in the Midfield Terminalera was recorded. The cost per enplaned passengers that airlines incur has also crept lower, falling to an estimated $12.85 in 2017 but still higher than the median rate for medium-sized U.S. O&D airports.
When officials planned the airport's modernization, reducing those costs, eliminating inefficiencies and improving passenger experience were seen as critical to making Pittsburgh International competitive as an O&D airport.
"As a connecting hub, Pittsburgh was wildly over-served because flights came in, interconnected people and flights went out. That gave you a whole lot more service than the local market could support," Boyd said. "Pittsburgh is no longer a hub. Its future is as a point-to-point airport and it makes good sense to adjust your facility to your future."
'An easy choice'
Options for positioning the airport for that future ranged from maintaining and repairing what is there now to embarking on a major overhaul. And while the airport is close to retiring the Midfield debt, it faces expensive problems with implications for the future growth of local air service.
The Landside Terminal's cramped quarters make it a poor fit for post-9/11 security. Baggage inefficiencies mean longer bag travel times and high maintenance and labor costs. The airport maintains 75 gates, but uses only 40. Airline costs remain high.
International arrival gates are another issue. Built prior to the 9-11 terrorist attacks, they posed security issues afterward. When passengers retrieved bags at international gates, they became "non-sterile" in the eyes of TSA and were prohibited from mingling with "sterile" domestic passengers who had not claimed their bags. Yet, that's what they had to do to exit the airport through the Landside Terminal. For several years, arriving international passengers were sent through security again. Later, the airport took out a wall, created a corridor to the tram, hired security guards to escort them and quarantined them in a special tram that ran to Landside exits.
"After a seven-hour flight, you took off your shoes and waited in a line with 200 other people to go through a single scanner to leave," Cassotis said. "I couldn't sell that. I couldn't go to British Airways, Norwegian, WOW or Condor and say, please come to Pittsburgh so we can push your passengers through that. We fixed it. It works, but not for the long term and not for volume."
None of the options for fixing such issues involved county tax dollars for financing. But the airport is counting on an estimated $3.1 million a year in state gaming revenues and $7.3 million a year in royalties from natural gas drilling on airport property, according to Airport Authority budget projections.
For the airlines, holding down the fees they're charged to cover airport operations and maintenance was a key concern when they met 25 times with airport officials about the modernization plan.
The least expensive option was building only a new international arrivals concourse and new Landside Terminal parking garage for an estimated $409 million. It would lower the airlines' cost per passenger from $12.85 to $10.63 by 2025, according to an airport-commissioned analysis based on passenger growth averaging 2.2 percent a year.
A more ambitious option included building a new international arrival facility, a central security checkpoint inside the existing Landside Terminal, a new parking garage and retrofitting the dual baggage system into one. It carried an estimated cost of $980 million, but would only slightly lower the airline's cost per passenger to $12.18 by 2025.
The plan that won the support of the Airport Authority and the airlines was the most ambitious and expensive option at $1.1 billion. It involves a major terminal complex overhaul featuring a new Landside Terminal, and it's estimated to generate the most savings for the airlines. Even with new debt, the cost per passenger is expected to drop to $9.73 by 2023, bringing it closer to the national average for comparable airports.
Airport officials are banking on saving $23 million a year by addressing all of the thorniest post-hub inefficiencies in an airport tailored to the market it serves.
Significant savings are expected from replacing the four-floor Landside Terminal with a two-story version adjoining the Airside Terminal that consolidates passenger traffic on one level, allowing for shorter walks, and easier passenger navigation and convenience, including fewer elevators and escalators. Marrying the two terminals also eliminates the $3 million-a-year tram connecting them.
Closing the half-mile gap between the terminals and installing an integrated baggage system eliminates eight miles of bag belt and the cost of tugging bags on carts from Landside to Airside. Trimming the ends off Airside concourses right-sizes the number of gates the airport maintains from 75 to 51. A new international arrival facility mindful of today's security demands saves $1 million a year in airport security. And more concession revenue is expected from 24,000 square feet of additional retail space designed into the new Landside Terminal.
"We could fix what we have—our bags, all of the aging systems— expand TSA checkpoints and build a new international arrivals facility, where the old commuter gates were. Or, we could spend a little more, have a brand-new Landside Terminal and significantly lower operation and maintenance costs for everybody, including the airlines," Cassotis said. "It's an easy choice."