A Long Romance
As Pittsburgh Ballet Theatre prepares its "Giselle,"ballet mistress Marianna Tcherkasskyteaches her breakout role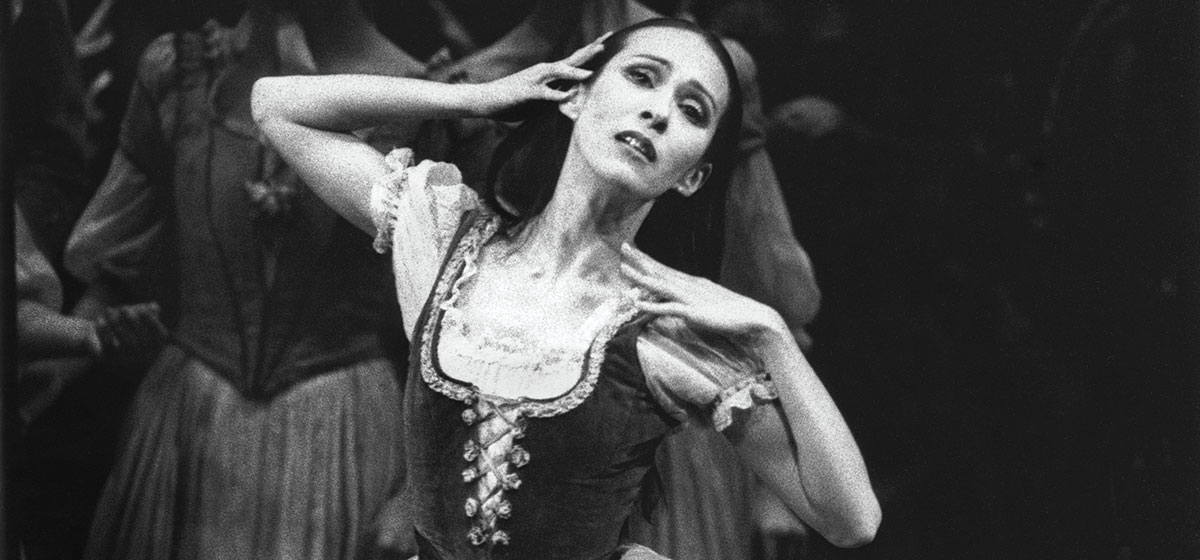 August 21, 2016
At first, the performance was delayed because ballerina Carlotta Grisi was recovering from an injury. Then the conductor was battling a tumor. And then safety concerns slowed the set construction. But finally, on June 28, 1841—a Monday night—"Giselle" premiered at the Paris Opéra.

After its Paris premiere, the two-act Romantic ballet entered almost immediately into the art's canon. "It is worth coming to Paris to see it," wrote a correspondent for the London weekly, The Musical World. "It is a ballet in perfection."
Set in the Middle Ages, "Giselle" tells the story of a young girl who falls in love with the peasant Loys. When she learns that he's actually Count Albrecht in disguise and that he's betrothed to another, Giselle goes mad and dies. End of Act I. As the curtain rises on Act II, the audience is transported from the German Rhineland to an enchanted forest, ruled every night by Wilis, the ghosts of young women who died with love unrequited. Any man that crosses their path is danced to death.
From Oct. 28-30, Pittsburgh Ballet Theatre (PBT) will mount a production featuring all new costumes and scenery to celebrate artistic director Terrence Orr's 20th year. Even while the company was on break this summer, PBT buzzed with Giselle.
"Five, six, seven, eight," Ballet Mistress Marianna Tcherkassky counted gently over the music. She stood with her back to the studio's mirror, moving slightly along with the Intensive Summer Program students as they danced. As the music swelled, she stopped them.
"It's a little brisk, it's lively," she said, stepping into their ranks. In her dance sneakers, she modeled the choreography for them: her head high, her arms floating, feet quickly at work. The dancers— eyes trained on her every move, her every expression—marked their steps behind her.
"OK?" she asked. One girl raised her hand. "After that, do we come into sous-sus?" Tcherkassky made a quick mental run through the sequence, her body betraying the thought—one foot moving in front of the other, then behind, a slight lift to her arm, a rotation of the hip—a process that took maybe three seconds. "Yes, come into sous-sus for a little suspension." Satisfied, the students re-positioned themselves as PBT School Principal Janet Popeleski rewound the music, the notes arcing wildly in the air.
"I love the music in the second act," said Tcherkassky, smiling. "That adagio music, and the violin, it just gets so deep inside." She folded her arms, and everyone breathed in.
* * *
Tcherkassky, 63, has been dancing as long as she can remember. Her mother, Lillian Oka Tcherkassky, was a professional dancer and her first teacher. Her father was an opera singer who worked for ballet presenters and occasionally performed walk-on parts. The family lived in Kensington, Md., with Marianna the middle of three children. "I grew up with classical music playing in the house all the time. Certain music I would hear and felt like I just had to express myself. I was extremely shy as a child and I think it was being able to disappear into the character, into the music. I could pretend I was really sad and crying, or happy and laughing," she said, miming the emotions. "I could just create my own world."
One of the first ballet films Tcherkassky ever saw was "Giselle," featuring the Russian ballerina Galina Ulanova. "I must have been 8, or something like that, and I didn't know if I wanted to dance, but I wanted to be Giselle."
When Giselle's love is revealed to be the already-betrothed Count Albrecht, Giselle devolves in looser and more manic circles, until she collapses and dies. Tcherkassky used to lock herself in her bedroom and practice the mad scene over and over.
"I don't know why," she said. "I just related to the character, and I think [I've always been] a romantic."
At 14, Tcherkassky moved to New York City for a scholarship with George Balanchine's School of American Ballet, before auditioning for and joining American Ballet Theatre (ABT) at 17. "Giselle" was part of ABT's repertoire, and Tcherkassky danced nearly all of the ballet's roles, including, finally, Giselle.
Hers was no ordinary debut. In 1980, ABT was scheduled to stage its fourth production of "Giselle" at the Kennedy Center in Washington, D.C. Mikhail Baryshnikov and Gelsey Kirkland were to dance the roles of Albrecht and Giselle. And then Kirkland was injured.
Baryshnikov turned to Tcherkassky and said, "Would you like to do 'Giselle' with me?"
"I think I just gulped and said, 'OK,' " Tcherkassky remembered. "I think he knew that I could do it. And having somebody like that believe in you—my whole life I was waiting for that opportunity."
With only five days until the performance, Tcherkassky and Baryshnikov rehearsed endlessly.
"Baryshnikov turned to Tcherkassky and said, "Would you like to do 'Giselle' with me?"
In his review, Alan M. Kriegsman of the Washington Post wrote that Tcherkassky has "always been a dancer of exceptional taste, but as Giselle last night, especially in the otherworldly manifestations of Act II, with its supreme technical challenges, she showed us genuinely new heights of achievement."
It was a role she would continue to perfect for the rest of her career.
* * *
A ballet studio in the midst of rehearsal is its own planetary system: the dancers revolve around one another in patterns that aren't easily discernible. Sometimes they follow the music, sometimes they make it wait for them, the jumps and beats articulated at counterpoint or in seeming defiance to the notes welling from a stereo.
While PBT artistic director Terrence Orr, who is Tcherkassky's husband, directed a corps of Wilis, Tcherkassky coached a smaller group of women. As she modeled an elegant sweep of her arms, she was radiant, her whole face alight, and the young women copied her. She mimicked a smooth transition to pointe, and they followed. Tcherkassky floated briefly before coming back down into the solidity of her dance sneakers, while the women rose in their pointe shoes, suddenly towering over Tcherkassky's small frame.
"I couldn't begin to put a pointe shoe on anymore," Tcherkassky said. Though she feels lucky to have danced through her 40s, Tcherkassky seems wistful when grounded. "Obviously, the more life you live, the richer you become as an artist. But with ballet, there's a really short period where physically you're at your peak and you've lived enough life to artistically be able to express that," she said. "You keep growing as an artist, but then the body doesn't always respond."
On a recent morning before a full day of teaching, Tcherkassky stretched for an hour, omitting the strengthening exercises she sometimes does. They're old habits, which were up for reconsideration only once: in 1996, when PBT chose Orr to be its new artistic director and Tcherkassky had just retired. "I wasn't sure what I might want to do. But there was that feeling of 'I've got the world open to me.' It was very brief. I don't know how to do anything else, really," she said, laughing. "I thought, 'I worked with all these amazing people, I have to try and give it back.' "
She began part-time at PBT in 1997, before moving to full time as ballet mistress. In that role, she has to put into words what's been physical for so long. Most important for Tcherkassky is helping the principal dancers develop histories for their characters. She always thought that she would be an actress, until her mother pointed out that all great dancers need to be great actresses.
"You're always going someplace and you're coming from someplace," she said. "What parts of the story can you relate to and attach to? Trying to create quality creates quality."
Tcherkassky watches the world closely. When she observes her students, she takes in the minute details of their form and facial expressions to make adjustments or offer suggestions. And every year, she makes notes on a pair of nesting bluebirds that appeared at her and Orr's Sewickley area home nine years ago.
"Nature, in some ways, is so consistent," Tcherkassky said. Their home has a lot of glass and "it always seems to be the more exotic birds that fly into it," she said, adding that most survive. "The last one was a Cerulean Warbler, one of the fastest declining songbirds in the U.S." It's caught in a furious dance of its own, struggling with declining habitat and the parasitic intrusion of cowbirds. "It fascinates me. The hierarchy of nature, and survival of the fittest and carrying on the species."
Back in studio, Orr and Tcherkassky taught their new Wilis how to float, how to match their movement to the ethereal tone of the second act. They suggested the dancers imagine they're balancing glasses of champagne on their head. Orr walked a dancer across the floor, pressing lightly on the top of her head to suggest that glass of bubbly. The dancer pulled upright, intent, and glided with an air of aloofness.
"Yes," Tcherkassky said. "Precisely," Orr said. They began to rehearse with a young Albrecht. In the second act, after Giselle has died of a broken heart, Albrecht comes to the forest in grief, and finds Giselle, now a Wili. The Wilis try to dance him to his death, but Giselle intervenes and dances in his stead to see him through the night.
"[Giselle's] themes are universal and timeless. It's about love and redemption and forgiveness and tolerance," Tcherkassky said. "I've been very fortunate to live in and create this beautiful world. You come in here and you see a lot of young people, eager. They want to learn and they're open. We create this little universe here that's creative and it's productive and it's positive. And I feel fortunate be able to exist in that."