A Friend Indeed
Animal Friends expands mission of eliminating pet overpopulation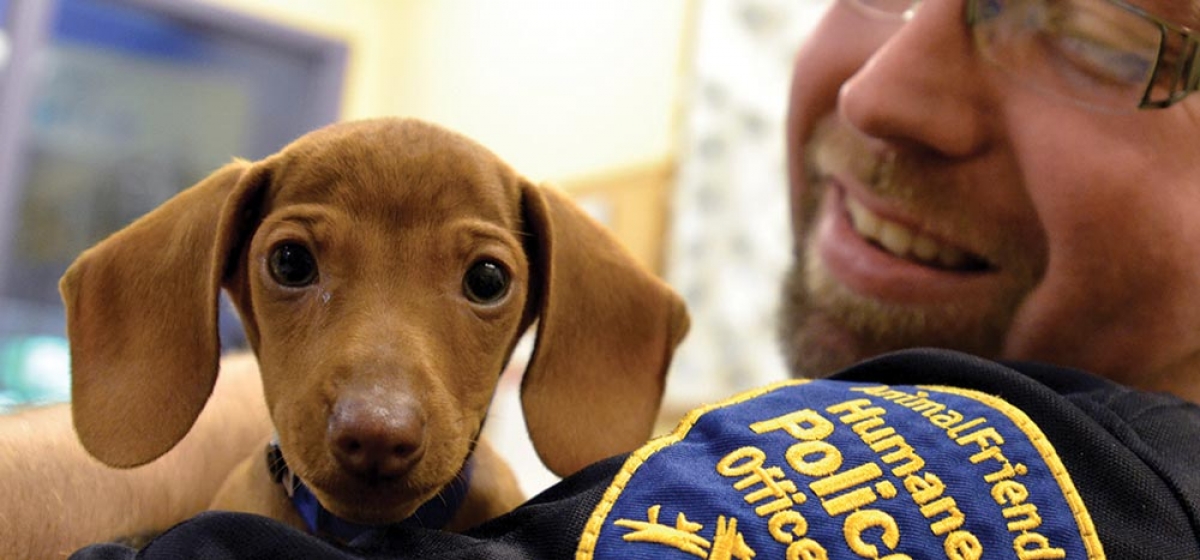 May 20, 2017
In 2012, PNC Marketing specialist Shannon Tremblay brought her beagle mix, Crockett, to Animal Friends to have it neutered and take part in their puppy kindergarten program. "I just fell in love with the place," says Tremblay. "There was something really special about what they were doing, and I knew I wanted to be a part of it."
---
---
Today, she is Animal Friends' director of communications, helping achieve the organization's mission as a compassionate advocate for companion animals. "Pets give us so much love," she says. "It only makes sense that we return the favor."
Situated along Camp Horne Road in Ohio Township, Animal Friends is a nokill, companion animal resource center offering a number of valuable services for the region's homeless, unwanted and abused animals. "We're not just an animal shelter," says Tremblay. "We really see ourselves as a full-service community resource."
The main facility—the 30,000- square foot Caryl Gates Gluck Resource Center —was dedicated in 2006 following a $7.4-million capital campaign. The modern, spacious and colorful building houses up to 250 animals including dogs, cats and rabbits, and includes creative kenneling areas, an outreach center and an education wing. It also features a therapy and wellness suite, as well as a state-of-the-art medical center to handle vaccinations, micro chipping and low-cost spaying/neutering services. The rolling, wooded 75- acre campus includes walking trails and play yards for exercising dogs and calming cabins for improved animal care and enrichment.
Animal Friends is one of a growing number of regional nonprofit animal shelters caring for and finding homes for the thousands of stray cats and dogs; the other two largest and most visible—the Animal Rescue League of Western Pennsylvania and Western Pennsylvania Humane Society—merged Jan. 1. Of these, The Western Pennsylvania Humane Society is the oldest, founded in 1874 to prevent cruelty and protect the lives not only of the region's animals but also of its children and elderly; the Animal Rescue League followed in 1909.
Animal Friends originated in 1943 during World War II, when a group of concerned Pittsburghers began caring for the pets of soldiers fighting overseas. Following the war, the group opened a shelter in the Strip District to address pet overpopulation and placement problems. It ultimately outgrew its space and opened its present North Hills space in 2006.
"As much as we loved our home in the Strip District, we simply could no longer adequately respond to the growing demands of our pet community," says Animal Friends President and CEO David Swisher.
Through the center's 3,000-square-foot Outreach Center and adjacent patio and Education Classroom, Animal Friends has expanded training classes, workshops, education programs, and events. Says Swisher, "It really has allowed for tremendous improvements in our programs and services and tremendous growth."
A major thrust of the nonprofit's focus is ending unwarranted animal euthanasia. In Allegheny County alone, some 10,000 animals are euthanized each year, and yet shelters continue to be flooded with unwanted animals. "People right in our own neighborhoods are struggling to afford care for the pets they love," says Swisher. "Pet owners are forced to abandon their pets because they have no options. We know we can do better."
In response to overpopulation, Animal Friends is making low-cost surgeries available to those who most need them. "We realized that shelter and adoption programs, while important, are only reactive solutions and will never solve the overpopulation crisis," says Tremblay. "That's why we developed a comprehensive, community- wide initiative that provides lowor no-cost spay/neuter surgeries to lowincome pet owners, feral cat colony caretakers, pit bull owners and shelters without such programs."
Last year Animal Friends spayed and neutered 10,321 cats, dogs and rabbits. "We don't want to just reduce overpopulation and unnecessary euthanasia in the region," says Tremblay. "We want to end it altogether."
One way Animal Friends is approaching this goal is through a comprehensive humane education and outreach program that collaborates with local schools to teach students how to care for animals with compassion and empathy. Last year, 13,500 students and young people took part in Animal Friends' Humane Education program, which included in-school presentations, hands-on workshops and their Summer Camping Program. Says Tremblay, "We want to make sure the next generation is educated in order to build a strong foundation for the future."
Animal Friends for Life is another community- based outreach program that brings affordable and accessible wellness and education services to underserved communities in Pittsburgh's North Side. Funded by a grant from PetSmart Charities, the program enables pet owners to better understand how to properly care for their pets. It also helps staff and volunteers see what resources are needed in that particular neighborhood.
"Community education is the hallmark of our work," says Swisher. "It is critical that we engage the community in our mission, help them understand their role in solving the pet-related challenges in our region, and invite them to join us to be part of the solution in making real and lasting change."
Another facet, Animal Friends University, offers a variety of pet-related educational classes and programs including therapeutic services, dog training classes, dog socials and companion cat classes, as well as youth camps, presentations and shelter tours.
Pet adoption and placement is a big part of Animal Friends. On average, it places around 2,400 animals each year, all of which are first evaluated for health and behavior. On-staff counselors know the animals and help match with them with prospective owners and their personalities and lifestyles.
While they're awaiting adoption, all shelter animals receive daily enrichment including training, play, brain work and down time, which reduces stress, stimulates the brain and improve physical and behavioral health. "We believe it's important that the animals experience a varied environment and aren't just in their cages all day," says Tremblay.
Once a person has been matched with a pet, they can stop in the center's retail shop where they'll find everything from chew toys and treats to health and wellness products. "It's the last step in the adoption process," says Tremblay. "We want to make sure the owner has everything they need to properly care for their new pet."
Animal Friends employs more than 100 full- and part-time staff, who are supported by over 3,000 volunteers who last year donated over 372,000 hours. "They represent all ages and help with everything from animal handling and special events to general administrative tasks," says Tremblay. "We couldn't do everything we do without their generosity."
Animals Friends is in the midst of a major expansion that will be completed this summer. The 18,400-square-foot Howard Ash Animal Wellness Center will increase spayneuter procedures from 10,000 to 15,000 a year. And the new pet vaccination clinic will double annual vaccinations to 30,000.
"This new center will be so much more than just another clinic," says Swisher. "It will be a center of hope and compassion, providing affordable access to anyone in need. It will literally be a lifesaver for so many struggling pet owners."
The expansion also will provide additional space for the Chow Wagon Pet Food Bank, which annually provides 90,000 pounds of donated pet food to 29 local food pantries and two Meals-on-Wheels programs. It will also benefit Animal Friends' Humane Investigations Department, which receives and addresses around 800 complaints of suspected animal cruelty, neglect and crimes of dog fighting each year.
Swisher says it all comes down to the basic human desire to care for our animals: "If you've ever owned a pet, you understand that your well-being is intertwined with theirs. They make our lives full, rich, and real. When we help and heal our pets, we help and heal ourselves—and our communities as well."