A Day at the Track
A harness racing primer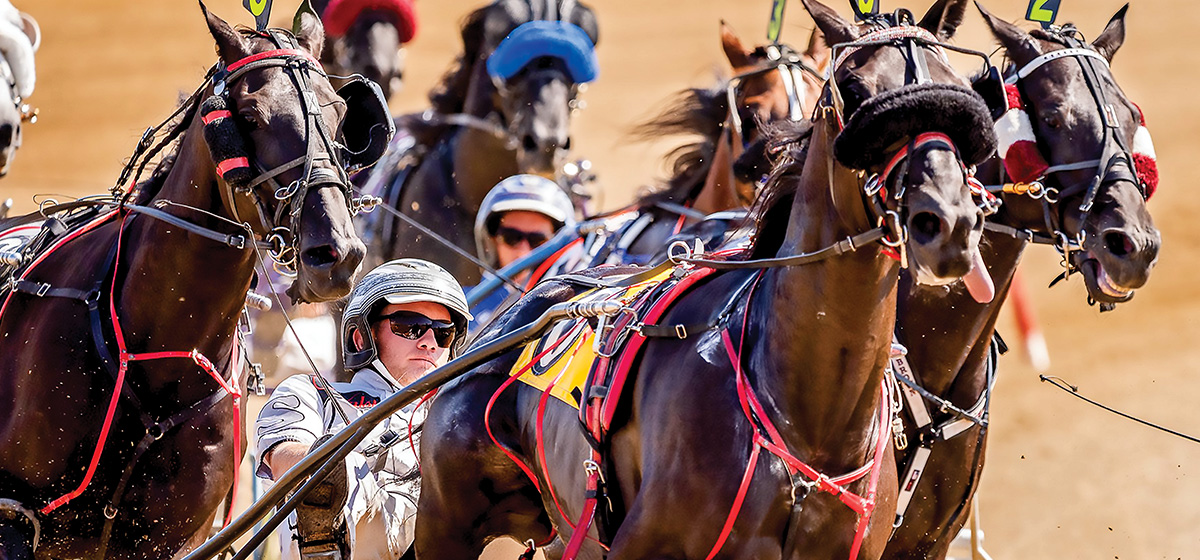 September 14, 2020
As a kid, Dave Palone played competitively in typical high school sports. That changed when his dad bought a few horses to race at The Meadows, a harness racetrack located near Washington, Pa., 25 miles from Pittsburgh.

He fell in love.
"I love horses so much I decided I wanted to do them right," Palone said.
He started working at the bottom, mucking out stalls, brushing and feeding the horses. After he began going to the track to watch the races, he thought of something that would get him even more involved: driving in those races (in harness racing, they're called drivers rather than jockeys).
Drivers steer their horses while sitting in a sulky, which is a cart attached to the horse in front of it. The scene resembles an old-fashioned carriage ride but with faster speeds and sleeker aerodynamics. This is one of the major differences between standardbreds, as harness horses are formally called, and thoroughbreds, those horses carrying riders on saddles that you've seen galloping in the Kentucky Derby.
Palone was about 20 when he qualified to drive. Within a few years, he ranked as the track's most winning driver and decided to move east to drive at the Meadowlands in New Jersey, on the New York City border, the biggest track in the nation.
He learned a lot but missed his family and wanted to drive more often, as he had at home. "I was homesick more than anything," he said. "I was a country man living in Manhattan."
He's been based at The Meadows ever since, and he's driven and won very, very, often. On Nov. 14, 2014, Palone, now 57, collected career win 16,754, which made him the "winningest" harness driver in the world. (Yes, there's harness racing in Europe, South America and "Down Under.") It's a title he still holds.
Obviously, watching Palone is a great reason to go to The Meadows. But, as he and most Meadows people would say, don't forget the horses. Those big, beautiful animals are the reason trainers, drivers and other harness racing workers are there.
Tom Charters, former race secretary at The Meadows, rose through the industry's ranks to become president and chief officer of the Hambletonian Society, which administers the Hambletonian—the sport's most prestigious race—and other big harness races before he retired a couple years ago. He was a teen when he discovered just what horses meant to him. It started when the young Charters, originally from Springfield, Ohio, got a job taking care of a harness horse in London, Ohio.
"I thought the most exciting and romantic thing was being about with a hand on a horse," he said.
And it stayed that way. The next three summers he worked as a groom, the person who physically cares for a racehorse, at Scioto Downs, a harness track in central Ohio.
Then, as a sophomore in college, he wrote to Delvin Miller, founder of The Meadows and a great horseman, for summer groom jobs. He got them while he finished school, then served as assistant director of racing at The Meadows before becoming race secretary.
"I couldn't improve on working for Delvin Miller," Charters said. "He was a great man and great to work for."
Charters didn't fare so badly himself. This year, he was elected to the Harness Racing Hall of Fame for his career achievements.
Miller established what Palone describes as a hands-on track for fans. It works with the Meadows Standardbred Owners Association to stage "Family Fun Nights" about once a month.
"Fans can meet drivers, see their favorite horses, come to the paddock (where horses are set up for an upcoming race), watch a race," Palone said. "And anyone can ride (with a driver or trainer) in two-person jog carts."
The Meadows is now called The Meadows Racetrack & Casino because it's a "racino," a combined casino and racetrack. But everyone working at the track agrees that it is seeing the horses up close that does the most to make the track so popular.
"In what other sports do you see horses?" Palone noted.
"I think it's the horse, the size of the animal," said Roger Huston, who left The Meadows in November after 44 years as the track's announcer. "Youngsters see the big animals and fall in love with being around them."
Just like all the drivers, trainers, grooms and track employees.
"It's a labor of love," trainer Mark Goldberg said of his job. "It's very competitive, and it's hard to make a good living. Most trainers love horses. If you love your job, you never work a day."
Goldberg's words would be a good way to describe how his partner, Tyler Stillings, decided to become a driver and later a trainer, for which he now has a farm near The Meadows. So are the words of Stillings' mother, Curby Stillings, of Washington, Pa., who works at the farm and his stable most of the year. The rest of the year, she's the assistant race secretary at the Red Mile, a track in Lexington, Ky., and also works at the well-known and popular sale of well-bred harness horses each November in Harrisburg, Pa.
Curby's father, Chester Welch, sold his Ford City tire recapping company so he could work full time in harness racing. When she grew up, Curby started working in racing as a chart and program director at several harness tracks. Though he grew up around The Meadows, after high school Tyler Stillings went to Duquesne University and got his degree studying to be a sportswriter. He also learned to drive horses and got his license.
"The day he graduated, he had one race that night and was laughing about it, saying, 'Can I try this?' " Curby Stillings remembered. "He has been very successful here and in New Jersey, at Freehold and the Meadowlands. I have a farmer/sportswriter son doing racing."
Everyone involved with harness racing has learned more than enough to know what to teach fans.
"Harness racing is pretty much east of Mississippi, except for California. Thoroughbred remains a national sport," Charters said.
"The thoroughbreds get all the ink," Palone said. "Maybe they're a little more exciting as they're racing in a group. We race single file at times, but there's a lot more strategy in a harness race, and ours race a lot more frequently. Thoroughbreds race about 15 times a year. Ours are a little more durable, often with 40 starts a year."
Another big difference between the two breeds is that all thoroughbreds race with a very fast gallop. Harness horses are bred to be either pacers or trotters; both gaits are slower than a gallop.
"The fastest is a thoroughbred. Next is a pacer, and last is a trotter," Goldberg said. "A good thoroughbred goes a mile in about one minute and 32 seconds. The pacing record is about 1:46, the trotting record about 1:48." He noted, though, that standardbreds, who have been around only about 100 years—decades less than thoroughbreds—are getting faster and faster.
The differences between trotters and pacers are interesting.
"The trotters have a natural gait. Even thoroughbreds trot when they're going slow," Goldberg said. "The pace is like how they would walk. Both legs on the right side move forward, then the legs on the left side move."
On the trot, the right front leg moves with the left rear leg, and the left front with the right rear.
"The walk, trot and gallop are natural gaits for all horses," Goldberg added. "Trotting is natural, though we ask for them to go faster without going into a gallop. We've trained the trotter to race on an intermediate gait."
The Meadows, which does not charge admission, races about 200 cards per year, usually four days a week. A card typically includes 13 races; you can watch, wager or both. There's a diversity of wagering options, but the most popular are Win, Place, Show, Exacta (first two finishers in exact order) and Trifecta (first three finishers in exact order). Turn in your winning tickets and they'll pay you at the track, or you can establish an account for wagers placed by phone or computer.
The races usually start at 1:05 p.m. and can be seen on Meadows Live!, which is carried by many western Pennsylvania cable television systems.