Zuberbuhler, Schwalb, McCormick, Brown, Wolosik, Burnett, Malezi
Noting the passing of prominent Pittsburghers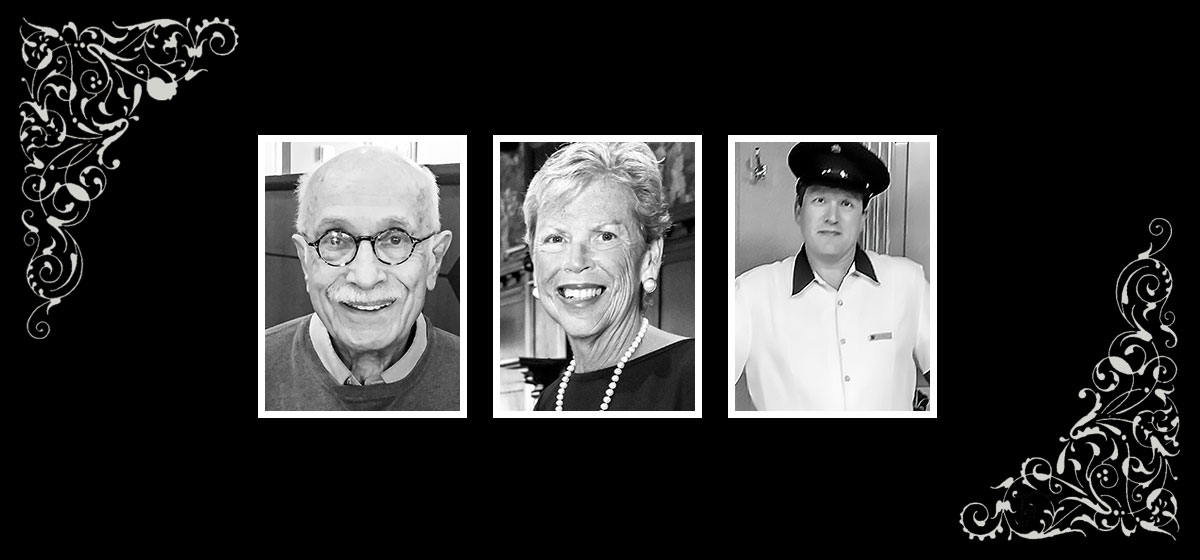 October 7, 2019
James Robert Zuberbuhler, MD, 89: Pediatric cardiology hadn't evolved into a medical field in 1967, when he was appointed director of the new department at UPMC Children's Hospital of Pittsburgh, a position he held for nearly three decades.

Dr. Zuberbuhler was a master diagnostician when doctors had little more than a patient's medical history and a stethoscope for tools. He was an early researcher whose work still informs the field. And for 40 years he taught at the University of Pittsburgh School of Medicine, inspiring hundreds of students who later became experts who save the lives of children across the nation.
Harry M. Schwalb, 94: Raised on a chicken farm in Indiana Township, Schwalb was the son of Jewish immigrants from the Czech Republic who lost family to the Holocaust. His day job was the creative director at Fisher Scientific. But Schwalb made his mark as an artist, staging countless one-man shows over the span of a half-century, and as a popular art critic for Pittsburgh Magazine and other publications. As one of his last requests, he asked those who wished to remember him to buy a piece of art from a new artist.
Cynthia McCormick, 61: She was intelligent, a problem-solver, socially engaged, easy to like—all traits that allowed her to move easily through the disparate environments of business, culture, government and politics, in which she had careers. McCormick worked on the staffs of congressmen and senators of both major political parties. She had been the marketing director for the Port Authority of Allegheny County, and an executive at the Pittsburgh Opera and at the Carnegie Museums of Pittsburgh. She also was a philanthropist, giving to community causes through the Pruitt McCormick Fund that she established with her spouse, Lois Pruitt.
William J.W. Brown, 81: His father was an accountant on Staten Island, his mother a lawyer. Brown became a law professor in Pittsburgh specializing in tax law. Brown was so gifted in the classroom that despite the soberness of the subject the courses he taught were among the most popular. And upon his retirement in 2000, an anonymous donation of $1 million was made in his honor to the University of Pittsburgh, where he taught for more than three decades. He also was a sailor, art collector, author, painter and builder of model boats, who ran his first marathon at 50 and didn't stop competing until he was 79.
Mark Wolosik, 65: Wolosik began working at the Allegheny County Election Division in high school and stayed 48 years until he retired last fall. For the last 17 years, he managed the division. Wolosik could cite provisions of the Election Code from memory and predict voter turnout with impressive accuracy. An avalanche of forms on the last day of voter registration in 2016 election was efficiently handled with rotating shifts he had the foresight to schedule. He also played classical guitar, but the one he kept in his office for moments of downtime rarely got played.
Howard J. Burnett, 89: Burnett led Washington & Jefferson College on a three-decade-long period of growth and change as its president. Burnett's reign began in 1970 when the school's finances were fragile. He demonstrated a skill for courting donors, whose support allowed for expansion, including a new arts center, science center and campus center. The school successfully defended its nonprofit status during his tenure, and he presided over welcoming the school's first female students, faculty and trustees.
Jon-Paul Malezi, 49: Malezi was a doorman at the Omni William Penn Hotel, Downtown; the top doorman at the top hotel in town. Malezi grew up in Dormont, had a college degree and was a husband and father of three daughters. He was discreet, well informed and quick with a joke, when appropriate. He'd considered law, but decided he liked being a doorman better than going to school. He spent off hours checking out the city's latest attractions and hot spots so he'd have an informed recommendation when asked.