Wolf Wants Pot Legalized, Most Local Residents Agree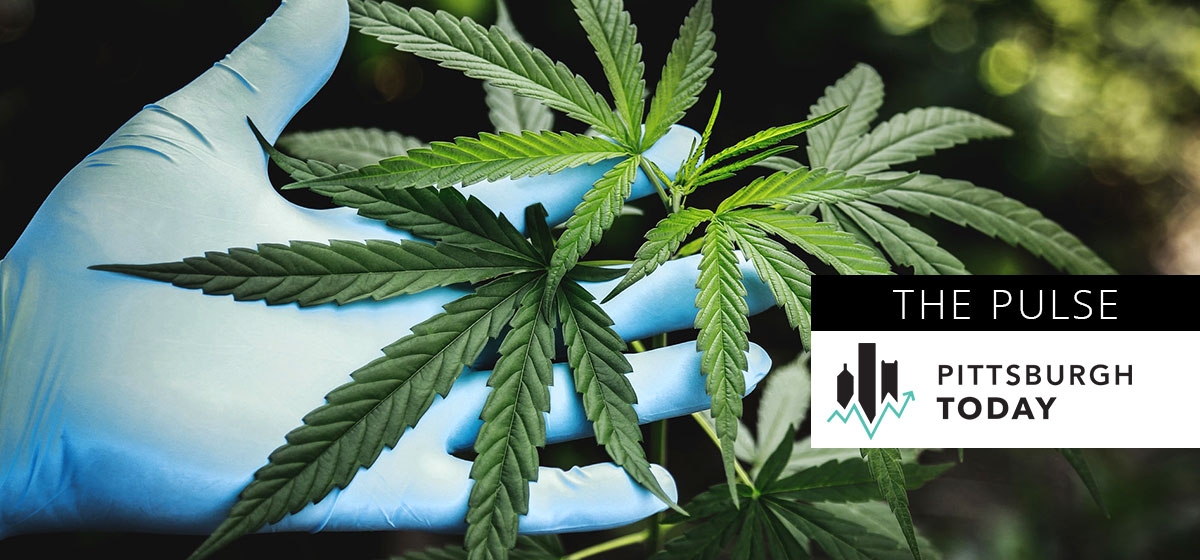 November 6, 2019
When Pennsylvania Gov. Tom Wolf recently announced his support for legalizing recreational use of marijuana among adults, he echoed the sentiments of the majority of people living in the most populous county in southwestern Pennsylvania.

Medical marijuana dispensaries began opening across southwestern Pennsylvania last year after Pennsylvania joined nearly two thirds of U.S. states by legalizing the medicinal use of pot. In the last seven years, 11 states and the District of Columbia have also legalized marijuana for adult recreational use.
More than 62 percent of Allegheny County residents favor Pennsylvania becoming the 12th state to fully legalize marijuana. Only 32 percent oppose such a move, according to a Pittsburgh Today-University of Pittsburgh University Center for Social and Urban Research survey.
The local findings mirror national survey results. A Quinnipiac University poll also taken last year suggests American voters support full legalization of marijuana by a margin of 63 percent to 33 percent. The survey also reported that 43 percent have used marijuana recreationally.
Political differences
Some sharp differences of opinions on full legalization are seen when looking at the age, education and political affiliations of people in the county.
Differences among political parties are the most striking. And the gap suggests the governor may have his work cut out for him getting the state legislature to agree on fully legalizing marijuana, despite the auditor general's estimate that by doing so, the Commonwealth could realize more than $580 million a year in tax revenue to apply to its chronic budget deficit.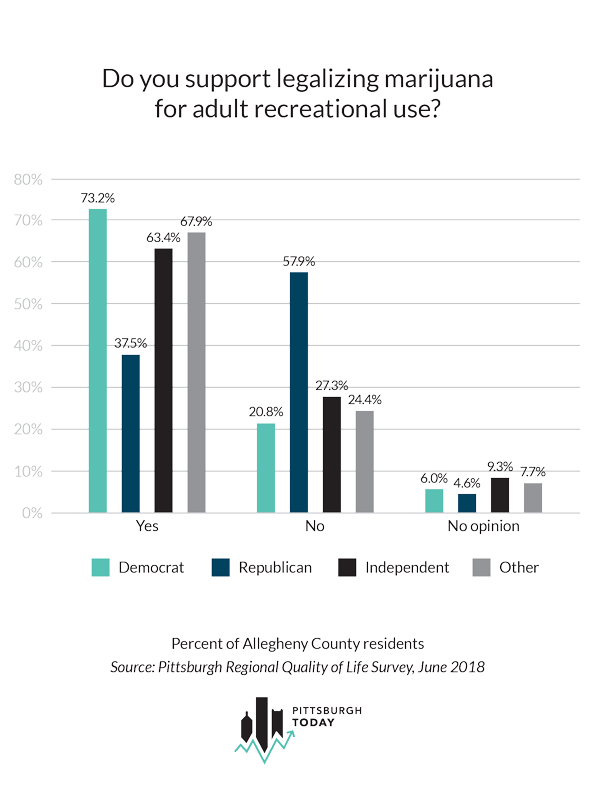 Democrat and independent voters drive approval of full legalization in Allegheny County, giving it a thumbs up by 73 percent and 63 percent, respectively. But legalizing adult recreational use of pot is favored by only 37.5 percent of Republican voters, whose party controls both the state senate and house of representatives.
Age and education matter
Full legalization has broad support among people aged 18 years up to age 65. But 52 percent of seniors aged 65 and older think legalizing pot for recreational use is a bad idea, making them the only age group in which a majority opposes full legalization. The greatest support comes from residents 18-29 years old, 83 percent of whom support legalizing pot across the board.
The more educated people are the more likely they are to support full legalization. Favorability among those with some college or post-secondary education, a bachelor's or a master's or higher degree range from 64 percent to 68.5 percent, while 53 percent of those with no more than a high school degree approve.
When income is considered, support is the highest among people with the lowest and the highest earnings. City of Pittsburgh residents are more likely than residents outside the city to favor full legalization by a margin of 71-58 percent. African Americans and men are more likely to support it than white residents and women, but the differences are small.
Regardless of the differences, how the public views marijuana has profoundly shifted in recent years. A Gallup poll in May that found 64 percent of Americans support legalizing pot noted that only 12 percent of America felt the same way in 1969.
Pittsburgh Today and the University of Pittsburgh University Center Survey for Social and Urban Research conducted the Pittsburgh Regional Quality of Life in June 2018. 1,881 Allegheny County residents drawn from the UCSUR Research Registry completed the online survey. Data were adjusted to make the survey sample representative of the demographic characteristics of the county. The complete set of data tables are available at: pittsburghquarterly.com/quality-of-life-2018.html