How Age Colors Views About the Environment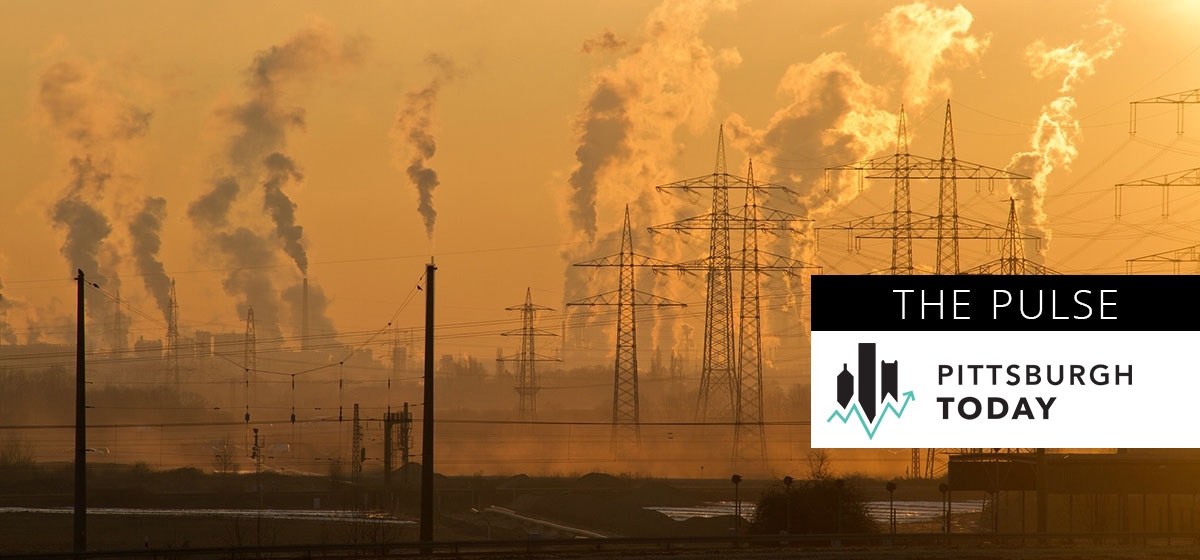 October 9, 2019
The air seems cleaner and the water fresher to middle-aged residents and seniors in Allegheny County, the urban center of southwestern Pennsylvania that has had its share of environmental struggles.

A pronounced age gap separates the perspectives of residents across a spectrum of environmental issues ranging from air and water quality and the impact of shale gas drilling to their willingness to invest in solar panels as an alternative energy source, a recent Pittsburgh Today and University of Pittsburgh survey suggests.
Overall, for example, about half of county residents believe the local environment is improving while the rest feel progress has stalled or regressed. But optimism tends to rise with age. Only 37 percent of 18–to–29 year-olds see improvement compared to 56 percent of people 65 or older who feel conditions are getting better.
Airing concerns
Pittsburgh remains synonymous with steelmaking decades after most of the region's mills were shuttered. Since then, emissions data show the air is much less polluted. The heavy soot of steel's boom years has dissipated, leading to much cleaner-looking skies. But the county still fails to meet federal air quality standards for fine particulates, a dangerous pollutant that's difficult to see, and the chronic shortfall has generated unwanted headlines for the region, including poor rankings in the American Lung Association's annual air quality report cards.
Perhaps it shouldn't come as a surprise that county residents old enough to remember the soot-choked steelmaking valley are less concerned about today's air: 43 percent of seniors say air quality is "not a problem at all," while less than one-third of 18–to–29 year olds feel that way.
The gap is even wider when people are asked about the quality of their drinking water. Some 56 percent of 18–to–29 year olds report severe or moderate problems with their drinking water—twice the rate of seniors with similar worries.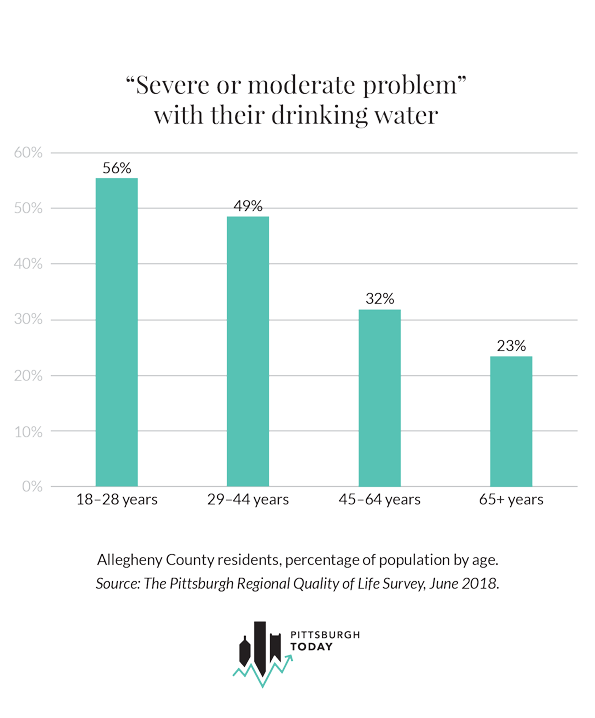 Shale gas
Drilling for natural gas in the Marcellus Shale is a major industry in the region, although most is concentrated in Washington County. In Allegheny County, where the industry's footprint is small, the survey suggests companies have some convincing to do if they hope to sell people on the benefits of shale gas drilling.
Slightly more than half of residents overall believe shale gas represents a significant or moderate economic opportunity for the region. Meanwhile, 63 percent see it as a serious or moderate threat to public health and the environment.
Again, age matters. Seniors are more likely to believe drilling brings significant or moderate economic benefits than 18–to–29 year olds by a 54 percent to 36 percent margin. And 76 percent of younger residents see drilling as a threat to health and the environment compared to 57 percent of seniors.
Taking action
Age also influences whether people believe Pennsylvania should toughen regulations to protect the environment. Support for stricter measures tends to wane as residents age. The most likely to endorse tougher regulations are 18–to–29 year olds, 87 percent of who support them. The least support is found among, yet 71 percent still believe the state should exercise greater oversight.
Only about 16 percent of county residents are involved in organizations that aim to protect and preserve the local environment. Here, the age gap is narrow with the highest participation found among the youngest and among the oldest residents.
But the age gap returns when people are asked about installing solar panels on their homes as a cleaner alternative to fossil fuel energy sources. Those who say they'd never install solar panels include 21 percent of county seniors, but only 3 percent of 18–to–29 year olds. And among those who'd consider solar panels, people 45 and older are half as likely to say they'd be willing to pay for them out of pocket than younger residents.
Pittsburgh Today and the University of Pittsburgh University Center Survey for Social and Urban Research conducted the Pittsburgh Regional Quality of Life in June 2018. 1,881 Allegheny County residents drawn from the UCSUR Research Registry completed the online survey. Data were adjusted to make the survey sample representative of the demographic characteristics of the county. The complete set of data tables are available at: pittsburghquarterly.com/quality-of-life-2018.html