What Will the Shell Cracker Bring Along with It?
Friends and foes see it in different ways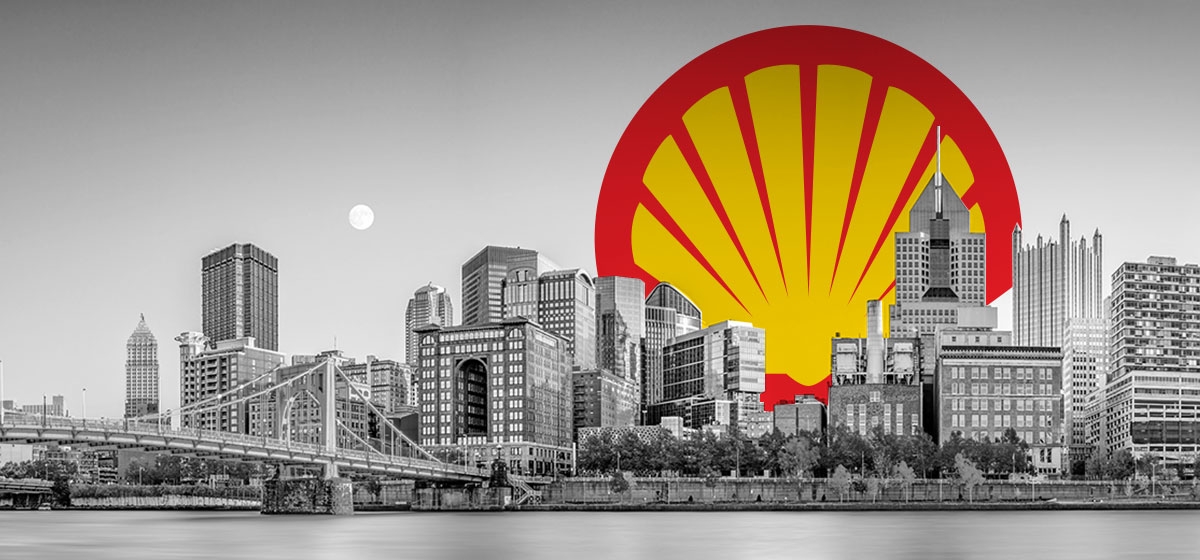 July 21, 2017
Orange plastic curtains protect passers-by from blow torch-wielding workers who are learning to weld in a new training facility for Steamfitters Local 449. The building on the border of Butler and Beaver counties represents an $18 million bet on a building boom that economists and government officials say the nearby Shell cracker plant will spur.

Trainee Eric Breedlove, 38, of Beaver Falls, Beaver County, recently joined Local 449 to boost his salary and benefits for his family after years digging ditches and laying bricks. "It was OK, but the steamfitters have a better care plan," he said, laying down his welding torch. "The salary is actually almost double."
Federal statistics show that Pittsburgh pipefitters and welders earn an average of $60,000. And with Shell Chemical Appalachia beginning construction of an ethane cracker plant on the banks of the Ohio River just 10 minutes from Breedlove's house, he's looking to be among the 1,000 steamfitters needed to weld and fit 135 miles of piping at the cracker during the five-year construction process. Shell also has easements for a related project, a proposed 94-mile pipeline from the new Monaca facility toward Washington, Pa., and Cadiz, Ohio.
Western Pennsylvania's Marcellus Shale represents an abundance of low-cost "wet" natural gas, which has an abundance of other economically useful chemicals, such as ethane, butane and propane. For instance, ethane—heated and chemically rearranged at extremely high temperatures—is the base of polyethylene, which eventually becomes any number of everyday plastic products.
Currently, Pennsylvania's ethane travels in pipelines to the Gulf Coast—the hub of America's petrochemical industry—and to Canada, where it's loaded on ships to Norway.
Shell's $6 billion Beaver County investment may just be the first in a region that could support up to four more crackers, according to a state-commissioned report by London-based firm HIS Markit. And that's not factoring the ethane already being pumped out of state, or the amount that Shell plans to purchase when its plant goes online early next decade.
"You're like the Saudi Arabia of the natural gas industry," Ron Whitfield, IHS Markit's VP of economics and country risk consulting, told a group in April in Pittsburgh. "That's probably overstating it, but you're close."
The new Shell facility will "crack" ethane by heating it to 1,500-degrees Fahrenheit and rearranging the hydrogen and carbon molecules to create ethylene and subsequently polyethylene. Shell expects to have seven on-site furnaces, producing 1.6 million tons of polyethylene a year, which could be used in anything from tires to shoes to diapers.
Shell expects to have seven on-site furnaces, producing 1.6 million tons of polyethylene a year, which could be used in anything from tires to shoes to diapers.
A development bonanza
While some groups worry about the environmental impact of several petrochemical plants and want to know why Shell, one of the world's largest companies, will receive $1 billion in state tax breaks, many others—unions, municipalities and chambers of commerce—see what one real estate manager called a "gold rush" of opportunity in a region unaccustomed to booms.
As far back as 2010, elected officials and the Pittsburgh Regional Alliance (PRA) began courting Shell—studying the workforce capabilities, acting as a liaison to state departments and securing incentives for the company.
"We worked with them all the way up to June 7, 2016, to help them identify sites, not only for the cracker but for related facilities," said PRA President David Ruppersberger, referring to the day Shell finally announced the cracker go-ahead.
A "hand-in-glove" process was how Shell's Michael Marr described working with Pennsylvania. In 2012, Pennsylvania legislators passed the Resource Manufacturing Tax Credit for companies that will purchase ethane in the state and convert it to ethylene, invest at least $1 billion, and create 2,500 full-time jobs during construction (Shell estimates workers will peak at 6,000).
And the Pennsylvania Department of Community and Economic Development (DCED) soon will release a strategic guide for businesses, outlining site development, land use and other advice for attracting potential investors.
"There are a lot of markets looking at our ethane," said Denise Brinley, DCED senior energy advisor. "That's clear from the ramp-up in activity from 2010 to 2014. The ethane price here is more competitive than virtually anywhere in the world, if we use it here."
Ruppersberger said the PRA is conversing with other companies that could locate here and buy not only ethane, but other natural gas liquids.
Just over the West Virginia panhandle in Ohio, Thailand-based PTT Global Chemical identified a potential cracker site — about an hour south of Pittsburgh on Interstates 79 and 70 – but the company hasn't announced a final commitment.
"We hope that we can site another cracker or two in Southwestern Pennsylvania," Ruppersberger said. "It doesn't all have to go into polyethylene pellets. It can be used for other things. Propane is of particular interest to us as well, and even methane can also be converted into other chemical processes."
The IHS Markit report estimates that 73 percent of the U.S. and Canada polyethylene and polypropylene (plastics made from propane) markets are within a 700-mile radius of Southwestern Pennsylvania. Marr said Shell found the proximity, as well as Beaver County's river, rail and highway access, attractive.
The report predicts that by 2030, more than 1 million barrels of natural gas liquids per day—by then the American demand will be 6 million barrels per day—will come from the Marcellus and Utica shale formations.
The state is also banking on more jobs coming to the area, and not just for construction.
"There is a direct link with what Shell will do and the long-term viability in advanced manufacturing," Brinley said. "The puzzle pieces need to be put together."
…by 2030, more than 1 million barrels of natural gas liquids per day—by then the American demand will be 6 million barrels per day—will come from the Marcellus and Utica shale formations.
Brinley cited Lehigh University and Penn State's plastics engineering programs as examples, and said graduates "are being shipped out of state"—an exodus that the cracker-related employment opportunities could reverse.
"Shell will be producing the building blocks of material science. Those are things put into products produced in additive manufacturing. It's all part of the same continuum. They all start with a petroleum base converted to a resin."
Additive manufacturing includes 3-D printing with plastic, or other media, such as concrete.
Local elected officials in Southwestern Pennsylvania say the Shell project is already spurring development, particularly in the real estate and construction markets.
"We're seeing relocation and expansion," said Sandie Egley, chair of the Beaver County Commissioners, adding that deals are in the works for advanced manufacturing, energy, health-care and life-sciences companies to locate or expand in Beaver County. She hopes to make official announcements this fall. A half dozen "large scale" housing developments—with nearly 250 homes in each—are under way in the county's townships of Chippewa, Hopewell and New Sewickley. In the Borough of Bridgewater, developers are building a 110-home waterfront complex, with parking garages and a community clubhouse. Municipal building permits for new homes, apartments and commercial buildings, including hotels have jumped in the last year. And the number of hotels in Beaver County has jumped from five to 11 in the last several years, according to the Beaver County Chamber of Commerce.
Hal Martin, a Beaver native and long-time Howard Hanna commercial sales broker said his phone has been "ringing off the hook." He acts as a liaison between the company's commercial and housing divisions as the cracker approaches, and he also serves on the Chamber of Commerce's economic task force, which is aiming to wrangle Beaver County's 50-some municipalities into one concerted land-use plan; about 40 are on board.
"Once people see things materializing, I think it's going to be crazy," Martin said. "So it's up to all of us to kind of work together. We're a long way from where we're going to end up, so a lot of my time is spent trying to educate site selectors as to what's coming. [They say,] 'Prove it,' and the answer is, 'We've got a pretty good hunch the numbers are going to make sense for you to come here.'"
Allegheny County impact
Allegheny County will see dividends too, government officials say. County Executive Rich Fitzgerald said his government is in talks with "a handful" of businesses and land developers looking to relocate or expand and expects "hundreds of millions of dollars" in investment along the Route 18 and Ohio River corridors.
The Pittsburgh International Airport is smack in the middle.
"We had a land-use plan," said Christina Cassotis, Pittsburgh International Airport CEO. "Then the cracker got announced, and we said, 'Hold on. Let's make sure we have it right so we can take advantage of this one particular event.'"
The airport's new market analysis will decide the "best and highest" use of its 3,800 developable acres. (That's of the 8,800 acres the airport owns.) When the airport leases land for development—as with Consol Energy's natural gas drilling lease—payments or royalties are used to decrease the fees for airlines.
"We're looking at what types of industries and companies follow these types of opportunities," she said. "The more competitive we can be as a region, the more opportunity there is for people and companies in this region to fly nonstop. It's just beginning."
She anticipates that along with land demand, the arrival of a petrochemical facility—as well as General Electric's new additive manufacturing site in Findlay Township adjacent to the airport—will increase passenger and freight air travel.
"The more competitive we can be as a region, the more opportunity there is for people and companies in this region to fly nonstop. It's just beginning."
"We think there's going to be travel back and forth to Amsterdam, where Royal Dutch Shell is headquartered," Cassotis said, adding that it bodes well for the airport's European travel demand.
When the fracking boom began, Cassotis said she "saw a lot of workers coming in for two- to three-week stints."
National and local real estate players point to the advantage of access to two major highways. Interstates 79 and 376 meet just southeast of the airport and the Ohio River.
"This is the front end of a new industry," said James Scalo, of the Green Tree-based Burns & Scalo Real Estate Services.
He said his company was a "big winner" with its investment in Southpointe—a development along Interstate 79 in Washington County—when oil and gas drillers moved in along with suppliers, lawyers and ancillary businesses.
"These new industries come in with a lot of fresh capital," Scalo said. "And they bring a lot of people with them."
Burns & Scalo recently bought 260,000 square feet of commercial office space along the I-376 corridor and an additional 16 acres of land "on spec," he said. "It's not feeding investment immediately, but we know over the next ten years there will be positive impact from the cracker."
One economic impact analysis—commissioned by Shell but widely cited by media, business and elected officials—predicts a windfall for the region.
The December 2014 Robert Morris University report, which used a popular economic predictor software called IMPLAN, predicts between $700 million and $900 million in regional labor income over Shell's five-year construction period, plus a couple billion dollars in indirect business and spending. Of that, the study estimates the 10-county Southwestern Pennsylvania region could see up to $27 million in personal tax income revenue just from construction labor. Over a 40-year operational period of the cracker, the study predicts between $15 billion and $19 billion in regional economic activity.
"If everything is successful in building the plant, you would have an even greater incentive for downstream firms to be even closer to this area," said RMU economics professor Patrick Litzinger, lead author of the study.
Not so rosy
Some energy economists disagree, saying the report overstates employment and tax benefit figures.
Jeremy Weber, associate professor at the University of Pittsburgh's Graduate School of Public and International Affairs whose expertise is in energy economics, said the predicted economic impact by the 2014 RMU is overestimated.
He said the study uses an "extremely high multiplier"—that every cracker plant job would mean 13 more jobs in the region—to estimate employment figures. He's also skeptical of how the authors calculated tax revenue by assuming "that each one dollar in wage income associated with the plant is a new dollar in income." That means workers would have had to have been unemployed prior to the cracker plant coming along, he said. Finally, Weber said, the study doesn't take into account the more than $1 billion tax break the state is giving to Shell.
Pennsylvania Gov. Tom Wolf's latest budget estimates the credit will cost $17 million starting in 2019 and ramp up to $65 million by 2022. The tax break will sunset in 2042, and a commonly cited figure predicts that Shell could receive up to $1.65 billion in total tax breaks. An "unknown number" of taxpayers will benefit from the credit, according to Wolf's budget.
"It's crony capitalism at its worst," said Larry Schweiger, President and CEO of Citizens for Pennsylvania's Future, an organization that advocates for clean energy. "These big companies leverage one state against the other. Pennsylvania is in no shape to be giving money to the Royal Dutch Shell company. It's financially not sustainable. There's various numbers floating around about how many jobs will be created, but the important number is 600. When you put the pen to the paper, it's something like $2.5 million per employee."
While Shell said it will need 6,000 construction workers initially, once the plant is operational, it will support 600 full-time positions.
The Harrisburg-based Pennsylvania Budget and Policy Center criticized Pennsylvania for setting a "bad precedent" by creating a special tax break to attract a company owned by the world's second largest corporation. In its 2012 analysis titled "Cracker Plant Tax Credit Expensive for Taxpayers While Promising Few Permanent Jobs," the center recommended that the Legislature "stop the bidding war" and said "competition for the cracker plant among Pennsylvania, Ohio and West Virginia has been great for Shell, but not so good for taxpayers."
At public hearings, environmentalists have repeatedly expressed concerns over health costs, and some residents say they're worried that investing in natural gas industries might deter clean technology investments.
In a March 8 op-ed in the Beaver County Times, Bob Schmetzer and Terrie Baumgardner of the Beaver County Marcellus Awareness Committee and Action Team argued against building an economic sector around petrochemical applications: "It's not too late to demand a future that eliminates toxic downsides. We must all work together to remind local leaders to raise the bar for our future."
And in an April 5 Post-Gazette op-ed, Baumgardner argued that air emissions from the Shell facility will further pollute an area that the American Lung Association already gives an "F" for high ozone days. "When this planned petrochemical hub has fracked every inch of Southwestern Pennsylvania and our rising oceans are choked with an excess of plastic, we will be left asking ourselves 'How could we have not seen it all coming?'"
Two organizations—one Philadelphia-based and the other in Washington, D.C.—filed an appeal in 2015 with Pennsylvania's Environmental Hearing Board over Shell's air emissions plan, which has not yet been resolved.
The state's Department of Environmental Protection issued stormwater and wastewater discharge permits to Shell in late June.
"There are real economic costs related to public health that are often not part of the equation when companies propose to build plants like the Shell cracker plant," said Matt Walker, spokesperson for the Philadelphia-based Clean Air Council, a party in the legal action. "Costs to the community as a result of negative health impacts could include missed days of school and work, the cost of treatment for respiratory conditions such as asthma, and emergency room visits."
The council objects to the state's approval of Shell's air emissions plan on the basis that Beaver County is already out of attainment for the Environmental Protection Agency's ozone pollution standards. The plan allows Shell to emit more than 500 tons of volatile organic compounds—which react in sunlight to create ozone—per year.
"I know a lot of people who say 'if that cracker plant comes, I'm moving.' How's that sound for economic benefit?" said Thaddeus Popovich, of Allegheny County Clean Air Now (ACCAN).
Not everyone agrees.
"I live less than one mile from this plant [construction site]," Egley, of the Beaver County Commissioners, said. "I can see it from my house. If I thought there was some type of reason to move, I would have done it. I'm comfortable where I am. I've enjoyed working with people from Shell."
Shell already has improved an environmentally toxic brownfield site, according to Brinley of the DCED. "People forget that [site] was a zinc smelter. They have completely improved the environmental condition of that property, and they're putting a twenty-first century facility on it."
The state will continue working to attract more petrochemical development, she said.
"It's not as easy as you think, because the Gulf is the powerhouse right now," Brinley said. "They have all the infrastructure in place. It's where everybody believes the product should be going, so we're looking at putting our foot down on that and saying 'No we think we can do some of this work right here in our own backyard.'"