UPMC Hillman Cancer Center Gala 2017 Raises $4.1 Million for Cancer Research
September 14, 2017
Photos by Joe Appel Photography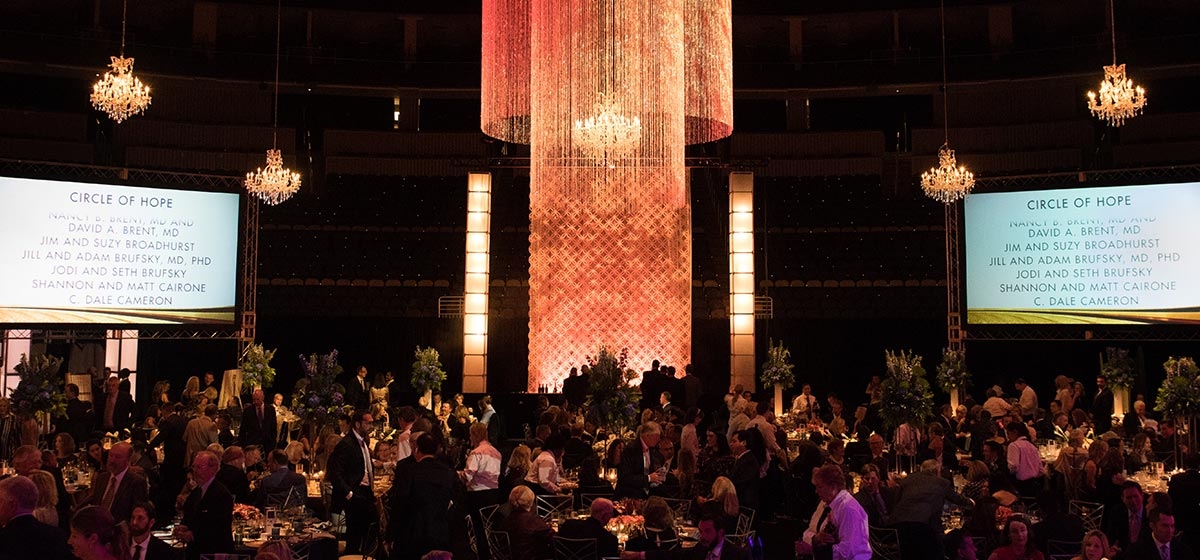 September 17, 2017
The UPMC Hillman Cancer Center Gala 2017, "A Future Without Cancer," recognized nearly 900 of the region's leaders and longtime supporters in attendance who are responsible for raising more than $4.1 million to support the efforts of scientists and clinicians at the region's only National Cancer Institute-designated comprehensive cancer center. This major event begins an annual effort to secure critical funding for patient care and cancer research, including nearly 600 clinical trials, that take place at UPMC.
---
---
Special tribute was paid to the late Henry and Elsie Hillman by Stanley Marks, M.D., a leading UPMC oncologist and chairman of UPMC Hillman Cancer Center. The Hillmans were instrumental in turning Pittsburgh into a world-class destination for cancer care. Earlier this year, officials from UPMC and the University of Pittsburgh announced that all 60-plus cancer center locations within the global network would be renamed UPMC Hillman Cancer Center, one of the largest integrated community networks of cancer doctors and oncology specialists in the United States.
"Henry and Elsie Hillman were true pioneers in the fight against cancer," said Marks. "The Hillman Family Foundation and the Henry L. Hillman Foundation have helped to pioneer exciting and novel cancer research efforts, including the establishment and continued support of the Hillman Fellows Program for Innovative Cancer Research. This program has made a tremendous impact on scientific discoveries and has positioned UPMC Hillman Cancer Center and its partners at the University of Pittsburgh as leaders in the fight against cancer for many years to come."
Helping to lead the research efforts is Robert Ferris, M.D., Ph.D., who recently was named director of UPMC Hillman Cancer Center, and formally introduced during the gala. Ferris' clinical expertise is in cancer immunotherapy, robotic head and neck surgery, stereotactic radiosurgery and endoscopic head and neck surgery. He has received wide recognition for his achievements in these areas and has overall responsibility for all aspects of cancer research and education.
Two distinguished professors at the University of Pittsburgh School of Medicine received the PNC Elsie Hillman Distinguished Scholar Award to continue their important research. Drs. Patrick Moore and Yuan Chang, whose research laboratory is located at UPMC Hillman Cancer Center in Shadyside, are credited with discovering two of the seven known human viruses that directly cause cancer. The award will provide financial support for these extraordinary cancer researchers.