Uncharted Territory
As the co-founders of Google and Apple Computer looked on, Carnegie Mellon University robotic vehicles made their mark in a driver-less race across the Nevada desert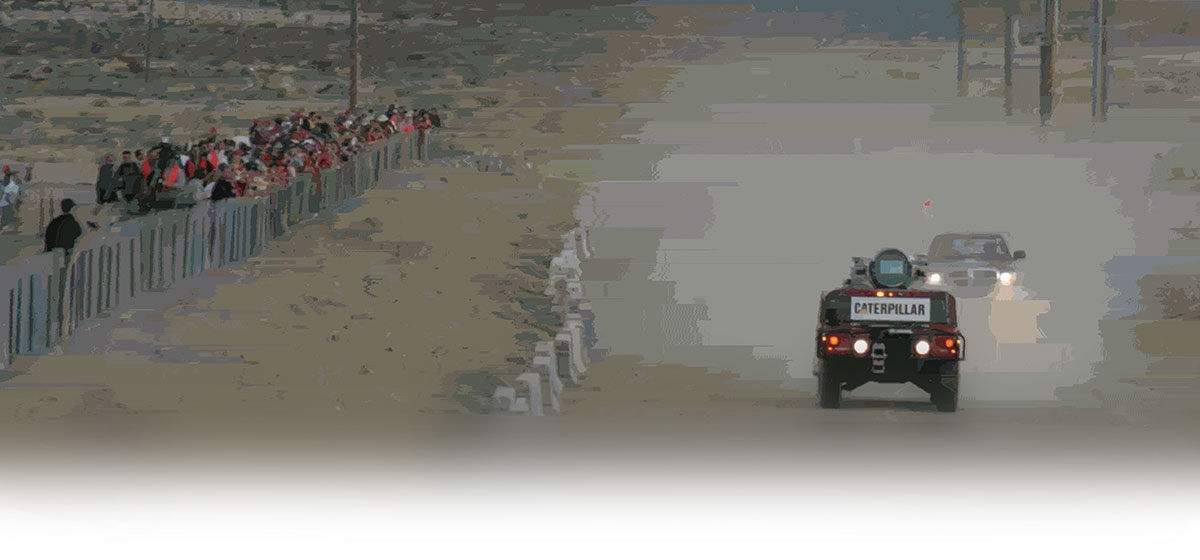 November 20, 2005
Science and technology march along, year after year, making gradual progress in transforming our lives. Every now and again, however, a public event is staged—the moon landing, a computer playing a chess champion, decoding the human genome—that gives the public the appearance of a breakthrough.

Just such an event happened in October, when a group of robotic cars and trucks raced unaided through the Nevada desert. The Defense Advanced Research Projects Agency (DARPA) offered $2 million to the winner of the Grand Challenge.
Twenty-three qualifying robotic vehicles took off at dawn on a 132-mile obstacle course that was revealed to them just two hours before the start. They ranged from small cars, to two Carnegie Mellon Humvees, to a huge, 20-ton military transport. None was allowed to receive outside help except satellite signals from the GPS system, which would tell them where on earth they were. To win they had to complete the course in 10 hours, avoid obstacles, traverse narrow mountain roads and not stop for gas or electricity.
A previous running of this race in 2004 was not promising. The best performer was a Carnegie Mellon Humvee that went 7.5 miles before getting stuck on a berm and mindlessly spinning its wheels until fire broke out. The media declared robots not ready for prime time and forgot about them.
This year was different. Five vehicles completed the course, led by Stanford and Carnegie Mellon, which completed the course in about seven hours. Carnegie Mellon partisans declared it a triple win because the first-place Stanford team was led by two Carnegie Mellon alumni who had studied under the redoubtable Red Whittaker, the leader of Carnegie Mellon's two Humvee-based teams.
The event showed entertainment potential for robotics. Thousands of cheering fans watched the start and finish in Primm, Nev., about 40 minutes outside Las Vegas. There were large tents and TV monitors everywhere. Chip Ganassi, a sponsor of Red's team, provided a first-class courtesy tent for Carnegie Mellon fans who outnumbered all other groups. After all, this is the equivalent of the Rose Bowl for Carnegie Mellon.
Some Silicon Valley uber-nerds were also there, including Larry Page, co-founder of Google, and Steve Wozniak, co-founder of Apple. Wozniak, as usual, arrived with an entourage on Segways, those upright, motorized scooters with side-by-side wheels. This group was like a nerd version of Hell's Angels without the lawlessness.
The Stanford team used a Volkswagen Toureg and was backed by the full support of Volkswagen. The newer Carnegie Mellon Hummer, which had the poll position, developed engine trouble late in the race, lost the lead and limped home third. The second Hummer, which Red had purchased from a farmer for the 2004 race, came second and could have speeded up if it had known the plight of its running mate. But since the robots couldn't communicate with each other or anyone else after the race started, it had to stick to its assignment of being the tortoise to its teammate's hare.
The most surprising finisher was an entry from Gray Insurance, a Louisiana company with no high-tech reputation at all. It seems the IT staff there has a pretty intense robotics hobby. They showed that you didn't need Ph.D.'s and Artificial Intelligence gurus to be effective.
DARPA spent an estimated $10 million staging the event and got universities and companies to spend far more developing their entrants.
The most immediate purpose of this activity from the Department of Defense's point of view was to meet a Congressional mandate to make 30 percent of the Army's vehicles autonomous in 10 years. This competition required the robots to drive a much more difficult course than people normally do; it was off-road, with sudden obstacles, and it was very hot. In some cases, the people driving the chase cars were afraid to follow the robot at its speed and dropped back.
The successful performance of five robots is a watershed for robotics. It showed that relatively inexpensive development efforts could create robots that worked, out of the gate, completing a difficult multihour trip. And it's piqued the interest of companies that might exploit the ideas created by the competitors. There are discussions of future robotic races in places like Pike's Peak.
In other ways, the race was much easier than driving on a city street or freeway. The robots were staged at 10-minute intervals and didn't have to deal with each other. There was an agreement that if one could pass another, the leader would be momentarily stopped by the human observers. So this event didn't establish the ability of robots to drive in places most of us care about.
Over 10 years ago, Carnegie Mellon researchers hit the high-water mark for highway driving by a robot with their "No-hands across America" tour in which a station wagon drove across the country without the driver touching the steering wheel 99 percent of the time. Most of the intervention was necessary to prevent the robot from taking freeway exits. The researchers blamed its propensity to follow the white line on the highway's edge, but I think it was looking for a robot MacDonald's.