Triangle Bar & Grill
Sub zone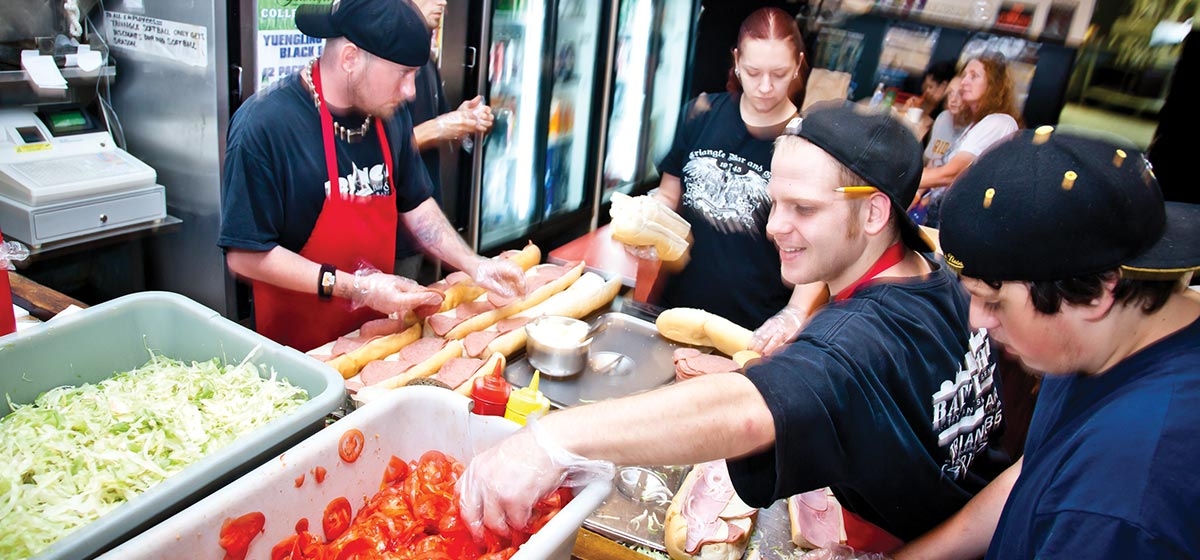 November 20, 2010
The Bermuda Triangle—that vortex in the Atlantic Ocean that starts at Miami, follows a line southeast to Puerto Rico, then north to Bermuda and back to Miami—forms a region that some have imbued with mysterious powers. Over the decades, many ships have entered this triangle, never to be seen again.

But there is one triangle from which ships emerge. The Triangle Bar & Grill, near the eastern edge of Swissvale Borough, at the threshold to Rankin, occupies an old triangular-shaped building that gives up a steady stream of Battleships and Destroyers—signature sandwiches that have filled epicurean bellies since 1946.
There is no talk of teriyaki or chipotle chicken hoagies here. This is your father's sandwich, easily recognized, but hard to put down after your first bite. And the formula is simple: fresh bread, cold cuts sliced on the premises, homemade meatballs and nothing frozen or pre-cut. You can dress them however you want, but the traditional Battleship gets lettuce, tomato, onion, vinegar & oil, salt & pepper and oregano.
Order the original Italian, with salami, ham and provolone. Or load up the locally baked loaves of bread with corned beef, roast beef, turkey or steak—now a best seller. The Italian goes for $12.25 for a 25-inch Battleship and the others are $17.25 on the same-sized loaf. At the Triangle, as in the Navy, a Destroyer is smaller, about a foot long, and a 6-inch Torpedo is available for snacking.
All these sandwiches have been pretty much the same since the Catanzano family founded the Triangle in 1946. In 1982, the Catazanos were ready to sell to another family that would work the Triangle hard, and the recently displaced steelworker Robert "Bones" Crombie and his wife, Judy, found a way to feed six kids here. In 2005, after "Bones" died, son Tom started running the place for himself and his five sisters. This is a joint with a pedigree."You'll find millworkers, lawyers, laborers, police officers sitting shoulder-to-shoulder, enjoying a cold beer and a sandwich," Tom says. "And around supper time, a lot of moms show up and order just one Battleship to feed the whole family."
On football Sundays, hungry fans line up from just inside the front door to the far counter, where you place your order and watch it being made. The bond between football and the Triangle is inviolable for some, and on the day after "Bones" died, the family decided to open. The Steelers were in the play-offs, and Tom says, "Everyone knew that Dad wouldn't have wanted to disappoint his customers." And here, in a town that still fights the good fight, there is a mystery involving this triangle. In football season or not, despite mill closings and now during a crushing recession, Triangle business has remained steady and even grown a little. It may have something to do with the notion that "Life is like a sandwich—the more you add to it, the better it becomes."
"Bones" surely understood the value of good friends and good food at a fair price, and he must have understood the mystery. Whenever he saw someone carrying a Battleship out of his joint, he would turn to anyone within earshot and say, "Another happy customer weighs anchor at the Triangle bar."
Triangle Bar & Grill, 2122 Monongahela Ave., Swissvale, PA 15218.