Pitt's First Great Rivalry: Fordham and the Seven Blocks of Granite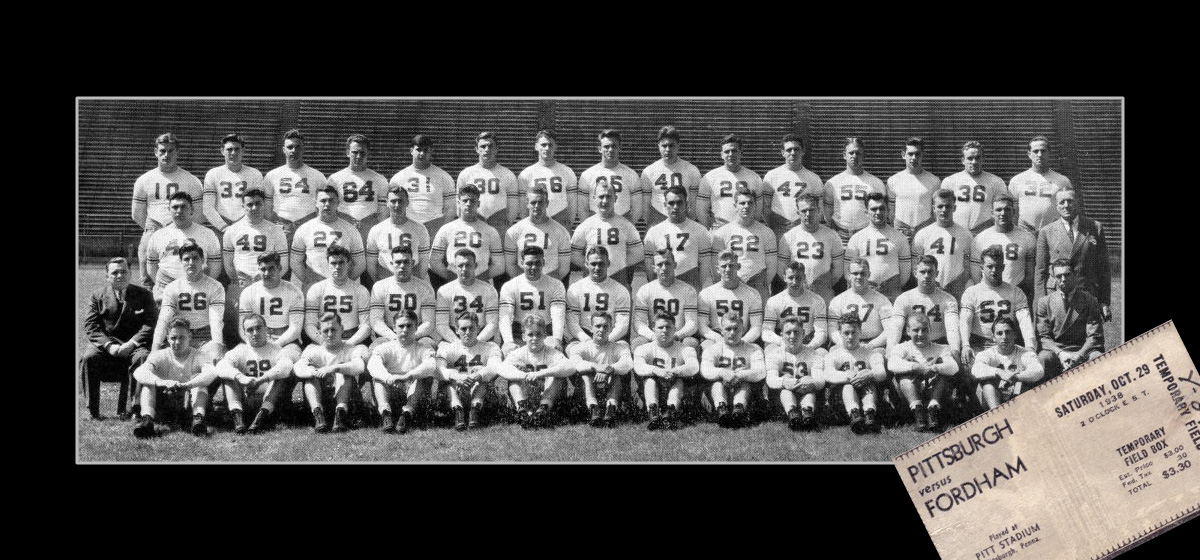 September 7, 2020
When The Sporting News and Sports Illustrated selected their top ten college football rivalries, their lists featured neighboring state rivalries such as Ohio State-Michigan, Texas-Oklahoma, and Florida-Georgia. The Sporting News list of top rivalries included the Pitt-West Virginia backyard brawl.

Traditional rivalries for Pitt began over 100 years ago when they first started playing West Virginia and intrastate rival Penn State. While those rivalries, over the years, have included games where national rankings and claims to a college football championship were at stake, they didn't become intense until the 1950s because of the early dominance of Pitt.
The first Pitt and West Virginia game in Greatest Moments in Pitt Football History was played in 1955. On November 12, an undefeated West Virginia was derailed from a major bowl game when it was upset 26-7 at Pitt Stadium by an underdog Pitt team, led by All-American Joe Walton. When West Virginia scored on the last play of the game, it was awarded the extra point because celebrating Pitt fans had already torn down the goalposts.
A week later at State College, Pitt, in a driving snowstorm, held Penn State's great running back Lenny Moore to 10 yards on 13 carries on its way to a stunning 20-0 upset victory. The only other Pitt-Penn State game in Greatest Moments that was played earlier took place on November 19, 1949, won by Pitt 19-0 on two touchdown runs and a touchdown pass by Donora's popular Bimbo Cecconi. In the backfield with Cecconi that day was future Pitt head coach Carl DePasqua.
When Glenn "Pop" Warner became Pitt's head coach in 1915, the Panthers became one of college football most powerful teams. When Warner left Pitt after the 1923 season, he was succeeded by one of his former players, John "Jock" Sutherland, whose teams were as dominant as those of Warner.
While Pitt played some of the greatest teams in college football during the Warner-Sutherland eras, including Knute Rockne's Notre Dame, it didn't develop its first great rivalry until a series of games, beginning on November 2, 1935 played at the Polo Grounds in New York, against a upstart Fordham team, coached by Jim Crowley, one of Notre Dame's fabled Four Horsemen.
Facing Pitt's dominant running attack and defense, Fordham was given little chance. New York sportswriters ignored the game, and many traveled to Columbus to cover the Notre Dame-Ohio State matchup. But Fordham's swarming line, led by future Hall-of-Famer Alex Wojciechowicz and Green Bay coaching legend Vince Lombardi, held Pitt to only 75 yards rushing and played the Panthers to a scoreless tie. Fordham fans were so thrilled with the tie that they torn down the goalposts.
When Pitt and Fordham met at the Polo Grounds in 1936, Pitt, once again, was expected to dominate the game, even though Fordham was undefeated. After a frustrating 7-0 upset loss to Duquesne, Pitt had defeated Notre Dame 26-0 a week before the Fordham game on the running of sophomore sensation Marshall Goldberg, who gained 177 yards on the day. In a brutal struggle, the teams battled to another scoreless tie, but only after Pitt, late in the game, drove down the field before being stopped on fourth down at Fordham's two-yard line.
After the second scoreless tie, Pittsburgh sportswriter Chet Smith declared, "Next year they are going to start the game Monday morning and keep at it until somebody scores." Smith proved a poor prophet when Fordham, helped by several Pitt fumbles, once again, played the Panthers to a scoreless tie at the Polo Grounds. After Fordham's line held a powerful Pitt offense scoreless for the third time, it was celebrated by the New York press as the Seven Blocks of Granite.
In 1938, Pitt, sparked by its Dream Backfield of Marshall Goldberg, Curly Stebbins, Dick Cassiano, and John Chickerneo, finally defeated Fordham in a game played at Pitt Stadium. Fordham's fabled line, depleted by the graduation of Wojciechowicz and Lombardi, managed to hold Pitt to a field goal in the first half, but trailing 7-3, the Panthers took the lead early in the fourth quarter on a Cassiano touchdown run and, after two touchdown runs by All American Goldberg, went on to a 24-13 victory.
In an article in the Pitt Alumni News, Myron Cope compared the 1935-1937 Pitt-Fordham series to "kissing your sister." But the games, among the most memorable in college football history, were more like bloody fistfights between brothers.