The Art of the Haberdasher
The art of the haberdasher
Illustration by Stacy Innerst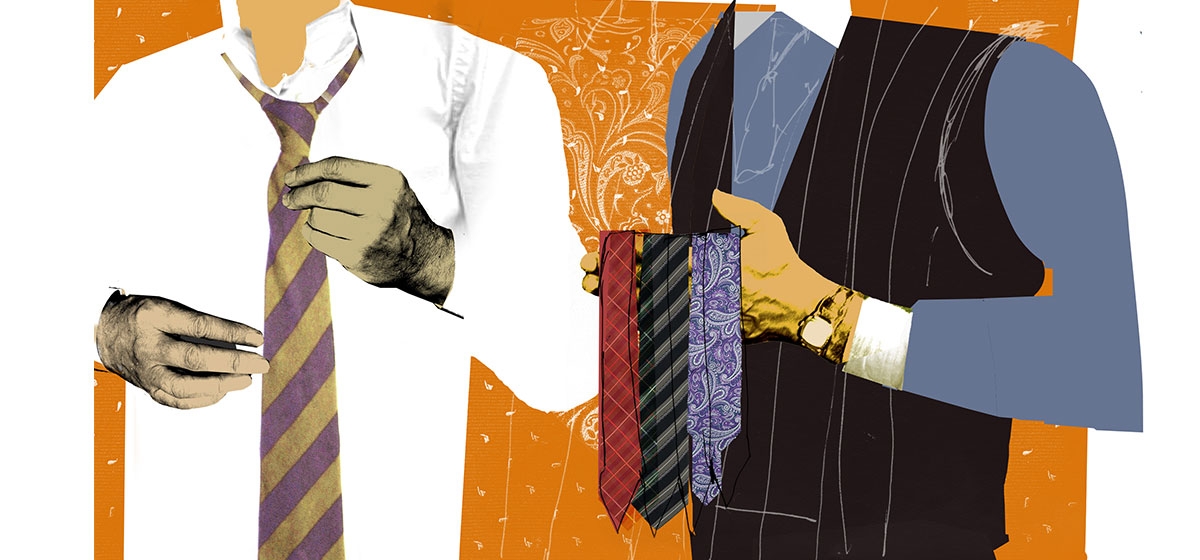 May 20, 2010
It's been almost six months since John Lohr, a salesman from Brooks Brothers, passed away, but I keep thinking about it.

I don't know what shocked me more. Was it that I had purchased a couple of shirts and ties from him the day before he died? Was it that, at 53, he was just five years older than I? I am beginning to think what set me back the most was the fact that my "business" relationship with John was the most constant thing in my life since I moved to Pittsburgh in 1983.
I'd known and interacted with John for 27 years— longer than I've been married to my wife Jane, lived in my home, worked at the company that I helped found, or maintained any friendship or contact outside my family.
We didn't socialize. The first time that I met his wife, Bobbie, was at his viewing. My conversations with John were short but rich because he was incredibly well read and had strong political opinions. He remembered details about my life and always inquired about my family. We always laughed during the minute or two that we talked while he rung up my purchases.
As he would pack up my latest old-school garment, John would forcefully shake my hand and say, "As always, a pleasure. Best to Jane." And I think he meant it.
I started buying clothes from John in 1983, when he was selling shirts and ties at the Brooks Brothers on Smithfield Street. I was a management trainee for the May Company, working at Kaufmann's downtown, and I used to catch a lot of grief when I walked into my office in the bowels of Kaufmann's carrying a Brooks Brothers bag. The buyers there thought I was nuts because Kaufmann's employees always received a 15 percent discount at the register and a 20 percent "back office" discount on their charge cards.
I knew that my future in retail was doomed, not because of the hubris of buying Brooks Brothers clothes while a May Company employee. It was because my colleagues thought that I made bad buying decisions. I quit after a year. I hated retail.
My Dad got me started me at Brooks Brothers. "You can never go wrong at 'Brooksies,'" he used to say. He taught me that it was a good move economically, because you can always "buy a less expensive suit as long as you have great shirts and ties." And a Brooks Brothers shirt really lasts. I like things that last. I like traditions.
And over the years and through my life and business experiences, John was always there to help outfit me with the proper uniform.
I picked out my special tie for my wedding day with John looking over my shoulder. I wanted a silver Cary Grant kind of look hanging underneath my Alfred E. Neumann ears.
Before the "road show" for my company's IPO, I went to see John to help close the deals with all of the portfolio managers I would be pitching for the next three frantic weeks in New York, Boston and London.
After I got fat from the stress of being a tech company CEO, John sold me bigger and bigger trousers. Then when I decided to lose 50 pounds on Weight Watchers, he sold me a whole new set of clothes on the way down.
When my wife and I began to make a concerted effort to "give back," we found ourselves being invited to formal events. When I needed a tuxedo and formal shirts and shoes, I went to John.
I liked working with him, so when I wanted a suit or a sport coat, I asked if he could sell me one. I always chuckled when the shirt salesman from the first floor invaded the hallowed ground of the suit salespeople on the second floor. As they say, if looks could kill.
My allegiance to my haberdasher grew without my noticing it. If I walked into Brooks Brothers and didn't see John, I walked out. In fact, before I'd leave the house to visit the store, I'd call John to make sure that he was working.
I also liked the fact that I could get retail mental therapy from John when I'd lament that some of the shirt and tie colors were too bright or that shirts were beginning to be "fitted" rather than "full cut."
When the business-casual movement took hold and Brooks Brothers tried to keep up, it took its toll on the traditional men's clothier. The retailer cut its sales staff deeply, but John survived the cutbacks as the company changed hands more than once.
We discussed the move to business casual. We talked about the fact that people were becoming more impatient. They weren't staying with the same employers but jumping from job-to-job in a frenetic search for higher income and status. Companies weren't being founded for the long term but just to be "flipped" to an acquirer. John was proud that he'd worked at Brooks Brothers since he was 17. He boasted that Fred Rogers was a regular customer and that he had sold a couple of shirts to Rudy Giuliani when he was visiting Pittsburgh for a speech.
Sometimes I stopped in just to talk politics with John, especially near election time. He was very conservative and was troubled about issues of national security and the lack of personal responsibility.
A few years ago, I "strayed" from Brooks Brothers and bought a few Italian suits, shirts and ties. But the stuff just didn't feel right on me. I literally felt as if I were wearing someone else's clothes. So one day, I gathered it all and made a nice donation to the Vietnam Vets' clothing drive. The following week, I'm positive that there were some really happy shoppers at the Red, White and Blue.
John was more than happy to help me re-boot and get back to my roots.
As I said, I like my traditions. But I'm concerned that we're losing the personal touch of commerce. Service is virtually gone. Quality is disappearing. Nothing seems built to last.
Now my haberdasher and friend John is gone as well. And it seems, so is the personal interaction that takes place between long-time customers and valued retailers. Relationships such as ours can't happen with a purely Web-based strategy. The Web makes switching costs—the cost to switch from one supplier to another—non-existent. Barriers to entry disappear and allegiances never form. A customer can visit a dozen Web sites in as many minutes.
Retailers who can figure out how to bridge the gap stand to make a lot of money. They also stand to do something else—to create an experience that, as John used to say, was "always a pleasure."