The Real George
Robert Matzen filmed the story of our founding father and what he was really like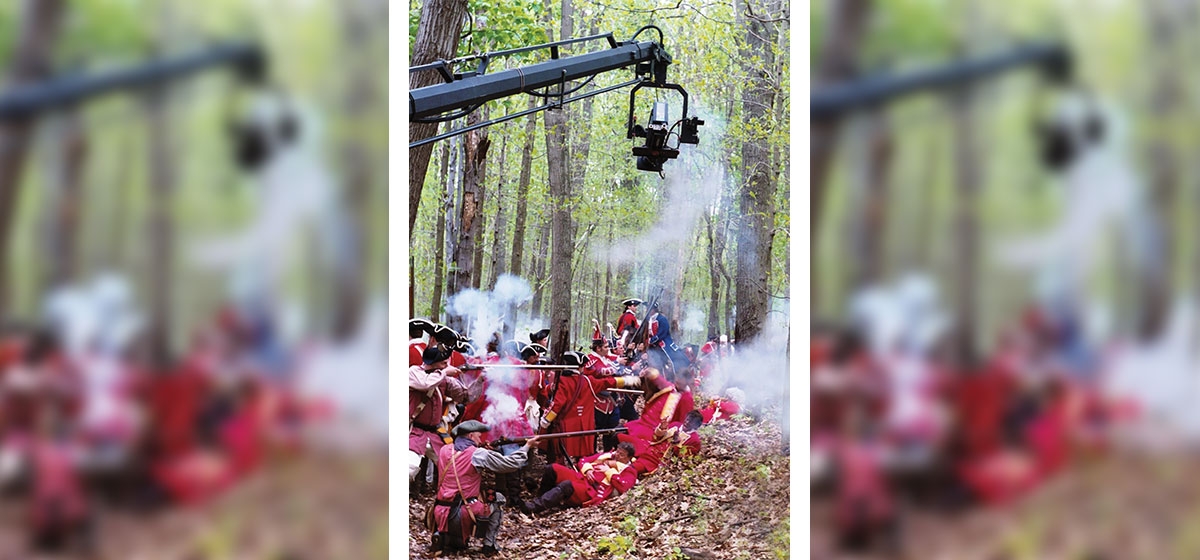 November 20, 2006
The blood splatters on the lawn would wash away with the next rain, but Mary and I knew the crimson stains on the tree trunk would be there a long time. The most jarring moments came when we encountered the body on the floor, head half shot away. His name was Trevor, and he lay there two weeks. From Pat's broken neck to the ghost in the castle, it's not a business for those with a weak stomach, but we survived it all, thanks in some measure to George Washington.

It's not as long a trip as you'd think from buckets of blood and a headshot body to the father of our country. Washington lived a sometimes violent and bloody life that began with the French and Indian War, one of the most brutal conflicts of this or any other continent. It was a war that Washington started single-handedly and later wrote about at length. Much of it was fought in Western Pennsylvania, including the butcher shop Battle of the Monongahela, fought in 1755 in what are now the boroughs of Braddock and North Braddock, just upriver from downtown Pittsburgh.
Likenesses of Washington at the battle show an old man on a horse, sword drawn and calm amid panicked and dying British soldiers. That image has adorned children's history books for two centuries. Washington, however, wasn't an old man then. He was a tall, 23-year-old, blue-eyed redhead.
He would later win a revolution and become the deified, white-haired President we've seen in all his portraits. But what was George Washington really like? This is what my wife Mary, a movie producer, and I, a writer and director, wanted to know. Nobody knew the real George Washington, including us. I knew I was sick of seeing guys in Washington suits in wooden television portrayals of the slayer of cherry trees. They either posed stoically or, more recently, dripped with introspection.
So we set off to make a documentary. When we started what would become "Pursuit of Honor: The Rise of George Washington," we had already studied him for four years. We knew all about him in the French and Indian War, having covered the topic in two feature documentaries. Then, in the fall of 2004, I began yet another historical piece, the third in a trilogy and the most intriguing of all: How did Washington grow from the hotheaded and insecure kid of Braddock's Defeat into a man capable of scoring the biggest upset victory in the history of modern warfare?
In June 1775, Washington left his cherished wife and beloved Mount Vernon to command the Continental Army. He was perhaps the wealthiest man in America. The men he found in Boston were a fussy, self-interested conglomeration of New England militia. He knew none of them. None of them knew him. They didn't want to listen to a Virginian and had little patience in learning to fight. Across the field was the veteran British army, the world's mightiest superpower. Washington had everything to lose, including his head, and the odds were long. What kind of person would accept such a task?
As we researched, he began to emerge from the shadows. Washington loved to laugh, tell jokes and dance. He loved the company of women. And he was an honest man. Honesty was a part of honor, just as charitable work was an obligation of a man of means. And, as one of our historians said on camera, "He was a very, very rigidly disciplined person, and a tough taskmaster." He had a legendary temper that he would unleash when someone slacked off or, worst of all, when he felt he had been insulted in some way.
Washington became a living, breathing human being for me when I understood that he had quite an ego and was insecure about himself in many ways. He showed this to the world by being thin-skinned and caring very much about appearances. He commanded himself to the nth degree and went far to make sure he didn't do anything embarrassing. He was very mannered, a student of theater, and he had a knack for dramatic effect. It was part of that sizable ego — and part of a genuine, modest streak rooted in his inherent insecurity. In other words, he knew he was good, but he grasped at a deeper level that he was never going to be good enough. So he struggled every day to be better through rigid self-discipline.
For a country about to be born, George Washington was the perfect storm of a human being. The perfect blend of honor, physique, rage, ego and insecurity that played out in grit, goal orientation and perseverance.
Within six months of dogging Washington, I knew we really had something here. We had a story no one had ever fully realized in a motion picture documentary. Mary and I got busy casting. Reprising his role as Washington from our first two movies was Bryan Cunning, an historian and a hell of a natural on camera. Bryan is also an archaeologist, who is so steeped in history that he also served as a technical advisor. For Martha we found Theresa Hune, a Pittsburgh actress of great depth and a dead ringer for the very attractive and young first first lady. As Washington was a ladies man, there was a girl before Martha — Sally Fairfax. We reached into Ohio to find Sally in the person of Christine Fallon, a college student with the ability to play an older character of 28. For her husband and Washington's best friend, George William Fairfax, we decided on Christian Fearer, a young reenactor and historian who grew up a few miles from Washington's Fort Necessity. And portraying "poor Patsy Custis," George Washington's stepdaughter, we chose Valerie Sloan. Her motion picture debut included demanding scenes simulating epileptic seizures — another facet that matured the future President into a patient and paternalistic soul. He became father to a doomed girl and had to cope with her untimely death and its effect on his wife.
We got lucky with on-camera historians as well. The engaging Fred Anderson, well known to Pittsburgh as the author of "Crucible of War" and spokesperson for the French and Indian War, made his third appearance in our documentaries. Also returning were Stephen Brumwell, a U.K. scholar and author, and local colonial
historian Bruce Egli. Two notable additions to our cast were Peter Henriques, history professor at George Mason University and author of the recent hardcover, "Realistic Visionary: A Portrait of George Washington," and Patricia Brady, author of "Martha Washington: An American Life." In a shocking development, Pat Brady fell down her steps and broke her neck a month before we were to interview her. But she made it through, and we met her in Georgetown and recorded an electric two-hour interview all about the real George and the real Martha and their life together.
It was at about this time, in mid-production, that I felt safe to say, not unlike Elwood Blues on his "mission from God," that we were in the process of creating the best George Washington documentary ever. That's an easy boast if you're Touchstone or United Artists of Hollywood, USA, but not so when you are the modest Paladin Communications of Bethel Park, Pa. We were shooting on the fly and chasing funding at the same time. Mary met terrific people in the Pittsburgh foundation community who came to believe in our mission and supported it, allowing us to push on.
When we started "Pursuit of Honor," we had our two other documentaries going for us, and that was about all. But they had opened doors in unexpected places, which ultimately meant that we were granted rare permission to shoot at Mount Vernon. On the other hand, Colonial Williamsburg said in our first phone meeting that they turned down 99 percent of all requests to shoot there. But Williamsburg came around as well, and we shot from one end of the place to the other. We then shot next door at the College of William and Mary, giving us a variety of big, lush colonial vistas.
In all we spent a year and a half on the trail of George Washington, walking in his boot steps, learning about him from head to toe, including the fact that his feet were "rather larger than middle size." We covered his trail from the Governor's Palace, where he was commissioned and sent off to face the French as a kid, to William and Mary, where he much later served as chancellor, to his own lands at Mount Vernon, where we shot him riding, supervising his slaves and being romantic with his winsome wife. We shot from Carlyle House in Alexandria, Va., which had been Gen. Braddock's headquarters and where Washington later visited friends, to Tudor Place, home of the granddaughter of Martha Custis. In this house, in the back of a desk drawer, two of only three surviving letters from George to Martha were discovered. Martha burned all the rest, thousands of them, choosing to keep his thoughts to her private, though she knew how important he would be to posterity.
Rushing headlong into Washington's world also landed us in places known to be haunted, including Carlyle House, Mount Vernon and Colonial Williamsburg. An unusual thing happened when we shot at Nemacolin Castle in Brownsville, Pa., which stood in as Belvoir, the lavish home of the Fairfax family. It's a drafty, old place with hallways disordered enough to get you lost, creaky floors and Grecian statues in the sitting room. We were shooting scenes in a bay window when all at once, two different cameras held by two different people shooting the scene from two different angles stopped working. A red X started flashing on the view screen of one and a second later on the other. Both were powered by battery, not by AC. The head of the castle's historical society, on hand as a witness, said matter-of-factly, "Wouldn't be the first time something like that happened." He had seen many strange occurrences there, including classic Hollywood-style ghosts.
Pretty soon George Washington was no longer the dusty, musty old president with the sour puss. He was part of our family, a guy always in the back seat on drives to scout locations, an advisor when we got stuck on the production ("What would George Washington do?") and a North Star when our energy started to flag. We believe that he turned out to be so very rigidly disciplined that he reached through more than two centuries, grabbed us by the ears and pulled us to where we needed to be.
Which is how Trevor ended up splayed on the floor, a life-size creation of our special effects wizard Eric Henciak, a Tom Savini disciple. Production was about to end with a "Saving Private Ryan"-style recreation of Braddock's Defeat. This battle marked, I speculate, a sea change for Washington. These three hours and the six weeks that preceded it forever changed him. The sights, sounds and simple fact that he survived the battle untouched — all of this would seep into his soul over the course of a decade. Of 67 officers there that day, he was one of a handful not shot to pieces, despite sitting on a horse the whole time, the biggest, broadest-shouldered target on the entire battlefield. His clothes had been shot through, as well as his hat and two horses. But not him. He believed he had been spared for some purpose, and it took another 20 years to find out what. Braddock's Defeat was the key, where he learned about destiny, how to be a soldier, how to lead an army and how to survive. So it was there that we faded in the beginning of the documentary, with the viewer dropped into the middle of hell, amidst screaming, bleeding and mangled redcoats fighting for their lives.
I asked Eric Henciak to create a headshot Redcoat for the foreground of this sequence that would be more than a mere extra lying there with ketchup on his forehead. I wanted a grisly symbol of Braddock's Defeat, a reminder of what a .69 caliber musket ball did to real people in a real war that George Washington witnessed up close.
The result was Trevor, with half his head shot away. Mary created Trevor's redcoat uniform, one of many she turned out — uniforms we could shoot full of holes and paint with blood. Friends, relatives and even our dentist and his brother wore these stunt uniforms, filling out the ranks of the reenactors that would soon assemble at Raccoon Creek State Park. Our army would come from as far away as Connecticut, Wisconsin, Missouri and Canada to portray grenadiers, Virginia provincials, Natives and French milice.
For weeks, Eric and his assistant, Jim Schmeichel, were testing blood recipes on the lawn and the tree outside. The traditional Hollywood answer for blood is corn syrup, which is sugar-based. The production, however, was to take place in the forest where we couldn't afford to draw flies or get our soldiers sticky in a place so remote that they couldn't clean up between scenes.
The final recipe, discovered by Jim, called for food coloring and gallon buckets of hair gel from Sally Beauty Supply. So our wounded and dead soldiers looked ghastly but smelled great!
We planned the May 13 Braddock's Defeat shoot for seven months. Then three days before the Big Day, a low-pressure system stalled over the Great Lakes. Rain was predicted for 10 days straight. Reenactors made panicked calls from all over, asking if we were canceling. In fact, the Chicago contingent was stranded by flood waters. But no, damnit, we weren't canceling. This was our one and only chance, the day before Mother's Day. We were a go, no matter what.
So we lost 40 percent of our reenactors. But the cannon showed up, as did the cavalry, the blood and scores of soldiers and Natives.
Trevor's performance was flawless in what turned out to be the only day in 10 days without pouring rain.
With five cameras, one crane, buckets of blood, a brave cast and dedicated crew, we got the shots. We created the ultimate Braddock's Defeat, with Washington riding along the screaming ranks amidst a hail of gunfire, surviving it in 2006 just as he did in 1755.
And at the end of that day, we knew we had succeeded in our mission. Mary and I and little Paladin were about to give Americans the George Washington that we now knew very well — a very real human being they would never forget.