The Quality of Life Survey Results Are In
Allegheny County residents describe a region with growing strengths, troubling weaknesses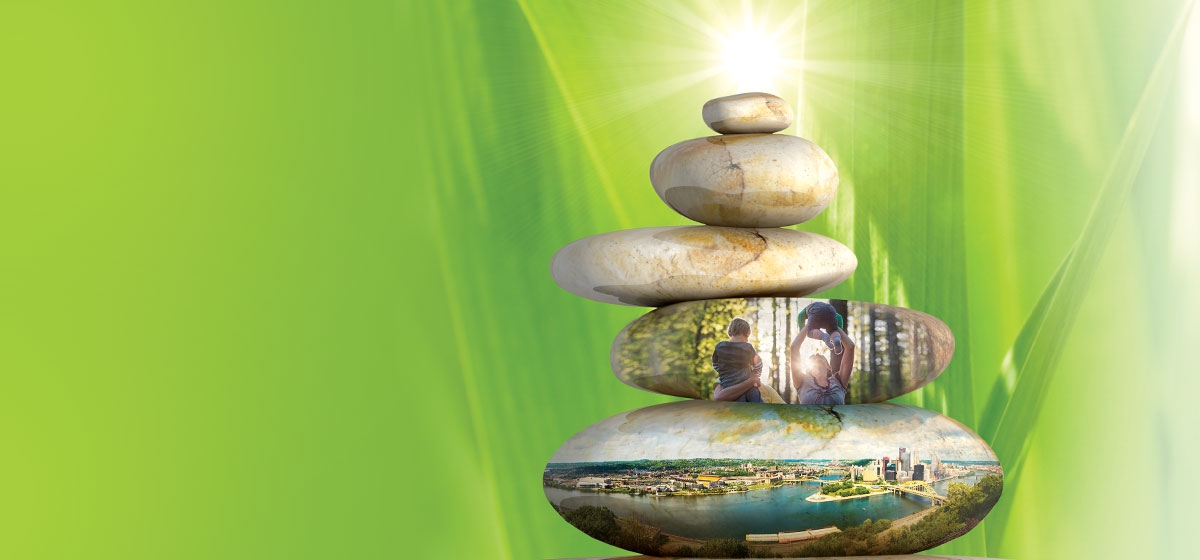 December 17, 2018
Allegheny County residents say their quality of life has improved since they were last surveyed seven years ago, with more of them reporting rising incomes and expressing greater confidence in the local economy.

Pittsburgh's bid to become Amazon's new headquarters gets a thumbs-up from a majority of county residents, who also favor loosening the reins on the sale of wine, liquor and adult-use recreational marijuana.
But Allegheny County residents are more concerned today about the water they drink, the roads and bridges they travel and race relations in their neighborhood than they were seven years ago. And they're not as satisfied with their lives or as happy, according to the new Pittsburgh Regional Quality of Life Survey from Pittsburgh Today and the University Center for Social and Urban Research at the University of Pittsburgh (UCSUR).
Some 1,900 Allegheny County residents drawn from the UCSUR Research Registry took the online survey in June. They responded to questions ranging from the economy and government to environment and public safety. Data were adjusted to make the sample representative of the demographic characteristics of the county. And the new survey allows for comparing current views with those reported in a 2011 telephone survey that asked many of the same questions.
The survey also underscores how citizens' views often depend on race, income and age.
View the full survey results here.
The race for Amazon
Pittsburgh entered the race to land Amazon's second headquarters to contend for the jobs, investment and prestige it is expected to deliver. Although Pittsburgh survived the first cut in 2018, the company ended up selecting Long Island City, NY and Crystal City, Va. The prospect of Amazon and its jobs coming to the region was tempered by concerns, such as the risk of shrinking the supply of affordable housing and a debate over whether the specifics of the city's proposal should be made public.
Nearly 62 percent of Allegheny County residents strongly or moderately favored Amazon coming to town when surveyed in June. Only 22 percent opposed it with another 14 percent on the fence. Income levels color those views. Generally, the higher their income, the more likely they were to support what has become known as HQ2. The least enthusiastic were people earning between $25,000 and $50,000, nearly 29 percent of who opposed it.
Politics and pot
Other new questions in the 2018 survey asked residents for their views on two high-profile Pennsylvania government issues—redrawing polit-
ical boundaries and legalizing marijuana—as well their thoughts on loosening the state's hold on liquor sales.
In February, the Pennsylvania Supreme Court imposed a new congressional district map for the 2018 elections after lawmakers failed to agree on a replacement of the previous map that the court ruled was unconstitutional.
County residents are of one mind when it comes to gerrymandering, the process of manipulating those boundaries to favor one party over another. Some 97 percent say it's a problem. And 76 percent believe the way to solve it is having an independent, nonpartisan commission redraw future political districts, not lawmakers. Political party affiliation influences those views somewhat. Such a commission is favored by 81 percent of Democrats compared to 66.5 percent of Republicans.
The divide is wider on the issue of legalizing marijuana. The first medical marijuana dispensaries opened this year in Pennsylvania, which joined more than two dozen states in legalizing cannabis to treat certain health conditions. But Pennsylvania hasn't legalized cannabis for adult recreational use, something nine other states and the District of Columbia have done.
More than 62 percent of Allegheny County residents favor legalizing pot for adult recreational use. Again, party affiliation matters: 73 percent of Democrats and 63 percent of independent voters favor taking that step, but only 37.5 percent of Republicans support full legalization.
Similarly, 62 percent of county residents support abandoning Pennsylvania's "state store" system to fully privatize the sale of liquor and wine. While Republican and independent voters are more likely than Democrats to favor scrapping the state stores, fewer than one in four residents overall want to keep them.
A quality place
Southwestern Pennsylvania gets high marks overall as a place to live. But on this topic more than any other, the perspectives of residents depend on whom is asked.
Overall, 68 percent of Allegheny County residents rate the region as either an excellent or very good place to live, while less than 1 percent consider it is a poor place to call home. And they rate the region more favorably than in the 2011 survey, when 60 percent of residents described the region as an excellent or very good place to live.
More than half of residents overall also believe the quality of life in the region has improved in recent years, a much rosier assessment than in 2011 when less than 30 percent thought it had gotten better. And county residents overall are more likely in the current survey to rate their neighborhood highly.
But when race is considered, opinions sharply diverge. Only 29 percent of African Americans in Allegheny County rate the region as excellent or very good place to live compared with 74 percent of whites. And African Americans are more than twice as likely to say the quality of life has declined.
Economic well-being
Some 38 percent of Allegheny County residents say their household finances improved in the last three years. And more believe the local and national economies will improve compared to seven years ago when they were last asked for their assessment.
That would be welcome news to 52 percent of county residents who report having trouble paying rent, utilities and other necessities. Although half of them say such rough spots are rare, the rate of residents having trouble making ends meet is higher than what was reported in the 2011. And such hardship disproportionately affects African American residents, 70 percent of whom report some difficulty paying their bills.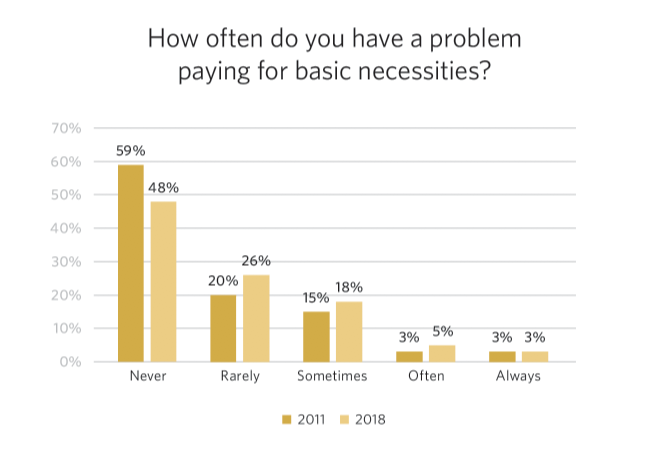 Race relations
Widely publicized police shootings, protests and social justice movements have elevated race relations in political and public discourse since the 2011 Quality of Life survey. In the 2018 survey, many more county residents expressed concern about race relations.
Nearly 63 percent overall feel race relations in their neighborhoods is a problem, at least to some degree. In 2011, only 42 percent felt that way.
African Americans are much more likely to see problems there than their white neighbors. For 40 percent of white residents, race relations isn't a problem at all. But less than 22 percent of African Americans share that view. Nearly 9 percent of African Americans describe race relations as a severe problem compared to 4 percent of whites.
Air and water
Air pollution has diminished significantly following the decline of steel making in southwestern Pennsylvania. Much of the heavy smoke and smell of sulfur has dissipated. And last year, ground-level ozone levels fell to within federal standards for the first time in decades.
Still, Allegheny County remains among the few U.S. counties that fail to meet health-based limits on fine particulate pollution. And public concern is rising. Seven years ago, air quality wasn't a problem in the minds of 47 percent of county residents. Only 32 percent share that view today.
Young people are more likely than residents over 45 to believe air quality is a problem. Nearly 76 percent of residents aged 18-29 years think it's a problem compared to 57 percent of those 65 or older.
Their heightened concern extends to the quality of drinking water and the water in the region's streams and rivers. Only 34.5 percent of county residents believe their drinking water is problem-free. That's a steep drop in confidence compared with 2011, when 68 percent didn't think there was a problem. Water quality became a prominent national issue shortly after the 2011 survey when the lead contamination of drinking water in Flint, Mich., was reported.
Concern over drinking water is much more widespread in the City of Pittsburgh than in the rest of Allegheny County. More than 86 percent of city residents have a problem with their drinking water compared to 54 percent of those who live outside the city.
And county residents are not averse to adding muscle to government watchdogs to address such environmental concerns. At a time when relaxing federal environmental regulations is gaining momentum, ratcheting up state oversight is gaining favor in Allegheny County: 77 percent of residents favor increasing state oversight compared to 63 percent seven years ago.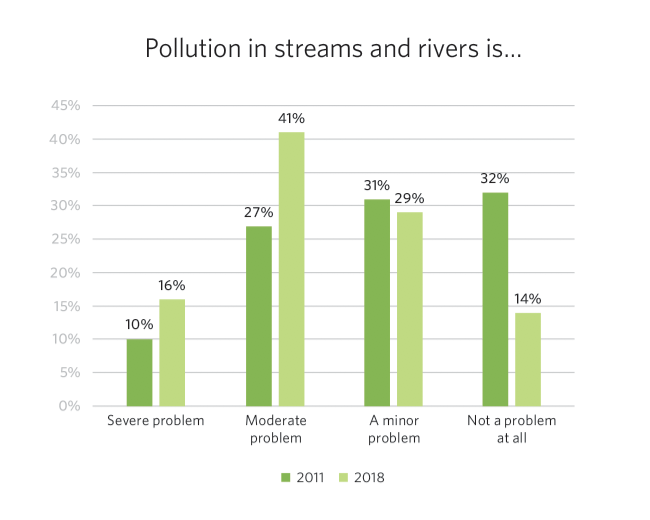 Roads and bridges
There's been plenty of news about the region's roads and bridges since the last survey was taken, and much of it has been bad. For example, the fire-damaged Liberty Bridge closed for a month in 2016, and a stretch of Route 30 in East Pittsburgh collapsed earlier this year and was closed for two months.
Perhaps it shouldn't be a surprise that concern over the quality of roads and bridges has soared among Allegheny County residents: 57 percent believe roads and bridges are a severe problem today. In 2011, only 32 percent felt that way.
They overwhelmingly support increased funding to improve roads and bridges. More than 86 percent favor spending more for repairs, and the most popular way to pay for it is with money from other government funds, not higher gasoline taxes, vehicle registration fees and tolls.
But it's not only roads and bridges that draw their ire. More residents also see traffic congestion, and the availability of public transit, nonstop flights, and bike and pedestrian routes as problems compared to 2011.
Housing burden
Housing is a budget-busting necessity for a significant number of Allegheny County residents, the survey suggests.
Families whose housing costs consume more than 30 percent of their income are considered cost-burdened by the U.S. Department of Housing and Urban Development. More than 43 percent of Allegheny County residents report housing costs above that threshold, putting them at risk of having difficulty affording other necessities, such as food, transportation and health care.
The rate of people facing such circumstances is higher in the city than the rest of the county, and, not surprisingly, it's higher among those earning less than $50,000 a year. But even 35 percent of residents earning between $75,000 and $100,000 say their housing costs exceed 30 percent of their income. Such financial strain is particularly widespread among African Americans, 64 percent of whom report housing costs that HUD considers a burden.
Health and the cost of care
Fewer county residents describe their health as excellent compared to 2011. Still, only 16 percent say they are in fair or poor health. But cost deters a growing number of people from getting a doctor's care. More than 14 percent say there were times in the past year they couldn't afford to see a doctor when they needed to. In the previous survey, 11 percent said they couldn't afford an office visit.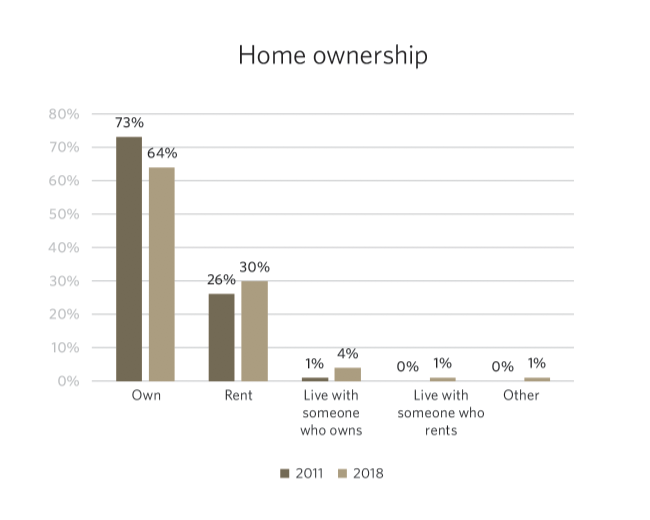 Happiness
More people in Allegheny County may be better off financially than seven years ago, but it appears that hasn't made them any happier.
Their life satisfaction and happiness scores are lower today. County residents overall had a mean score of 7.2 when asked to rate how satisfied they are with their lives on a scale of 1 to 10 with 1 being "very dissatisfied" and 10 being "very satisfied." In 2011, it was 7.7. They also scored 7.2 on the happiness scale, down from 7.88 seven years ago.
Men and woman, and blacks and whites have similar scores. But age and income are key factors. People earning under $25,000 a year are the least likely to be happy and satisfied with life, while earning over $75,000 and being old enough to qualify for Medicare makes happiness and satisfaction more likely.