The International Poetry Forum Is Making a Comeback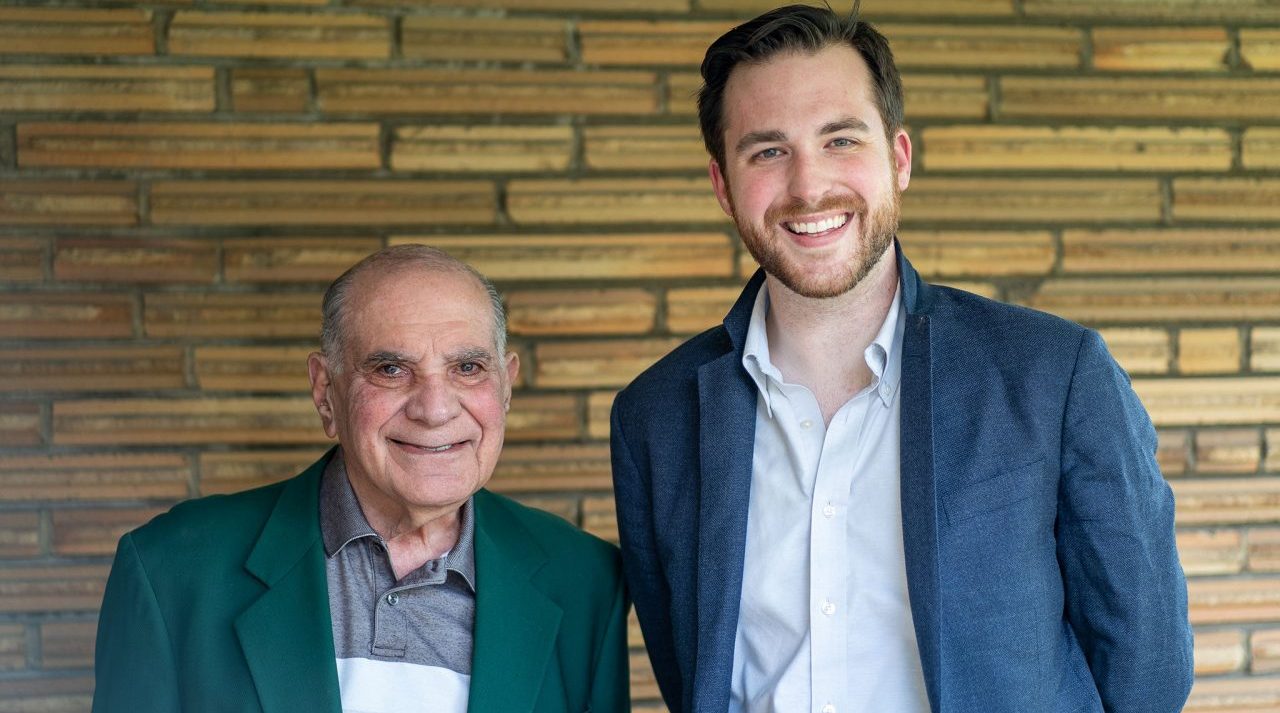 July 12, 2023
Started in 1966 by poet and Duquesne University Professor Sam Hazo, the International Poetry Forum had a remarkable run of 43 years, bringing the best poets in the world to Pittsburgh, as well as some of the biggest names of stage and screen. Hazo wound up operations in 2009, never expecting a renewal until he met a young Pittsburgh poetry scholar named Jake Grefenstette. Now the two men – 65 years apart in age – are preparing to relaunch and relight one of the brightest stars in Pittsburgh's cultural firmament.


Q for Hazo
: What were the circumstances of your starting the International Poetry Forum? How and why did you start it?
A
. The origin of the International Poetry Forum can be traced to a speech I gave to introduce W.H. Auden at Duquesne University in 1965 in which I said that poetry — language of the imagination, of "felt speech" — should hold an expected place in public discourse. Theodore Hazlett, then head of the A.W. Mellon Educational and Charitable Trust, heard the speech and believed the emphasis on poetry as public speech deserved support. Hazlett offered the initial grant, and we invited Archibald MacLeish for the first reading at the Carnegie Lecture Hall in October 1966. From there, the Forum flourished for 43 years, bringing several hundred poets and performers from 38 countries (plus our own) to Pittsburgh, counting eight Nobel Prize laureates, 12 Academy Award recipients, and over 40 Pulitzer Prize winners, including figures such as Seamus Heaney, Jorge Luis Borges, Kurt Vonnegut, Gwendolyn Brooks, James Earl Jones, Anthony Hopkins, Gregory Peck, and Princess Grace of Monaco.
Q for Hazo:
What was your thinking when you decided to end the Forum? At that time, did you figure it was finished for good?
A. The last Forum reading was in 2009. The financial crisis and the Iraq War placed pressures on foundations to curtail grants, particularly to artistic organizations. Faced with this situation, taken together with my approaching retirement, I thought that the door to the Forum was closed. But then I met Jake Grefenstette and I started thinking earnestly about the future.
Q for Grefenstette: What is your background in poetry? How did you come to be interested in it?

A. I was first introduced to poetry in a serious way by the late John Manear, my English teacher at Seton LaSalle Catholic High School in Mt. Lebanon. Mr. Manear was an active participant of the Forum. He took from Dr. Hazo his love of the Romantic poets, especially Samuel Taylor Coleridge, and he passed that love on to his students. It was ultimately because of Mr. Manear — and in turn, really, because of Dr. Hazo — that I went on to pursue graduate study in China, the U.S., and England, culminating in PhD work on Coleridge at the University of Cambridge. I instructed Cambridge undergraduates in an interdisciplinary course on literature, and my approach to that class was very Hazo-inspired. So there is this incredibly serendipitous sense in which my entire career was motivated by the Forum in the first place.
Q for Grefenstette: How did you come to know Sam and what brought you two together in terms of discussing a rebirth of the Forum?

A. Dr. Hazo has long been a hero of mine. But it was only after moving back from England last summer that we were introduced. Over the past year, Sam has become a great friend and mentor to me, as well as to my wife and daughter — who, at eight months, is already beginning to appreciate Sam's poems, both in English and Spanish. In November 2022, Sam raised the idea of reviving the Forum. I was shocked — and doubly so when he asked me to consider taking over as director. But I was also profoundly excited. The Forum is an extraordinary resource for Pittsburgh and, frankly, for the nation; there really has never been anything comparable to it in the country. I am humbled and honored to be charged with its revival.
Q for Hazo: What's your side of the story here?  What do you see in Jake that makes you feel he's the right person to revive the Forum?

A. When the Forum went on hiatus in 2009, I thought that was the end of its run. Dr. Grefenstette is the first person I have met in 14 years that I trust to carry on the legacy of the International Poetry Forum. He has studied the great poets in several languages at some of the top institutions around the world—Notre Dame, Chicago, Beijing, Oxford, Cambridge. But most important, he loves this city. That is crucial. Think of this through a local lens: the Steelers have had three head coaches since 1969. Over the same period, the International Poetry Forum has only had two executive directors. So Jake's appointment is a decision I take very seriously and in full confidence.
Q for Grefenstette: What is your plan for the Forum?  What should we expect to see and when?

A. Historically, the Forum has had three components: poetry readings, Poets-in-Person (an educational outreach program for local students and educators), and a small poetry press. We will officially relaunch the poetry programming in fall 2024. Our goal in the meantime is to build up the Poets-in-Person program and to commence fundraising efforts. In lieu of the poetry press, we are creating a short-form podcast called "The Greatest Line of All Time," which will host poets, educators, and cultural figures to discuss their favorite single line of poetry. The vision for the podcast is to create accessible content for the high school classroom, something educators can use to help introduce students to the art. We are hopeful that the philanthropic community will see fit to support these efforts.
Q for Hazo: Do you have any words of advice for Jake about running the Forum? And do you have any words of advice to him in terms of poets and poetry?

A. The executive director of the International Poetry Forum should have artistic and administrative expertise as well as a "sense of the city." Jake Grefenstette has those essential qualities. He is a remarkably impressive young scholar, and he is as passionate about poetry as he is about Pittsburgh. I will happily provide references and advice to Jake, but since I will no longer be directly involved in running the Forum, it will be fully up to him to carry the vision forward. I trust implicitly that he will succeed. Jake knows that the challenges he will face will be different than those I faced in 1966. But they are challenges worth facing. Poetry is one of the things that gives life meaning, one of our essential ways of rendering justice to the world. The revival of the Forum is a large task, but a vital one. I offer my full support and am very excited to see what the future holds for the International Poetry Forum and for Pittsburgh.

(Website: internationalpoetryforum.org Contact: director@internationalpoetryforum.org)