Global City: The Vietnamese are Here
Global City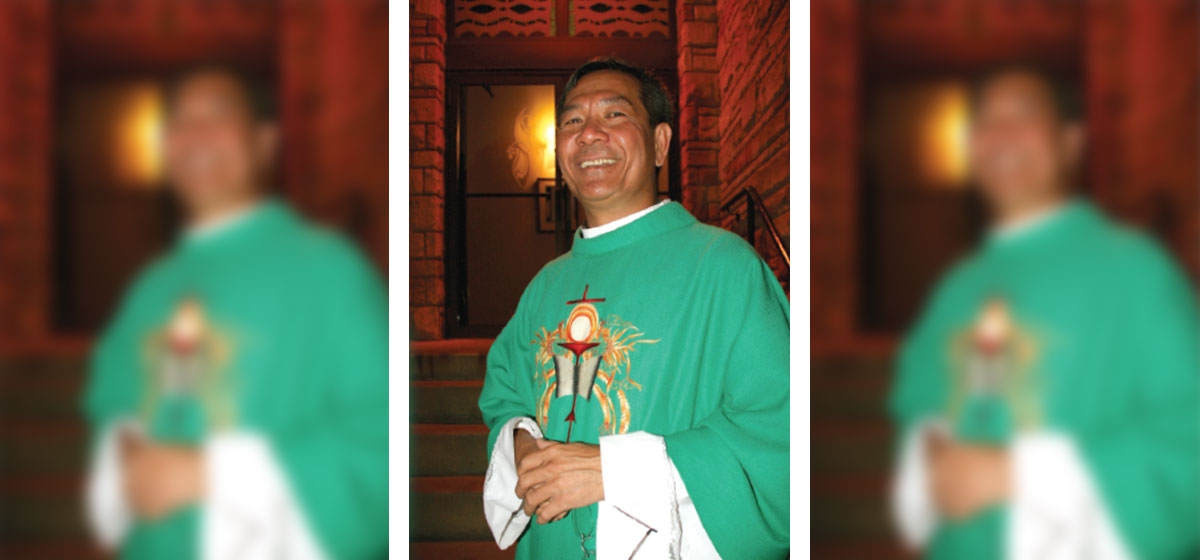 November 24, 2008
Father Dam Nguyen presides over the flock at St. Gabriel's Church of the Sorrowful Virgin in the South Hills town of Whitehall. Several in the congregation share his Vietnamese heritage, and more often these days he finds himself given the joyful task of presiding at the marriage or baptism of one of their children or grandchildren.

"There are second- and third-generation Vietnamese families now in Pittsburgh," he said. "That is how long we have been in this community."
Once or twice a month, Father Dam, as he is known, convenes additional services for his Vietnamese congregants, with special events held around Christmas and Easter. He conducts the prayers in their collective native language most of the time.
"[The services are] primarily in Vietnamese, but sometimes in English now. I mix and blend for the generation gaps," he said. "The younger generation understands the language, but they not all so fluent. As long as the message is clear, it's OK."
Like many of the immigrant groups in the region, members of the Vietnamese community can be found in many walks of life. They are successful professionals and business owners, teachers, students, homemakers and hourly workers. Estimates place their numbers around 1,200.
Unlike some of the more traditional ethnic communities that came with the rise of steel and coal in decades past, the Vietnamese are relatively new to the area. Nearly all of them have arrived since the mid-1970s, when the American war in Vietnam ended and tens of thousands of residents of the former South Vietnam fled the incoming Communists to seek refuge in the United States.
Father Dam arrived in Pittsburgh in 1984, after spending three years in seven different refugee camps around Asia. He graduated from Duquesne University and attended St. Vincent Seminary in Latrobe.
Like his, the personal stories of Vietnamese-Americans living in Pittsburgh and around the country weave like threads through an intricate—and unique—pattern of culture and history.
They gather for holidays and festivals, and work to maintain their traditions and customs, just like other ethnic groups. They are also linked to an important and turbulent chapter in America's story, which sometimes leads them to get involved in activities that soften the boundaries of nationality and ethnicity.
Thanh Armagost grew up in Saigon—now Ho Chi Minh City—and married an American soldier from western Pennsylvania. She came home with him to Reynoldsville in 1972 and raised their two children, who now have children of their own.
Because of lingering political differences between the two countries, which deeply affected many area Vietnamese by separating families for many years, she was unable to return to her home until 1990. Her parents had both died in the late 1980s, so finally going back to Vietnam brought mixed emotions.
"It was hard not to go back for so long, and it was sad because my father and mother had passed away," she said. "But I was happy to be back in Vietnam. It is so beautiful."
While working in the operations department of a bank in Dubois, Pa., Armagost found time to get involved with Friends of Danang, a group of Pittsburgh-area Vietnamese residents, veterans and others who raise money for schools, bridges and other projects in the Central Vietnamese city. She also is active with Surgicorps International, a Pittsburgh non-profit that sends medical supplies and expertise around the world.
Her work with these two groups now takes her back to Vietnam several times a year, she said. She has been back to help dedicate a school, and later to help cut the ribbon on a bridge over a flood-prone waterway that prevented schoolchildren from reaching classes in Danang. She also has participated in several medical missions with Surgicorps.
"Thanh is amazing," said Tony Accamando, one of the founders of Friends of Danang, who served as an Army lieutenant in that city in 1967. "She has been involved with everything we do, and she has so much energy."
At one of the group's recent monthly meetings at Enrico Biscotti in the Strip District, which is owned by another FOD founder, Larry Lagattuta, Armagost announced that she and her family had prepared more than 800 Vietnamese egg rolls for an upcoming fundraiser.
"I love to do it, because you have helped so much for the people of Vietnam," she told those in attendance, several of whom said afterward that they were moved by her comments. "Thank you all for everything you have done. It is very special."
Armagost said her travels to Vietnam and her introductions to government officials there may have helped her in representing others who need to overcome politically related difficulties. One was a Chinese national now living in Pittsburgh, who had lived for many years in Vietnam. He wanted to return for a family-related visit but was told by Vietnamese officials that he could not enter the country. Armagost called one of the officials she had met along the way to explain the situation.
"Very soon he had his passport," she said. "That is another good thing about Friends of Danang."
The threads that bind together Armagost and Pittsburgh Vietnamese and the Friends of Danang also reach into the region's business community and are reinforcing efforts to build international trade.
Jim Wolf, a member of FOD and a retired Mellon Bank executive, served as what he describes as a "Marine grunt" in the Danang area during the war. He will help lead a trade mission to Vietnam in February in an effort to develop business partnerships between Pittsburgh-area companies and Vietnamese firms.
Organizers of the trip hope to take representatives of 20 local companies to Hanoi, Danang and Ho Chi Minh City, where they will visit government officials, including the prime minister of Vietnam, as well as business representatives in each city, Wolf told the group.
"There is also the expectation on their part that they will send a group to Pittsburgh, most likely before our trip, to meet with companies here," he said. "There is great interest in the business community in exploring partnerships with Vietnamese companies."
At St. Gabriel's, Father Dam sees signs that the experience of the Vietnamese community in Pittsburgh is at the same time different from and identical to that of other international groups in the region.
"They remember their traditions, but each generation is more familiar with the new country. They are marrying people of other heritages and other faiths and becoming part of Pittsburgh," he said. "I have seen it many times, and it is good. It is very much like the American mainstream."