Stocks & Pedestal, Winter 2015
A stronger STEM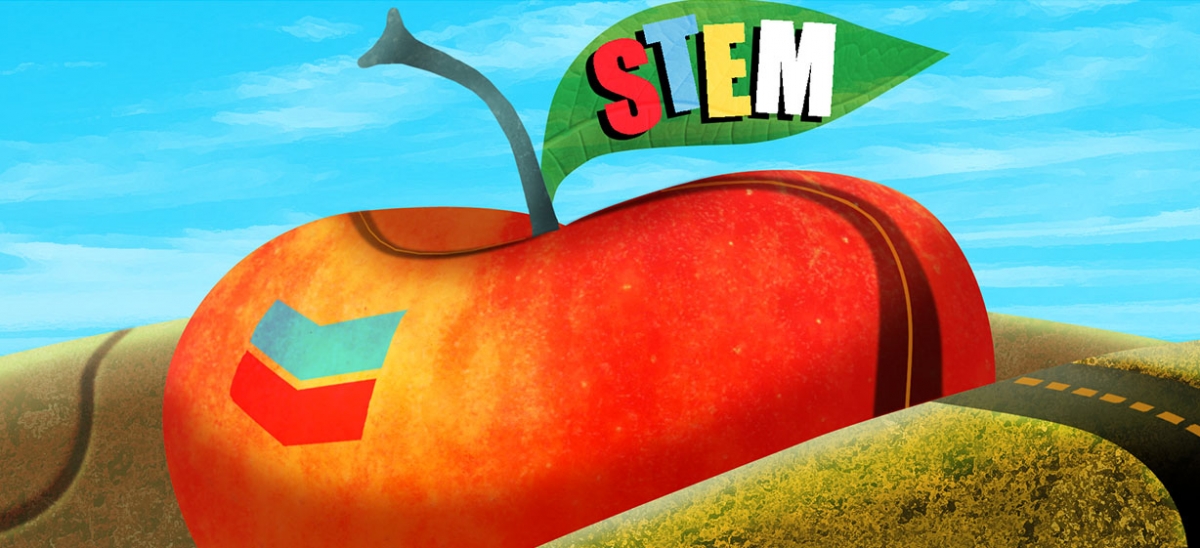 November 21, 2014
In mid October, the Carnegie Science Center unveiled an extensive survey of local parents, educators and businesses on their attitudes about STEM (Science, Technology, Engineering and Math) education.Funded by Chevron and Nova Chemicals, the survey revealed that business leaders and educators are well aware of STEM's importance in meeting Pittsburgh's future workforce needs and improving career paths for students. Parents, however, aren't very familiar with STEM, especially in rural areas, the survey showed. Many recoiled at the notion of their children taking calculus and advanced physics, but when STEM was explained as problem-solving, project-based collaborative teamwork that involves a broad spectrum of careers, the parents were all for it.

The following week, Chevron Appalachia president Nigel Hearne announced that Chevron is contributing $20 million to advance regional STEM education through The Appalachia Partnership Initiative, with the Allegheny Conference on Community Development (ACCD), the Claude Worthington Benedum Foundation and RAND Corp., as partners. The initiative to address education and workforce development in 27 counties in southwestern Pennsylvania, northern West Virginia and eastern Ohio will expand Chevron's efforts with Project Lead the Way, building K–12 STEM education, as well as with the workforce training program ShaleNET. Chevron also is funding development of an Energy Lab at Elizabeth Forward and Bethlehem Center School Districts in conjunction with graduate students at Carnegie Mellon University's Entertainment Technology Center. Chevron's commitment demonstrates the kind of collaborative leadership that will help bridge the region's coming workforce gap as well as provide brighter futures for its young people.
The Westmoreland Museum of American Art
Polishing the jewel of Greensburg
As winter sets in, the Westmoreland Museum of American Art is intensifying its dramatic renovation of the 30,000-square-foot existing museum and adding 13,000 square feet of new galleries and community and educational programming spaces—all designed to LEED Gold standards. A new, cantilevered wing will showcase traveling exhibits and a new collection of recently donated post-1950 works; and the wing's lower level will feature a large community room for Westmoreland Jazz Society concerts and community and private events. A series of ADA-accessible, year-round gardens and outdoor terraces will feature sculptures and native plants and trees. Finally, art installations are planned for the two bridges leading from downtown Greensburg to the museum grounds. Some $22 million of the $38 million capital and endowment campaign has been raised. And as part of an overall $8 million gift, the R.K. Mellon Foundation has issued a $2 million challenge grant to encourage donations. thewestmoreland.org
Brother's Brother Foundation
An exemplar of international aid
While the world viewed the mounting toll of Ebola, a Pittsburgh-based charity was busy collecting, organizing and shipping vital medical supplies to the countries of West Africa. In its 56 years, the North Side nonprofit has provided more than 100,000 tons of medical supplies, textbooks, seeds and other humanitarian supplies to people in more than 140 countries. Since the Ebola outbreak, Brother's Brother has provided 12 container shipments of nearly 100 tons of medical items to Sierra Leone and Liberia. Responding to critical needs is certainly the mark of a worthy charity, but Brother's Brother also has received acclaim as one of the nation's best-run nonprofits. It was one of only four of the 50 largest charities reviewed by Forbes Magazine with a 100% rating in both fundraising efficiency and charitable commitment. And it has received a four-star rating for sound fiscal management and commitment to accountability and transparency from Charity Navigator. brothersbrother.org
Jeremiah's Place
Bringing crisis childcare to Pittsburgh
When a new mother was having great difficulty accepting her situation, the attending physician who was not from Pittsburgh told a pediatric resident to "Call the crisis nursery." Pittsburgh, however, had no crisis nursery. Over the next several years, the resident and several other pediatricians decided to change that, and in April, Jeremiah's Place opened its doors in the Kingsley Association building in East Liberty. Its mission is to provide care for children in a wide variety of short-term crisis situations, caring for up to 25 children a day and 12 overnight—for up to three days. So far, Jeremiah's Place has helped 98 children from 62 families. Funding has come mainly through the Henry L. Hillman, R.K. Mellon, Grable, and Pittsburgh Penguins Foundations, the Heinz Endowments and The Forbes Funds.