Backstage with Springsteen
Business lessons from The Boss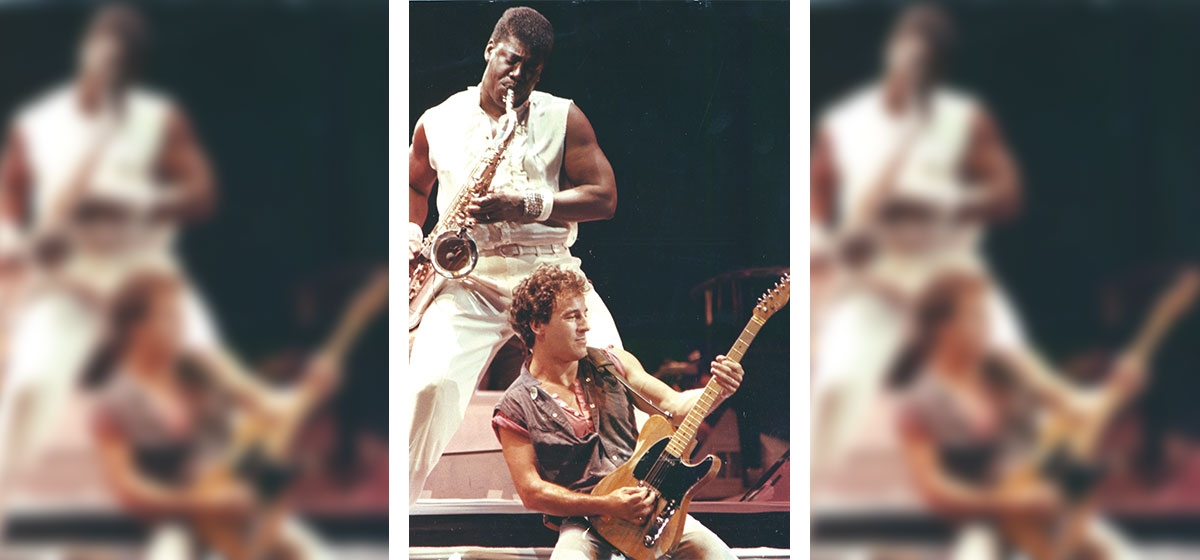 August 20, 2006
It was Christmas 1978, and Bruce Springsteen and the E Street Band were playing at Pittsburgh's Stanley Theater. A mutual friend asked my wife to relay a message to sax player "Big Man" Clarence Clemons and ask him to call her. We had a notion of who Bruce was but had never heard of Clarence.

Clarence answered his phone, immediately asked my wife how she looked and invited her to his room. He was disappointed to find that she was married but then said, "OK. Bring him too." When told that we had a sleeping child, he asked, "Where do you live?" Clarence's response seemed strange at the time. Those who know Clarence would see this as absolutely consistent with his gregarious nature.
Shortly thereafter, at 1 a.m., all six feet four inches, 275 pounds of Clarence arrived at our Shadyside home. An African-American wearing a big cowboy hat, his first words were, "It's not easy getting a cab in the middle of the night in Pittsburgh when you look like me." We spent the next four hours talking and laughing, as if we were old friends. I drove Clarence to the hotel at 5 a.m., and, as he had predicted, several young women were waiting for him in the lobby. We went to the show that evening. We were blown away by Bruce and amazed to see the audience go crazy every time Clarence played a solo. Over the next few months, we became close friends with Clarence, often visiting his house in Sea Bright, N.J. It took a day to recover for each day that we spent with him.
In 1983, Clarence asked me to help him with some business and legal matters. Later that year, I became his manager, just as his first solo album was to be released. That meant representing him in his business dealings with Springsteen's Thrill Hill Productions and the record label, as well as promoting his independent career. The initial period of this professional relationship lasted six years through 1989 with a second term from 1993-95. It included the hottest series of entertainment events of the 1980s, the 157-show "Born in the USA" world tour from June 1984 through October 1985. When tickets went on sale for the Washington, D.C., show, the ordering frenzy collapsed the phone system. Nine shows in the 90,000-seat Los Angeles Coliseum sold out in a few hours.
Over my 35-year career as a lawyer and business consultant, I've worked with firms of many sizes and stripes. I've seen good, bad and mediocre management. Of them all, though, the most impressive business operation I've seen close-up is the entertainment empire created and ruled by Bruce Springsteen. It's been over 30 years since the October 1975 day that Springsteen appeared on the covers of both Time and Newsweek. Since then, he has stayed at or near the pinnacle of the entertainment world. He has earned hundreds of millions of dollars, with a level and longevity of business success that ranks with the most successful corporations. Many of those corporate success stories have been studied and written up in the Harvard Business review and other journals. Consider what follows to be my own case study, based on observations of the principles that have made what I am calling "Springsteen Inc.," a business success.
Hire well
The culture and tone of an organization generally reflects the person at the top. And Bruce should be considered the active, hands-on chairman of the board, with Jon Landau, his long-time manager and one of his producers, as the brilliant CEO. The chairman's belief in the CEO was such that Bruce was willing to interrupt his career for more than two years in the 1970s to litigate the termination of a previous management contract in order to work with Landau.
The wisdom of selecting outstanding executives, staying with them and valuing their opinions was never more evident than in the success of the "Born in the USA" album. It is recognized as the catalyst that took Bruce to super stardom. In retrospect, it might appear that six top-10 singles from that album made success inevitable. But album success in the mid-80s required substantial radio airplay for its singles. Bruce had only achieved one top-five single in his entire career before that album. He needed a smash first single. Landau and the executives at Columbia didn't believe they had it, when, after years of work, Bruce gave them what he believed was a finished album. Springsteen was angry when Landau told him he needed to write another song to be the first single. He trusted Landau, though, and wrote the breakthrough "Dancing in the Dark." Without that, the album clearly wouldn't have soared as high and jump-started a world-wide Bruce frenzy.
Landau, however, is only one example of individuals who run a "rock-solid" organization. Excellence encompasses the entire team: assistant manager Barbara Carr, road manager George Travis, personal assistant Terry Magovern and many others. Bruce has been with the same record label — Columbia — for his entire career. His attorney has been the legal giant Allen Grubman of Grubman Indursky Schindler PC. He has used Breslauer, Jacobson, Rutman & Sherman, the entertainment industry's leading money management firm. The entire organization's style is quiet efficiency and effectiveness, a remarkable blend of competence. Even when Bruce does a solo acoustic performance, he takes key team members with him. At one solo performance in Pittsburgh, he had Landau, Carr, Travis and Magovern to meet his needs. During the "Born in the USA" tour, the road crew included Bruce's accountants. Nothing is left to chance.
Exercise control
Bruce Springsteen and George Steinbrenner are both known as the "Boss," and that is an appropriate description for both. Their organizations reflect their respective characters and characteristics. Steinbrenner exercises absolute control over the Yankees. It might surprise some to know that Springsteen exercises absolute control over his domain, albeit in a very different way.
A successful, enduring business enterprise requires maximum control of its environment, and Springsteen Inc. closely controls anything and everything it can. Through his publishing companies, Bruce owns the rights to all of his music. The Beatles lost control of their music and, consequently, the ability to control their musical heritage. Michael Jackson bought the Beatles' catalog, outbidding Paul McCartney for ownership of the Beatles' songs. For that reason, you see many commercials using those songs. It is inconceivable that Bruce would allow that to happen to him and his music.
On stage, Bruce and Clarence played the roles of buddies and almost equals. In business, The Boss closely oversaw what The Big Man did. I had to keep Landau informed about everything that I was doing and planning. A revealing example of the relationship related to Clemons' record deal with Columbia, Bruce's label, signed before I represented Clarence. The deal gave Columbia an option after two albums, allowing the label to abandon Clarence or continue the contract for two more albums.
In early 1986, I was told by a Columbia executive that the option was not going to be exercised. I then talked with other labels. One day after I told Jon Landau that Clarence would sign with another label, Columbia exercised its option. Springsteen Inc. did not want its key employees straying too far.
satisfy the customers
Every business publication currently features articles about how critical it is to be responsive to your customers' demands. Springsteen Inc. has always given fans superior recorded products and live performances. He records many times the number of songs that actually go on a released album. His four-hour concerts with the E Street Band are legendary. There are no opening acts there. As Clarence once explained the strategy, "We play until the audience is exhausted."
One time he fell short. In the fall of 1989, for personal and professional reasons, Bruce terminated his working relationship with everyone in the E Street Band except his wife, a back-up singer, and one other member. He later toured with another group of musicians, the equal of E Street. However, as well as Bruce performed with that band, it could not produce the same magical interactions that fans had come to love in a Springsteen concert. When the tour came through Pittsburgh in December It helps that Bruce is a great talent, with many Grammys and an Oscar for the title track of the movie "Philadelphia." His commitment to quality is unwavering. And the result is remarkable customer brand loyalty.
Springsteen's commitment to quality limited his willingness to work on Clarence's solo albums. On Clarence's first album, Bruce allowed use of a song he had written, and he was a producer. He appeared in the first video for that album. With determination, he polished a car in his role as attendant in a car wash. Nonetheless, even for a friend, he wouldn't compromise his standards. On the second album, he wouldn't sing a duet with Clarence that might have been a No. 1 hit. Narada Michael Walden, Grammy winning Producer of the Year, wrote a duet for Clarence with Bruce clearly in mind. Jackson Browne stepped in, and the duet, "You're a Friend of Mine," reached top-10 status in cities from the East Coast through the Mountain States for several weeks during the 1985 Christmas season. After reaching No. 18 on the Billboard chart nationally, it was not added to any major West Coast stations' play lists. That brick wall would have disappeared if Bruce had been involved. The duet would have continued to advance up the charts. I was very disappointed Bruce didn't do the duet, yet I couldn't fault him for believing that the song and Clarence's vocals, didn't meet his exacting standards.
Stay loyal to the brand
Large corporations would do well to mirror Springsteen Inc.'s consistency in branding a public image. Although a multi-millionaire for decades, Bruce is still seen as a working class hero. Neither he, nor his music, nor those close to him would ever be allowed to tarnish or distort the brand.
In August 1985, I met with Phil Dusenberry, vice chairman of BBDO Worldwide. He is the advertising genius behind Pepsi's victory in the Cola Wars with Coke. He authorized me to deliver a $6 million offer for Bruce to make a three- to five-second visual-only appearance in a commercial starring Clarence. I presented the offer to Landau. He promised to tell Bruce, but he told me Bruce would never tarnish his image with a commercial. After that rejection, I went back to Dusenberry and suggested "Ad Aid" with all fees contributed to charity. Dusenberry offered to establish a foundation Bruce would control and to which all fees would be contributed, including BBDO's, Clarence's and Bruce's. He promised the initial millions in fees would be supplemented by public fund-raising. Even as revised, Landau said Bruce would not lend his name to a commercial venture.
Bruce did authorize Clarence to do an American Express print ad with renewal for a second year. I advised Landau that I was seeking other advertising gigs. He didn't tell me not to do that, because he obviously didn't believe I might be successful. But we landed a number of major advertisers. The best offer came from Diet Coke's agency. Clarence signed to do a commercial with the emerging star Whitney Houston in late January 1986. A sax was rigged so that flames would burst from it when Clarence leaped from a piano and began to play. Bruce stopped by the house the night before Clarence was to go to Los Angeles to shoot the commercial. He made it clear to Clarence this type of commercial was inappropriate for a member of his band. The next morning I had to call and cancel with the agency representative waiting for Clarence to arrive on the set. The agency thought his cancellation was related to Coke's sales to apartheid South Africa. They offered to make a grand gesture to placate Clarence. The ad was shot without Clarence. Landau later made clear Clarence could not have done the commercial and remained in the E Street Band.
Until the 2004 John Kerry candidacy, political affiliation was absolutely contrary to the brand. By then, Bruce was an entrenched icon. His uncharacteristic departure from his image and brand consistency was unlikely to adversely affect business. A more typical example of Springsteen Inc.'s approach to branding occurred during the 1984 presidential campaign. In mid-September, then-President Ronald Reagan's speechwriters superficially looked at Bruce's songs and invoked his name in a campaign speech. During a concert in Pittsburgh shortly thereafter, Bruce mocked the president's speech. This led Democratic candidate Walter Mondale to suggest that Bruce supported him. That produced an immediate denial from Landau and a retraction from the Mondale organization.
Treat your employees well
The contemporary business wisdom says you must treat your employees fairly in order to have them deliver outstanding quality to customers. That's Southwest Airlines' highly publicized creed as it completes 35 years of growth and profitability. Springsteen Inc. has always operated this way. Bruce rewarded the E Street Band's loyalty by making them all multimillionaires via a percentage of net profits from the "Born in the USA" tour (ticket sales and merchandising) and from the subsequent Live album encompassing 1975-1985.
The band members' loyalty came principally from Bruce's leadership. Like soldiers following a great general into battle, band members believed in their Boss.
I once asked Clarence if he were surprised by the phenomenal success. He said, "From when I first joined Bruce, I always knew that this would happen." Unwavering faith in Bruce withstood early days of long, cold bus rides and plugs pulled on the sound system when they were opening a show.
Business leaders should learn this from Bruce Springsteen: Employees will accept tight controls and clear direction and even allow their egos to serve the leader, if they (a) passionately believe in the leader, (b) absolutely buy into the direction in which he/she is taking them, and (c) are generously compensated.
Show character and will
Given the tightly controlled nature of the organization, business publications and MBA programs may never be able to analyze Bruce Springsteen's business acumen. If they ever could, they'd find a man who would have become a successful leader in whatever industry he chose.
It boils down to character and will. In an age when corporate executives commit fraud and other crimes, the chairman of Springsteen Inc. and his management team stand out as exemplars. This is especially remarkable in an industry in which offensive and boorish behavior is rarely punished and sometimes adulated. Bruce is a family man. He has kept his 55-year-old body in game shape. Like a veteran athlete, he remains at a world-class level long after most of his peers have retired or are performing far below their peaks. He is a loyal friend, even to musicians who cannot possibly advance his career interests. For many years, he has worked, appeared and even toured with Pittsburgh's Joe Grushecky.
My wife and I got a special insight into the source of Bruce's strength and character when we stood next to his mother during an L.A. concert. 90,000 people listened in hushed silence while Bruce told a captivating, graphic story. Mrs. Springsteen exclaimed, "I don't care if he's the biggest rock and roll star in the world. If he says f___ one more time, I'm going to wash his mouth out with soap."