South Park Cascades, Circa 1931
Photo courtesy of the Allegheny County Parks Department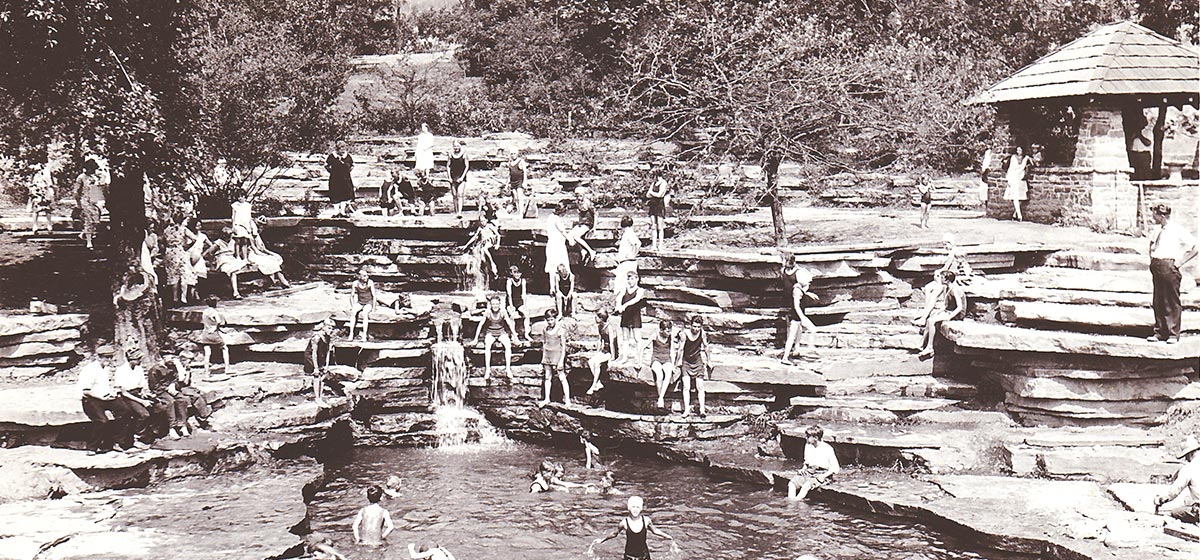 May 20, 2017
South Park, a 2,013-acre Allegheny County Park in the South Hills has all the features one might expect: trails, picnic groves, ball fields, and even a golf course. In more recent years, modern updates have included a wave pool, ice skating rink, skate park, nature center and a dek hockey rink—expanding the recreational offerings.


However, had you visited South Park when it opened in the 1930s, the location shown above would have been among the park's not-to-miss features.
While the setting may look like part of the landscape, this picturesque spot known as the Cascades, was a manmade water feature using stratified rock quarried from the park lands (with some stones weighing up to 5 tons). Carefully composed to evoke a network of waterfalls and wading pools, the Cascades made for a charming summertime destination.
This is just one of a number of original features conceived for South Park by Paul B. Riis, a Swiss-born landscape architect who worked for the Allegheny County Park system from 1927–32. Riis was among those designers who developed parks in the manner of the "naturalistic school," an important movement in American parks which emphasized the use of native species and natural materials to integrate manmade structures—making them seem like an act of nature. In the original South Park plan, this allowed the park's roads, picnic areas, shelters, and even a dramatic mammoth stone swimming pool, to blend fairly seamlessly into the native surroundings.
Today, although some of the rocks remain visible, the Cascades stand inactive and overgrown. Perhaps a future restoration effort will revive this unique park feature for visitors to enjoy, once again, naturally.