Beechwood School Garden, 1916
Pittsburgh Public Schools Photographs, 1880–1982; courtesy of The Thomas & Katherine Detre Library & Archives/Heinz History Center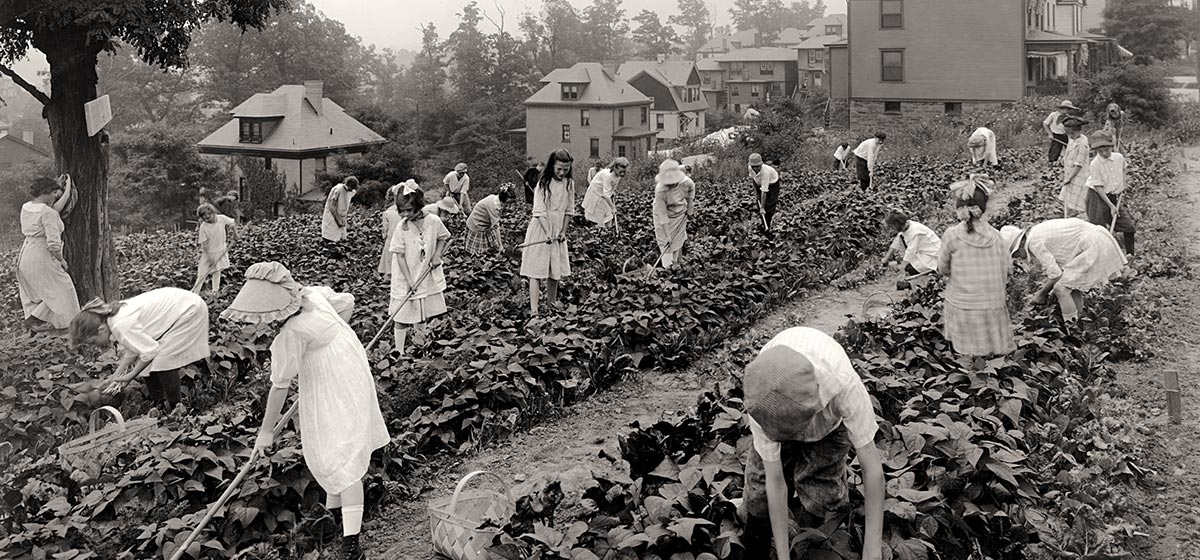 August 20, 2017
Over the past 10 years, school gardens have been cropping up across the Pittsburgh region. Spurred by chef-activist Alice Waters' 1995 Edible School Yard, the school garden movement has been praised for yielding both a harvest bounty and hearty educational benefits. In these outdoor classrooms, students learn about everything from summer squash to science to self-sufficiency. While it may seem new, it's far from it. At numerous times since the turn of the 20th century—from the liberty gardens of WWI to the victory gardens of WWII—school gardening has been cultivated with vigor.


When this photograph of Beechview-area students amid rows of beans and lettuces was made in 1916, school gardens were in vogue in Europe and on the rise across America. As evidenced by a myriad of guide books and reports from the U.S. departments of Agriculture and Education, gardening was advocated as an invaluable part of student curriculum.
By the 1920s, Pittsburgh boasted more than a dozen school gardens supported in part by the Pittsburgh Playground Association and the Board of Public Education. Harvests contributed to school lunches, excess produce was sold or donated, and student volunteers tended gardens when school wasn't in session.
Nonprofit Grow Pittsburgh and the Pittsburgh Public Schools are aiming for a proliferation of school gardens to connect more Pittsburgh youth to nature, provide lessons in responsibility, and improve student diets and health. With the potential to link school gardens to cafeterias, home kitchens, farmer's markets and food pantries, it's clear that some 100 years later, the momentum for school gardens is still growing.