Soft-Core Pathos: A Review of Pittsburgh Public Theater's "The Tempest"
Photo by Michael Henninger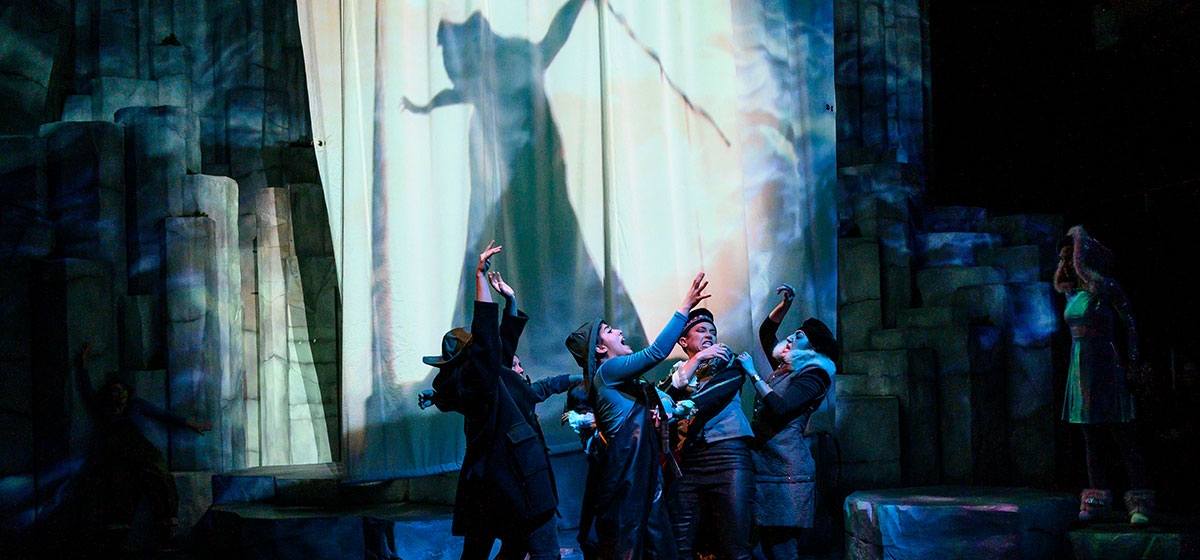 February 7, 2019
Cleverness is not a Shakespearian trait. In fact, as we have found after more than 400 years, the more we try to shape him, using our own devices, the less he is able to tell us. This is because his chief mode of artistic engagement is the sublime – versus the allegoric, the symbolic, or the metaphoric. So when we reduce Shakespeare to one of these lesser devices, we lessen his work, and actually take away our role as the audience in his theatre. The sublime is the one form of expression in which the artist does not try to tell the viewer what to think. It's also the most demanding on—and complimentary to—audiences, as it relies on their perception. To paraphrase Wittgenstein's crucial admonition, "Never do for the audience what the audience can do for itself."

In her first production as the director of Pittsburgh Public Theater, Marya Sea Kaminski has adapted and directed Shakespeare's last full play, "The Tempest" (1611). She's chosen to set part of the action in the oncology unit of a Pittsburgh hospital (instead of entirely on Shakespeare's magical island) and cast women in all the roles. Regarding the latter, although it does create some interesting cross-gender issues that differ from the original, it's just an inversion of the Elizabethan theater, in which all the parts were played by men. (In fact, Julie Taymor recently cast a woman [Helen Mirren] as Prospero in her 2010 film version of "The Tempest," to great effect.)
It's really the former choice—making Prospero (Tamara Tunie) an "oncologist, now battling late-stage cancer"—that's the bold step, as it forces us into the world of allegory.
Because of its visionary and experimental nature, "The Tempest" is probably the Bard's play that gets the most radical stagings. And here we have no exception. Instead of opening on a ship caught in a tempestuous storm with the characters shouting in panic, we are presented with a single hospital bed in a sterile room in which the characters move in silence. Although a huge departure from how the play was written, it's visually reminiscent of Bob Fosse's 1979 film "All That Jazz," in which the main character, like Prospero, crosses back and forth between reality and fantasy in a similar death-bed. And we've seen the same trope of "hospital bed as portal" staged in countless other works; it's one of the most over-utilized images in drama.
Tunie's challenge is manifold: she has to play Prospero—a male role and father—as a woman and mother. Then she has to navigate between the mystical sorcerer that Shakespeare depicted and the oncologist/breast-cancer patient written by director Kaminski. This allegorical conceit gives her part, and the play, a layer of pathos that feels tacked-on and, at times, gratuitous. For example, in the opening hospital scene, there's even a pink Terrible Towel being waved over the patient's bed (double yoi!).
To make sure we're able to bridge the dual settings of hospital room and mysterious island, the director employs a series of mnemonic gestures that several of the multi-role actors use, which become sentimental props, or what theorist and director Peter Brook calls, "shorthands of behavior that stand for certain emotions." Also, certain hieratic physical expressions (e.g. the actors crossing their hands over their breasts), serve as a sort of underscoring, as was done in the silent film era.
Foisting a cancer motif onto a performance of Shakespeare is kind of like foisting a laser show onto a performance of Beethoven. You can do it, but it's basically—to use a Shakespearean expression—painting the lily. Perhaps we're becoming more accustomed to this kind of machination in our current age, when pathos has become a kind of soft-core pornographic thrill that we secretly find exciting to watch?
Tunie does succeed in making Prospero a compelling figure and demonstrates a strength of presence that demands our attention. She achieves many electric moments. But her more mundane speeches serve to mitigate her energy, and some of these lines devolve into words that must be trudged through, instead of thoughts engendered by actions and conveyed in the moment.
L.B. Morse's fantastical set is as much a performer as the players: it moves like an Aurelien Bory post-modern construction and breathes like a piece of nature stolen from Tolkien. Watching it transmogrify from sparkling cityscape into multi-colored cliffs will make any old-timer acid-tripping hippie feel at home.
Unfortunately, as exciting as this is to watch, there are still large tracts of Elizabethan diction that seem to bog down some of the actors, making the show drag. At such times, members of the audience could be seen looking away, reading their programs, or shifting in their seats. Even at a pared-down run time of about one-hour-forty minutes, "The Tempest" is a notoriously tough slog for many theatre-goers and, especially without an intermission, this version was no exception.
Although The Public would not share a playscript for review, one could detect an uneven quality in the text between the Shakespearian sections and the rewritten parts. Director Kaminski states that 95 percent of it is original, in iambic pentameter, but the adapted lines, even as short as "Mom, please," serve to make entire speeches sound out-of-tune, like a guitar with one string slightly below pitch.
However, the comic scenes, such as between Stephano (Bethany Caputo) and Trinculo (Jamie Agnello) sparkle, and take advantage of the physical aspects of the scenic design to amplify the humor. Also dynamic in their roles are Shammen McCune as Caliban, Janelle Velasquez as Ariel, and The Pittsburgh Youth Chorus, who sing and play the spirits.
The staging and Erika Chong Shuch's choreography flow through each other brilliantly, and also result in several exciting musical pieces created by Andre Pluess, particularly a Supremes-style number that lights up the theatre. The costumes, designed by Nephelie Andonyadis, help each bit work.
At the end of the play, we are returned to the allegory of the oncology ward, and watch Prospero deliver the epilogue from her bed. This adaptation changes her last line from the original, "Let your indulgence set me free," to "Let your compassion set me free." Normally, this speech is seen as begging the audience for applause, but here, the invitation is for pathos. Perhaps this change is effective, or perhaps, even moving. But it certainly has taken us off the island of the sublime.
"The Tempest" continues through February 24th, O'Reilly Theater, 621 Penn Avenue, Downtown. $30 – 80. 412-316-1600 or www.ppt.org.