Secrets of Oakmont
Discovering the borough's "mini-Clayton" and more
Photo courtesy of Oakmont Chamber of Commerce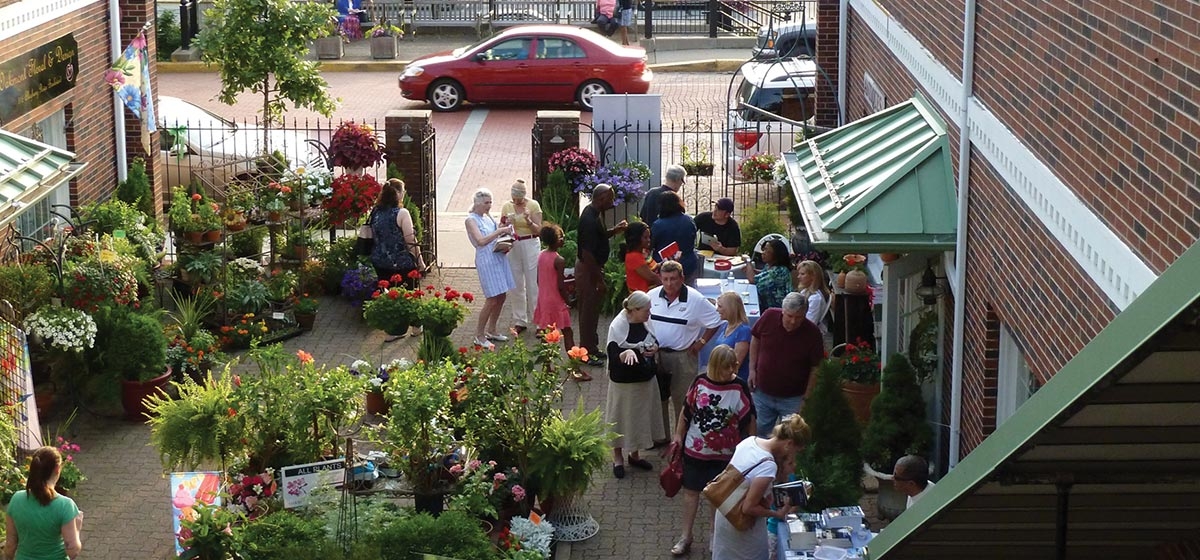 February 20, 2017
With the gaslights along the brick-paved Allegheny River Boulevard, the small, independent shops and the 1889 Carnegie Library, visiting Oakmont can feel like a welcome trip back in time.
That's especially true if you walk into the Kerr Memorial Museum on Delaware Avenue. Dr. Thomas Kerr built the Queen Anne-style home in 1897 for his wife and daughter. And while Clayton, the Frick mansion in Point Breeze, portrays the home of a Pittsburgh industrialist in the early 1900s, the Kerr home depicts the lifestyle of an upper-middle class physician. The meticulously maintained house has less of an "Upstairs- Downstairs" feel, instead focusing on the décor, furnishings and countless objects that were part of the family's everyday life, including Dr. Kerr's office and medical tools.
Kerr's daughter, Virginia, taught English in the local schools and remained in the family home until she died in 1994. She saved most of the family belongings, so the tour accurately represents their lives. Visitors can see the main rooms on the first and second floors, as well as the basement, where many household duties were performed. Virginia never married or had children and donated the home to the borough to be used as a museum. Tours are open to the public every Saturday, and group tours for eight or more people can be arranged for most other days.
The museum holds its main fundraiser March 10–12—an antiques show with more than two dozen vendors—at the Oakmont Country Club (Oakmont's most famous attraction, having hosted more golf championships than any other American course, including last year's U.S. Open). The nearby Doone's Inn at Oakmont is a charming, eight-room bed and breakfast with luxurious guest rooms, private baths and elegantly classic common areas. There's even a putting green so guests can practice before hitting the links. This is also a popular venue for small private parties, from showers to intimate dinners.
Along Oakmont's business district, Carabella and Caterina offer great selections of women's clothing and accessories. Gentlemen can find everything from business to sophisticated casual attire at Traditions of Oakmont, and Precious+Posh has beautiful clothing for babies and children. Mystery Lovers Bookshop has thrived for 26 years by offering a comprehensive collection of mystery genre books. And The Spot carries local and regional gifts, including handmade, one-of-a-kind items. Jewelry lovers will find two great options—Robert Hallett Goldsmith and Robert Currens Fine Jewelry & Custom Designs. Today's Market, a full-service health food store, and Yarns By Design, a yarn store and mecca for local knitters, are just a few of the specialty stores in town.
For entertainment, the beautifully restored Oaks Theater is a multipurpose venue, offering film and more; themed evenings might include a special movie screening with specialty cocktail and gourmet food.
Dining options abound. The Pub at 333 offers delicious brick oven pizzas, creative sandwiches, an intriguing cocktail menu and two Tito's mules on tap. What's Cookin' at Casey's, Hoffstot's, Chelsea Grille and The Mighty Oak Barrel are neighborhood standards, and the Oakmont Bakery attracts customers from across the region for the assortment of cakes, pies, cookies, breads and pastries.
Springtime provides the perfect opportunity to enjoy nearby Oakmont and all of its charms.
Kerr Memorial Museum, 402 Delaware Ave., Oakmont, PA 15139, 412-826-9295, kerrmuseum.com.
Oakmont Chamber of Commerce: oakmont-pa.com.