Ross, Vandermade, Limbach, Brinkman, Colville, Fisher, Watson, Lexie, Russell, Gorman, Capobianco
Noting the passing of prominent Pittsburghers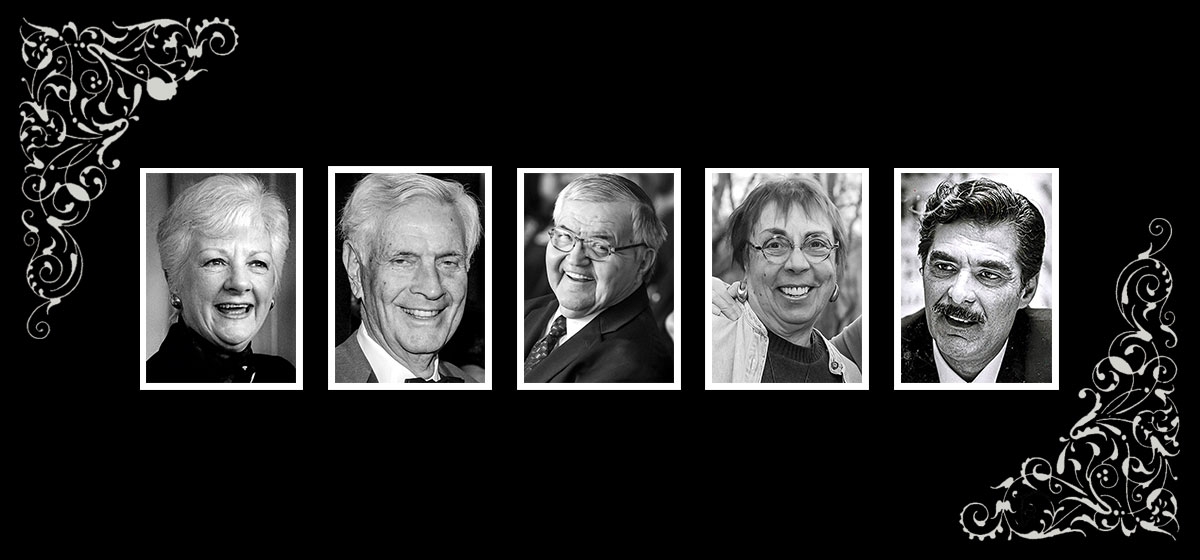 December 20, 2018
Eunice Mercedes Latshaw Ross, 94: Blazing a trail for women in the field of law wasn't easy for Ross. She became an Allegheny County Court of Common Pleas judge in 1972, when few women held such positions. She was an expert in probate law whose opinions were considered masterful. But when she reported that soon-to-be impeached state Supreme Court Justice Rolf Larsen tried to improperly influence a case in her court, it didn't sit well with many colleagues and Ross was transferred from Orphan's Court, an assignment they knew she loved. Steadfast in her dedication to the law, she prevailed to become a state Commonwealth Court senior judge and an icon to women who followed in her footsteps.

Jane Culp Vandermade, 92: She left tiny Schellsburg, Bedford County in the 1940s to attend Carnegie Tech as a theater major interested in costume and began a journey that took her to New York, Paris, Milan and the executive ranks of the Joseph Horne Co., which no woman had previously risen to. Her stock rose with the success of the annual fashion galas she staged, which became must-attend events ushering in the fall fashion season. Always impeccably dressed, driven and determined, she was named fashion director in 1960 and in 1975 became the first woman to be named vice president.
Walter Limbach, 94: He grew up on Pittsburgh's North Side, the son of avowed socialists, and built his grandfather's small local company into a national mechanical contractor. He became president of what is now Limbach Holdings Inc. in 1958. As an executive, he wasn't concerned about the privileges that came with the position. He declined a private parking spot, for example, preferring to take the bus to work. But he knew how to grow the company, which today is the 10th largest mechanical contractor in U.S. with branches across the U.S. and major projects to its credit ranging from Pittsburgh's PPG Place to Atlanta's Hartsfield Airport.
Chuck Brinkman, 83: He introduced the Beatles to a screaming, hysterical audience at the Civic Arena in 1964, the Fab Four's only Pittsburgh appearance. Through the 1960s, Brinkman was one of the most recognizable voices of pop music as a disc jockey at KQV AM, the most popular Top-40 station in the city. He was a mainstay there from 1960-1972, before leaving for Texas and, eventually, an oldies station in Greenville that he owned a piece of.
Robert E. Colville, 83: He grew up in Manchester on the city's North Side, was the first in his family to graduate from high school and spent his life in Pittsburgh as a high school teacher, city police officer, chief of police, Allegheny County district attorney, and judge on the county Court Common Pleas and state Superior Court. As DA, Colville made prosecutor a full-time position, stabilizing the office. He promoted even-handed justice for minorities, preferred to treat rather than jail drug users, and had a reputation for ferreting out corruption and understanding the power of the offices he held and the need to use it responsibly.
Richard B. Fisher, 95: He had gift for selling. Fisher was 28 and selling used cars in East Liberty in 1951 when he decided to apply his talents to mutual funds. Many Americans hadn't been introduced to money management and investment firms at the time. But Fisher saw promise in the growing confidence in the U.S. economy following a depression and world war. Four years later, he, John F. Donahue and Thomas J. Donnelly took the plunge and started a company, Federated Investors. They never looked back. Traveling door-to-door at first, Fisher educated a client base on investment strategies, risks and rewards and built an enduring brand. Today, the company has assets of nearly $380 billion, 108 funds, 1,800 employees worldwide, and 8,500 clients who trust it to manage their money, including corporations, foundations, government agencies and insurance companies.
Wyndle L. Watson, 86: When he was appointed outdoors editor of the Pittsburgh Press in 1979, Watson's challenge was to cut his own style in the long shadow of his predecessor, nationally recognized outdoors writer Roger Latham, who had died in a fall from a Swiss mountain ledge. He succeeded, spinning descriptive tales of his worldwide adventures as hunter and fisherman with the ethic of a conservationist for the readers of The Press and Pittsburgh Post-Gazette until retiring in 1997.
Albert Lexie, 76: The Monessen shoeshine man called the young patients of UPMC Children's Hospital of Pittsburgh "my kids." Born in a housing project, he built a wooden shoeshine box in eighth grade shop class, his last year of formal schooling, and began shining shoes at local businesses. Lexie would rise at 5:50 AM on Tuesdays and Thursdays and ride the bus to Children's, where he shined the shoes of staff and visitors for three decades, earning more than $202,000 in tips and donating every penny to the hospital that healed his kids.
Barbara Russell, 85: Laughter was Russell's calling card as half of the Pittsburgh comedy team, Brockett and Barbara with the late Don Brockett. The actress, a popular presence on city stages for six decades, was also a less-than-funny, flesh-eating zombie in George Romero's seminal horror film, Night of the Living Dead. But for children nationwide, she was a familiar face on Mister Roger's Neighborhood, playing herself, giving voice to several characters and, in the series' first episode, portraying Mrs. Russellite, collector of lampshades.
Mary Alice Gorman, 74: A love for mysteries led Gorman and her husband, Richard Goldman, to open Mystery Lover's Bookshop in Oakmont. Small retail bookselling is a tough business. But she was up to it. She'd sold cosmetics door-to-door, an "Avon lady" at age 14; taught high-school English, and was a breast cancer survivor. She was an advocate for justice as the executive director of the ACLU Pittsburgh Chapter and the Allegheny County Center for Victim's Against Rape, helping expand victim services with the fines imposed on offenders. Her bookstore survived and became a place for writers, local and otherwise, to meet readers, promote their work and find inspiration.
Tito Capobianco, 87: The Pittsburgh Opera owes much to Capobianco, who as general director of the Pittsburgh Opera from 1983-2000, raised its budget from less the $1 million to $5 million, added an endowment, created a training program for young singers, oversaw the move from Heinz Hall to the more spacious stage of Benedum Center, and brought Luciano Pavarotti and other world renowned talent to Pittsburgh. He was known as a man of the theater, tempestuous at times, but dedicated to heightening the experience of the audience to the great dramas he brought to them.