Rich Engler, Music Promoter and Entrepreneur
A life's recounting in the subject's own words
Photo by Renee Rosensteel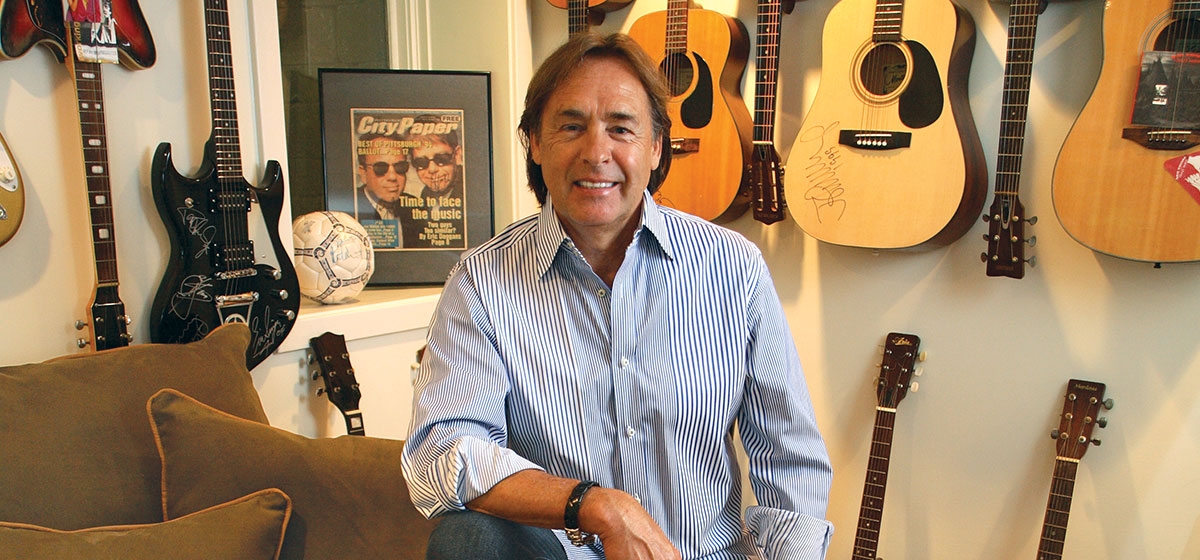 August 20, 2007
I was born in New Kensington, Pa., and grew up in Creighton, across the river. My father was a glass worker at the Pittsburgh Plate Glass Company. My mother worked for the county. I studied art education at Youngstown State, then at Carnegie Mellon.

I was also playing in a band and began to see a possible future for myself in music. Somewhere along the line, I realized that a life in music could be tough and that I would be wise to prepare myself. It's called "show business" for a reason. There's the show, and then there's the business. So I decided that I had better learn both.
In 1969, when I first met Cindy, my wife, who was then my girlfriend, I felt that it was time to take a risk. So I opened a business on Walnut Street in Shadyside called Go Attractions. At the start, I couldn't afford an apartment and an office, so I built a partition inside the office and lived in the back. The good news for me was that rock music was really catching fire: bigger productions, more sound, more lights and larger crowds. Every club, frat party and church outing had to have a band. And someone had to provide them. I wanted to be that person.
Sure, I was nervous about it. But I had the Novocain of youth going for me and believed that I would be able to make just about anything work. Before long, I was making more money than I would have been had I graduated from college. I never thought I'd quit school, but I did. I started with nothing, so a living would have been acceptable at the time. But I knew what I didn't want. I didn't want to live across the tracks. I wanted something better. That's what I set out to achieve.
Three years later, when Cindy and I decided to get married, I had money in the bank. I bought a house way more expensive than I could ever have dreamed. The next thing I knew, instead of selling acts to clubs and colleges, I started promoting. Go Attractions, the booking agency, became Command Performance, the promoter, and I started buying acts from some talent agencies in New York. I also met up with a group called Sideshow Productions, out of Greensburg. They wanted to produce some shows, so I bought all the talent for them. As a result, I learned the promoting business the right way, from the ground up. I did the advertising, the production, and so on. Then I started to promote on my own in Youngstown, Johnstown and Erie, and booked my band, the Grains of Sand, as the opening act for all of my shows. That band did really well from '68 through '74, until one important New York agent got wind of what I was doing and said, "I'm never going to sell you another act unless you stop playing drums and focus on being the promoter." That's when I got really serious.
One day in 1974, another local promoter named Pat DiCesare called me and said, "Rich, why should we compete? Let's sit down and make a deal." Again, I was making real money on my own, so I thought long and hard. Most people said, "Are you crazy? Do it!" Pat had the Civic Arena locked up at the time and had a great deal with the Syria Mosque. I had the Stanley Theatre deal kind of put together, which is where I was doing most of my area shows. So Pat and I struck a deal. We called ourselves DiCesare-Engler Productions, and boom! Things started to happen.
For our first show, I stayed conservative. I picked Fleetwood Mac. We sold out. We followed up with Jackson Browne and sold out again. We sold out the next show, too. We were on a roll. I was buying and negotiating all the deals. Pat was occupied with real estate acquisitions. (As a result, we decided at the time to put some of the money we were making into real estate, which turned out to be a very good move.) Ours was a perfect relationship. A couple of years later, I was approached by the owner of the Stanley Theatre who said, "Why don't you buy this place?" I said, "I don't think so. You'd have to make us a super deal." He said, "Let's talk." So Pat and I met with him. This was in late '76 or so. The next thing I knew, we owned the Stanley.
In the years to come, we had all the great shows. We had Bruce Springsteen at the Syria Mosque when he was on the cover of Newsweek and Time. We had ZZ Top's "Texas Tour" at Three Rivers Stadium. We had Pink Floyd. You name it. Music was still a passion for a lot of people, and wonderful things kept happening all the way up to and including the mid-'80s. Then the business started to take a tumble. The absolute lowest point that I can remember was 1990. For whatever reason, people were not going to shows. Things started to pick up in '91, and '94 was the biggest year ever. We had four stadium shows that year and the business made a turn-around. But things started to change for the worse again with the Internet. To think that in the early '80s, everyone was afraid of MTV. The Internet is MTV magnified 1,000 percent! There was no mystique anymore. Everything was out there, available with a few clicks. And it's going to take a major movement to turn this around, a phenomenon like The Beatles. Short of that, I don't know.
In the late '90s, a huge entertainment company called SFX did a roll-up of all the regional mom-and-pop promotion companies across the United States. DiCesare-Engler was part of that roll-up. Around that time, the radio giant Clear Channel thought, "We're already the biggest in radio. Why don't we buy SFX, and become a promoter, too?" So they did that and were able to buy and get everything. It was great in theory but had unintended consequences. The acts and their agents were smart. They figured, "These guys have deep pockets. Let's raise our prices and see if they'll pay." They paid. Guess who paid later? The audience.
Ticket prices went up big-time. I don't believe that the acts wanted to do it. It just kind of evolved out of the new business environment.
If Pat and I hadn't sold DiCesare-Engler in '98, we would have been snuffed out, no question. But the sale was a happy day for two reasons: (1) We made some money; and (2), we took away the inevitable pain of battling to survive. Pat went on with real estate, and I joined the troops in the bigger army, becoming the regional head for Clear Channel for a while. It was a difficult adjustment in many ways, but I know it was the right thing to do. These days, I work with a company called Targe Energy, which deals in natural gas in Pennsylvania, West Virginia, Colorado and Montana, and we're expanding. We also have a coal division which is not totally my thing, but I handle some of those projects, and a drill for oil operation in Wyoming. A friend of mine, Bill Spence, who is a mining engineer and an entrepreneur in the truest sense, had been in that business for a long time. Right after my departure from Clear Channel, he said, "Let's build my business. We could probably have some fun in the process, too." Another guy also came on board at Targe, an investment and financial wizard named Matt Miller, to put together additional important deals.
The energy business is a huge departure from music, but I really love it. The people are great. Inmusic, you find a few more eccentric individuals and probably bigger losers in some cases, where the energy business is more consistent. Energy is the place to be right now. The music business is the place not to be. It's not launching many great new talents. American Idol's a wonderful thing but, come on. Music talent today is breaking from TV. Back in the '70s, '80s and even some of the '90s, people's education in popular music came from radio. Radio was it. Today, radio is not taking many chances. And then there's the Internet. Instant access. It's an entirely different world. And building a promoting business is hard today because, when the new acts get bigger, they won't necessarily play for you again. There are no relationships like that anymore, no loyalty.
You know, for a while in my life, I felt a bit guilty for having more than some other people. Butit's all the direct result of hard work and risk. In order to make the big bucks, you have to accept risk. You have to be able to leave your comfort zone. And that's very difficult. You have to think positive thoughts. You have to be fearless in some ways, but also calculating. Even if you think you're doing the right thing and you're making money, there's probably a better way to do it. If you step up, you can make it.
As I've always told my kids, "I don't care what you do, just try to do it the best that anybody's ever done it." If you're
going to be a janitor, just be the best janitor you can be, and guess what? You'll probably end up owning a janitorial business and make a million dollars. This applies to everybody. And even if you can't afford it financially, if you're doing a great job and you're smart, you will find someone who has money and will invest in you. Just go out and do it.