Remembering Prominent Pittsburghers Who Passed Away in 2019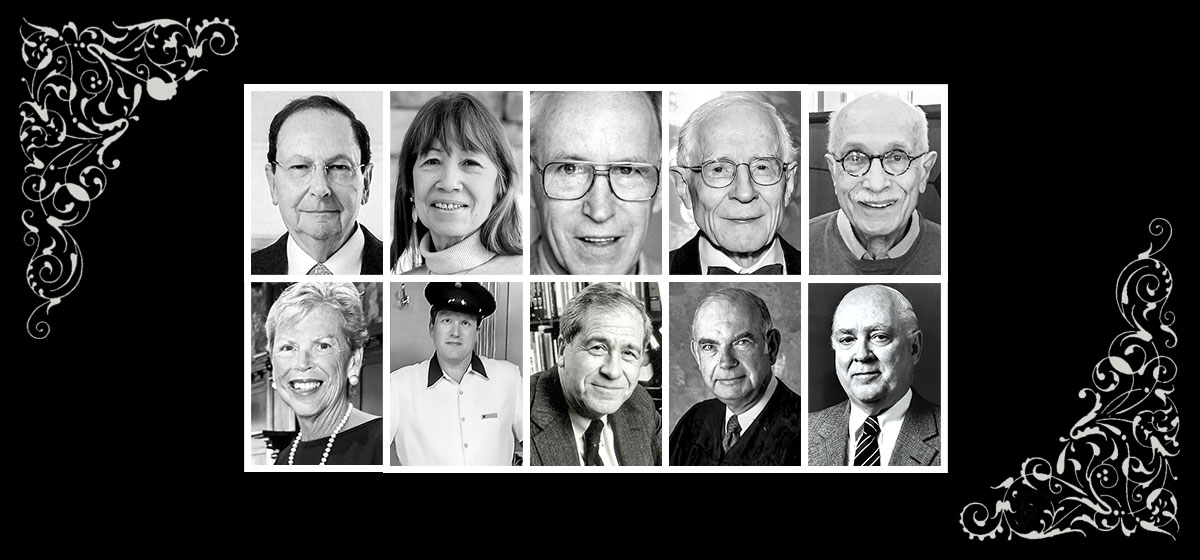 December 30, 2019
We've said goodbye to many influential Pittsburghers this year. Remember those who have passed away and their impact on the region—and the world—in this compilation of our Last Chapter department.

Carol Massaro, 79: A mother of four, she raised nearly $1 million for Alzheimer's research after the disease took her late husband, contractor Joseph A. Massaro Jr. She was a woman of tremendous energy and generosity, serving as an indefatigable volunteer for organizations across the city.
Jack Weiss, 85: His father died when he was eight, leaving him and his mother destitute. He went to work delivering newspapers, amassing an enormous route. He worked as a packer and shipper at Modern Curtain & Rug Co., learning the business and saving enough to buy the home furnishings store now known as Weisshouse. Weiss offered discounts for widows, profit sharing for his employees and tuition to disadvantaged neighborhood students. He later became a painter whose works were exhibited in local galleries and museums.
Bill Fralic, 56: Pitt football coach Jackie Sherrill assumed the oversized eighth grader was a college player when he met Fralic, whose career went from Penn Hills High to Pitt, where he was an All American, and to the NFL. The Atlanta Falcons' second pick in the 1985 draft, he was an All-Pro lineman and the man for whom the term "pancake block" was created. Fralic was among the first players to campaign against rampant steroid use.
Morton Coleman, 86: Though he played many other important roles, including chairing the city's housing authority and serving as Dean of Pitt's School of Social Work, Moe Coleman will be remembered in Pittsburgh as the man who created Pitt's Institute of Politics. The IOP was and continues to be a place where leaders of different parties and points of view convene in an atmosphere of mutual respect and cooperation to build consensus. Coleman set that tone.
John Wesley Hughes Jr., 93: Hughes started playing piano on stage at 16 and continued playing venues across Pittsburgh until a year before he died. For much of his life, he earned a living by day as a teacher and social worker, having degrees in both fields. The U.S. Department of Justice recruited him as a mediator to help with the desegregation of public schools in the 1970s. But jazz was his passion. He was a regular with the Harold Betters Quartet.
Adolf Grunbaum, 95: Grunbaum's family immigrated from Nazi Germany to Brooklyn in 1938, likely saving his life and setting him on a course to become one of the world's greatest philosophers of science. He spent most of his career at the University of Pittsburgh, where his work and leadership elevated Pitt's philosophy department to become one of the world's best.
Sister Mary Paul Hickey, 97: When playing school as a child, she played the teacher, a "sister-teacher" with a white handkerchief draped over her head as a veil. Sister Mary Paul would spend 80 years as a Pittsburgh Sister of Mercy, chairing Carlow University's education department and founding Carlow's Campus School, a pre-K- through 8th grade teaching laboratory that became a national model. Tough, savvy and feisty, she worked a full schedule until two years ago. Asked at that time the secret to educating children, she said, "Love. Show them you love them."
James H. Rich, 96: His first career following service in World War II was as a print broker. When his employer began to fail, Rich read books to learn how to negotiate for and buy it. The company failed anyway, but he was on the road to becoming a pioneering investor in radio, cable television and private equity. Perhaps his best-known local investment was WAMO, the iconic radio station that became a portal to African American culture. He had a passion for contemporary art, which he collected, and the heart of a philanthropist with a particular interest in the early education of special needs and disadvantaged children.
Anne Farley Walton Whetzel, 96: A lifelong lover of the outdoors and conservation, Farley Whetzel, along with her mother Rachel Mellon Walton, in 1977 donated 90 acres in Fox Chapel to the Western Pennsylvania Conservancy for the creation of one of the region's largest private nature reserves—the Beechwood Farms Nature Reserve. The mother of four later helped create the Phipps Conservatory's outdoor garden, supported numerous conservation causes, and was herself an early advocate for recycling. She was deeply involved in local charities, including the Children's Institute of Pittsburgh and the Carnegie Museum of Natural History.
Milton Fine, 92: The son of Jewish immigrants, Fine made his mark as a businessman, philanthropist and Pittsburgh patron of the arts. He was raised in East Pittsburgh, where his father raised a family as a tailor. At 18, he was an Army sergeant, leading men into combat during World War II. After practicing law in the 1950s, he co-founded Interstate Hotels Corporation, which became the world's largest hotel management company. He later established The Fine Foundation with his wife, Sheila. Fine became an art collector and patron, chairing the Carnegie Museum of Art board and playing a key role in the creation of The Andy Warhol Museum.
John P. Flaherty Jr., 87: Flaherty rose from captain of his swim team at Allderdice High School to the Pennsylvania Supreme Court. In 1958, he opened a law practice in Mt. Lebanon. In 1973, he was elected to Allegheny County Common Pleas Court and soon showed he wasn't afraid of controversy when he ruled that an all-black middle school was illegally segregated and ordered it closed. Regarded for his integrity and love of the law, he was a calming influence on the state Supreme Court as chief justice during the turbulent years that followed the impeachment of Justice Rolf Larsen in 1996. Flaherty, who didn't believe justices should campaign for retention, was twice returned to the high court without ever doing so.
Karen Fung Yee, 81: She was an ambassador of the Pittsburgh Asian community who spread understanding of distant cultures and traditions with the art and cooking classes she taught and her volunteer work with Chinese American groups. Yee grew up in Bellevue, where she was often found working at her father's Bellevue Tea Garden, which she and her brother managed until 1997. She was the first woman to hold the presidency of the Organization of Chinese Americans. She taught Chinese language and cuisine classes. And when Japanese flower arranging caught her eye, she traveled to Tokyo to study "ikenobo" and returned to teach the ancient floral art at Phipps Conservatory.
Roy McHugh, 103: McHugh told stories with precision and grace as a sportswriter, sports columnist, editor and general columnist at the Pittsburgh Press for 36 years until his retirement in 1983. He was a native Iowan whose father died at 29 when he was only 4. His first newspaper job was reporting for the Cedar Rapids Gazette. McHugh stayed there five years before taking a job in Pittsburgh, where he mastered his craft. His stories were revealing of the characters within them whether he wrote about politics or sports. Boxing, in particular, was a passion. McHugh was recognized as one of the best to cover the sport and once went on a double date with Muhammad Ali.
Donald Lyon Fisher, 100: They named the cardiac catheterization laboratory after him at Allegheny General Hospital on Pittsburgh's North Side, where Fisher worked for 66 years, developed the lab, was its director and contributed to many advances in the treatment of heart disease with his research. He enlisted in the U.S. Army after graduating from Washington University School of Medicine in St. Louis, served as a combat surgeon and was awarded a Bronze Star. Fisher was recruited to Allegheny General from Presbyterian Hospital in Chicago, where in 1951 he saved the life of a young woman with a device he fashioned in his garage from electrical components—a defibrillator, which had never been used in the city until then.
Sidney N. Busis, 97: Busis grew up in East Liberty working as a soda jerk and delivery boy at his father's pharmacy and came to be a respected ear, nose and throat doctor who had a role in developing the polio vaccine. As part of Jonas Salk's team of polio investigators at the University of Pittsburgh, Busis performed tracheotomies on the young patients whose respiratory systems were impaired by the disease. He was a man known for his devotion to his family, patients and faith, whose contributions included serving as president or chairman of the Jewish Federation of Greater Pittsburgh and the Rodef Shalom Congregation and helping establish the Holocaust Center of Pittsburgh.
James Robert Zuberbuhler, MD, 89: Pediatric cardiology hadn't evolved into a medical field in 1967, when he was appointed director of the new department at UPMC Children's Hospital of Pittsburgh, a position he held for nearly three decades.
Dr. Zuberbuhler was a master diagnostician when doctors had little more than a patient's medical history and a stethoscope for tools. He was an early researcher whose work still informs the field. And for 40 years he taught at the University of Pittsburgh School of Medicine, inspiring hundreds of students who later became experts who save the lives of children across the nation.
Harry M. Schwalb, 94: Raised on a chicken farm in Indiana Township, Schwalb was the son of Jewish immigrants from the Czech Republic who lost family to the Holocaust. His day job was the creative director at Fisher Scientific. But Schwalb made his mark as an artist, staging countless one-man shows over the span of a half-century, and as a popular art critic for Pittsburgh Magazine and other publications. As one of his last requests, he asked those who wished to remember him to buy a piece of art from a new artist.
Cynthia McCormick, 61: She was intelligent, a problem-solver, socially engaged, easy to like—all traits that allowed her to move easily through the disparate environments of business, culture, government and politics, in which she had careers. McCormick worked on the staffs of congressmen and senators of both major political parties. She had been the marketing director for the Port Authority of Allegheny County, and an executive at the Pittsburgh Opera and at the Carnegie Museums of Pittsburgh. She also was a philanthropist, giving to community causes through the Pruitt McCormick Fund that she established with her spouse, Lois Pruitt.
William J.W. Brown, 81: His father was an accountant on Staten Island, his mother a lawyer. Brown became a law professor in Pittsburgh specializing in tax law. Brown was so gifted in the classroom that despite the soberness of the subject the courses he taught were among the most popular. And upon his retirement in 2000, an anonymous donation of $1 million was made in his honor to the University of Pittsburgh, where he taught for more than three decades. He also was a sailor, art collector, author, painter and builder of model boats, who ran his first marathon at 50 and didn't stop competing until he was 79.
Mark Wolosik, 65: Wolosik began working at the Allegheny County Election Division in high school and stayed 48 years until he retired last fall. For the last 17 years, he managed the division. Wolosik could cite provisions of the Election Code from memory and predict voter turnout with impressive accuracy. An avalanche of forms on the last day of voter registration in 2016 election was efficiently handled with rotating shifts he had the foresight to schedule. He also played classical guitar, but the one he kept in his office for moments of downtime rarely got played.
Howard J. Burnett, 89: Burnett led Washington & Jefferson College on a three-decade-long period of growth and change as its president. Burnett's reign began in 1970 when the school's finances were fragile. He demonstrated a skill for courting donors, whose support allowed for expansion, including a new arts center, science center and campus center. The school successfully defended its nonprofit status during his tenure, and he presided over welcoming the school's first female students, faculty and trustees.
Jon-Paul Malezi, 49: Malezi was a doorman at the Omni William Penn Hotel, Downtown; the top doorman at the top hotel in town. Malezi grew up in Dormont, had a college degree and was a husband and father of three daughters. He was discreet, well informed and quick with a joke, when appropriate. He'd considered law, but decided he liked being a doorman better than going to school. He spent off hours checking out the city's latest attractions and hot spots so he'd have an informed recommendation when asked.
Dr. Bernard Fisher, 101: Dr. Fisher was a giant in the field of breast cancer, leading large-scale randomized clinical trials that revolutionized understanding and treatment of the illness. His earlier surgical work included performing the first kidney transplant in Pittsburgh and doing pivotal work that cleared the way for future liver transplantation.
Believing that data and evidence should inform treatment, he led several key studies that showed that the previously preferred treatment for breast cancers—radical mastectomies—did not have survival advantages over less invasive lumpectomies. A Squirrel Hill native, his work is credited for improving and lengthening the lives of women all over the world.
Donald Ziegler, 82: A Dormont native, Ziegler was a longtime U.S. District Court Judge known for his intelligence and fairness. After five years as an Allegheny County Common Pleas judge, Ziegler was nominated to the federal bench in 1976 by President Jimmy Carter. As a jurist, he was a quick study, a no-nonsense Judge and a dedicated public servant, who was respected by all who appeared before him, whether they won or lost.
Edith Stein, 98: A Holocaust survivor whose parents were killed by the Nazis, Stein was an outstanding German teacher in Mt. Lebanon schools for 31 years. She grew up in Vienna, and her parents were able to send her to the U.S. and safety at age 17. She later forgave the Germans, started an exchange program and led student tours of Germany and Europe.
David Roderick, 95: Roderick led U.S. Steel through the most difficult decade in its and Pittsburgh's history—1979–1989—when Pittsburgh steel collapsed, the company closed more than 140 facilities, and local unemployment reached 18 percent. From humble beginnings, Roderick fought in the Pacific during World War II, put himself through night school afterwards and rose through the ranks to become CEO of U.S. Steel. His difficult decisions led to thousands losing their jobs but succeeded in saving and diversifying the company with the $6 billion purchase of Marathon Oil. Roderick also was an exemplary civic leader when Pittsburgh needed it. He raised funds for numerous nonprofits, led the United Way of Allegheny County and forged the 1980s deal that kept the Pirates in Pittsburgh.
David Hillenbrand, 72: After retiring from Bayer, Hillenbrand led the Carnegie Museums from 2005 to 2011 and again when the museums needed help during a transition from 2013 to 2014. The son of a U.S. diplomat, Hillenbrand grew up in Europe, a lifelong art devotee. He brought his financial expertise, diplomatic talents and executive experience to the museum complex. He also chaired the Koppers board for many years.
Bob Pessolano, 68: Pessolano was the owner of Mario's, a landmark South Side bar which he opened in the early 1980s and which became known as a destination night spot and home to the "yard," a beer glass three feet fall. He also ran Blue Lou's and Nick's Fat City.
Charles Booth, 99: Booth was a World War II pilot who won the Distinguished Service Cross—the Army's second highest honor—for his heroism in returning his crew to safety after being seriously injured while flying over Berlin. After the war, he joined Burrell Construction & Supply Co., a small firm founded by his father. Booth took the firm from five employees to more than 600, with revenue of $60 million. Beyond those achievements, he was known as a man of great generosity.